Awful or outdated designs aside, it never ceases to amaze me when new
web design/development
clients come to us with old websites that aren't set up to track any visitor behavior. And no, I don't mean one of those lame hit counters you would see on ebay auctions, or free
tripod websites
if you were to time travel back to 1998. You know, the things that basically looked like this:

Displaying the total number of visitors who hit a single web page is hardly "tracking". I'm also not talking about complicated software that requires technical training just to install. Most just need some basic daily tracking that allows website owners to analyze visits to their site by seeing where traffic is coming from, what drives conversions (sales, leads, etc.), and a lot of other general information that can be critical to running a successful site. And the best part is there's a free solution that's simple enough to use even for the least technically inclined among us. For the vast majority of website owners, Google Analytics will be sufficient, but it's truly shocking just how few of our clients come to us with existing GA accounts. I'd say fewer than 10%. And even though we launch all new websites with Analytics, it's very obvious that very few people ever review or make use of the data available to them, usually for lack of time. Unfortunately all website owners really need to make the time if they want to be successful online. In an effort to encourage use of the service, we're going to begin posting tutorials. Today I'd like to start out with basic goal set up for conversion tracking.
Google Analytics Goal Setup
Today we're specifically talking about "destinations", the most basic and common type of goal, but you should be aware that there are other types we'll discuss in future posts as well. These include visit duration, pages/visit and events, which you can learn more about
here
. Destination goals are designed to easily track visits to important URLS, generally "thank you" pages users reach after filling out an online form, such as a "Contact Us" form. Once your goal is set up, the number of times someone completes your contact form is easily available in other parts of Analytics so you can easily determine when most people fill out your form, what traffic source is driving those leads, what types of devices visitors used, etc. The variety of custom reports you can set up around these conversions seems almost infinite. It's important to note that the following instructions apply to websites that use fixed URLs for thank you pages.
This page
links to information on how to set up this type of conversion tracking if you use dynamically generated or user session based URLS, but I would recommend calling us for help if you're in that boat.
Step 1 - Navigate to the Goals Section Inside of Google Analytics
The first and most obvious step is to log in to your Google Analytics account. You should, by default, be inside the standard reporting section upon logging in. Operating under the assumption that this is the first goal you're setting up, locate and click Conversions > Goals in left side navigation. Then click on the "Set up goals" button: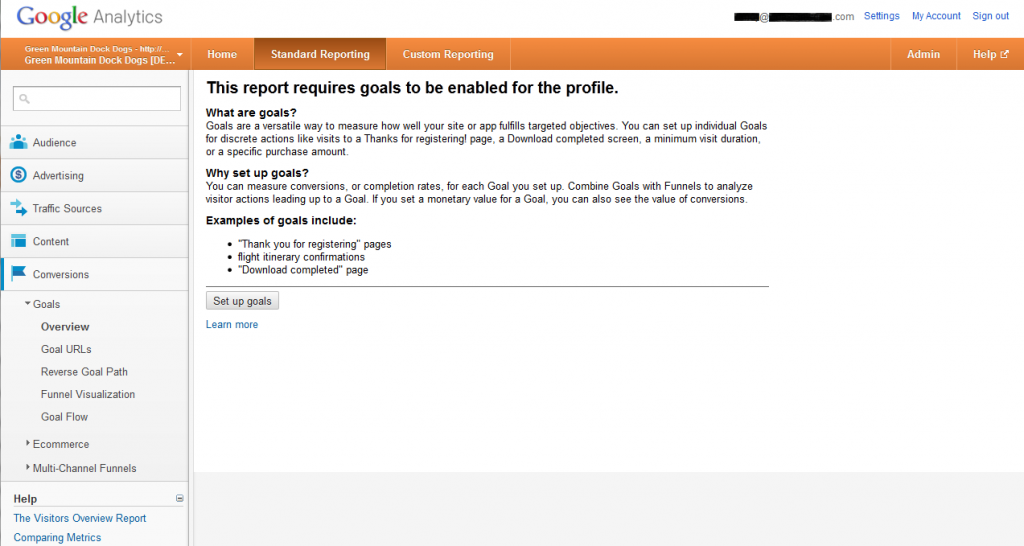 Step 2 - Accessing Goal Admin Area
On the next screen you'll see that you have 4 sets of 5 goals available, meaning you can have up to 20 goals running at any given time. Before you click "+ Goal" to get started, take note of the tabs and the fact that you are inside the "Admin" area of your account (see screen shot below). You're basically in Admin > Profiles > Goals. This is important to know because if you come back to ad goals at any time the future, that's how you'll have to navigate here because the main "Goals" section within your normal "Standard Reporting" area will no longer have the "Set up goals" button after you set up your first one. That area will henceforth be populated with data.... Okay, now you can click "+ Goal":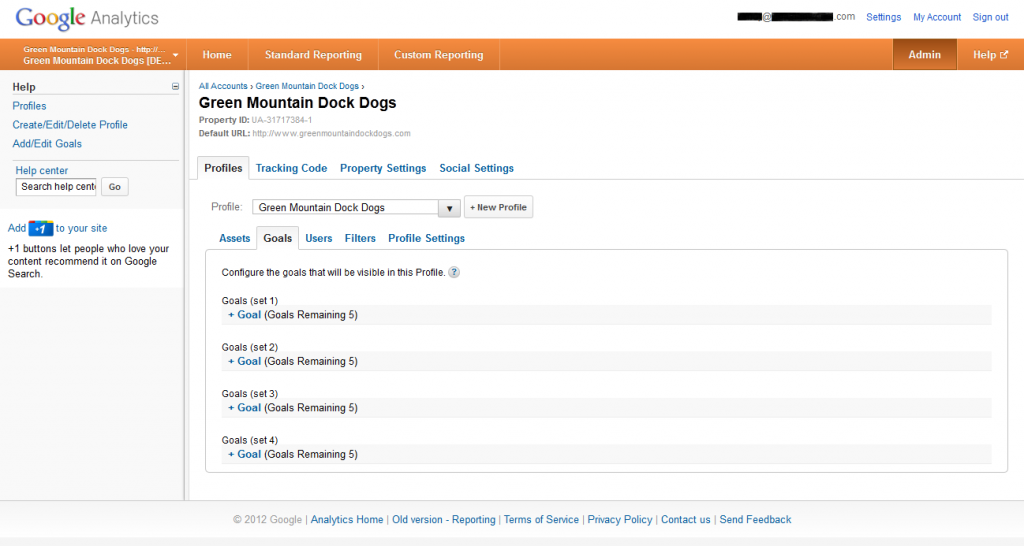 Step 3 - Goal 1 Simple Setup
You'll want to type a simple, easily recognizable name for your goal, make sure the "Active" radio button is selected, as well as the "URL Destination" radio button in the "Goal Type" section. Next you want to type or paste your "thank you" page's URL, but not the complete URL. If your thank you page URL is http://www.yourwebsite.com/thank-you, the "thank you" URL you want to use here is simply "/thank-you". Basically you should use everything after the ".com" (or .net, .org, etc.) Again, this is pretty straight forward in most cases, but if your thank you URLs are dynamic in any way, "
Match type
" becomes a factor, in which case we'd recommend calling us because it's likely that this will be out of your comfort zone: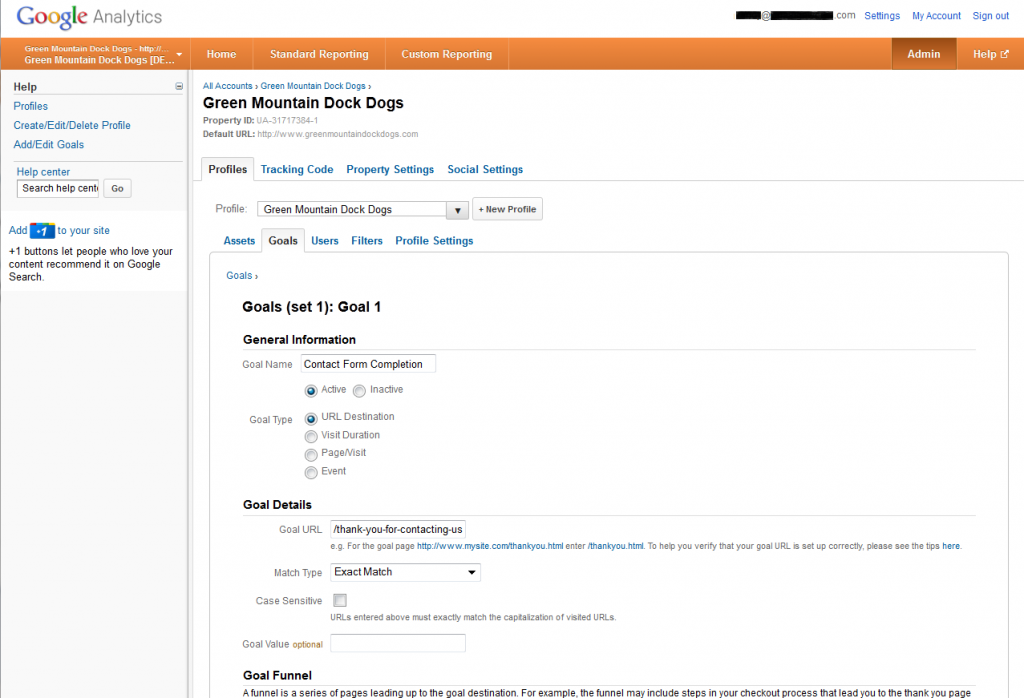 We'll discuss in detail the optional final step, Goal Funnels, another day but essentially this feature allows you to track abandonment rates, etc. for multi-step actions on your site. So, for example, on an ecommerce site you would be able to test out different types of check-out processes to determine what converts well and what doesn't. You simply add the URLs for the various steps of the process you're looking to track and then going forward you'll be able to track visitor behavior in your funnel visualization reports. That's really all there is to it. In most cases you'll just quickly navigate to the right section of Analytics, name your goal, paste the goal URL and you're done! I'd like to thank
Green Mountain DockDocks
for being our guinea pig so we could get these screen shots from an account that hadn't set up any goals yet. Unfortunately, given that this is a brand new goal, there is no data to show you what the Goals>Overview section looks like once data is being collected. In order to create one of these screen shots, I pulled up the account of one of our
pay-per-click
clients because I know they get leads from a wide variety of sources: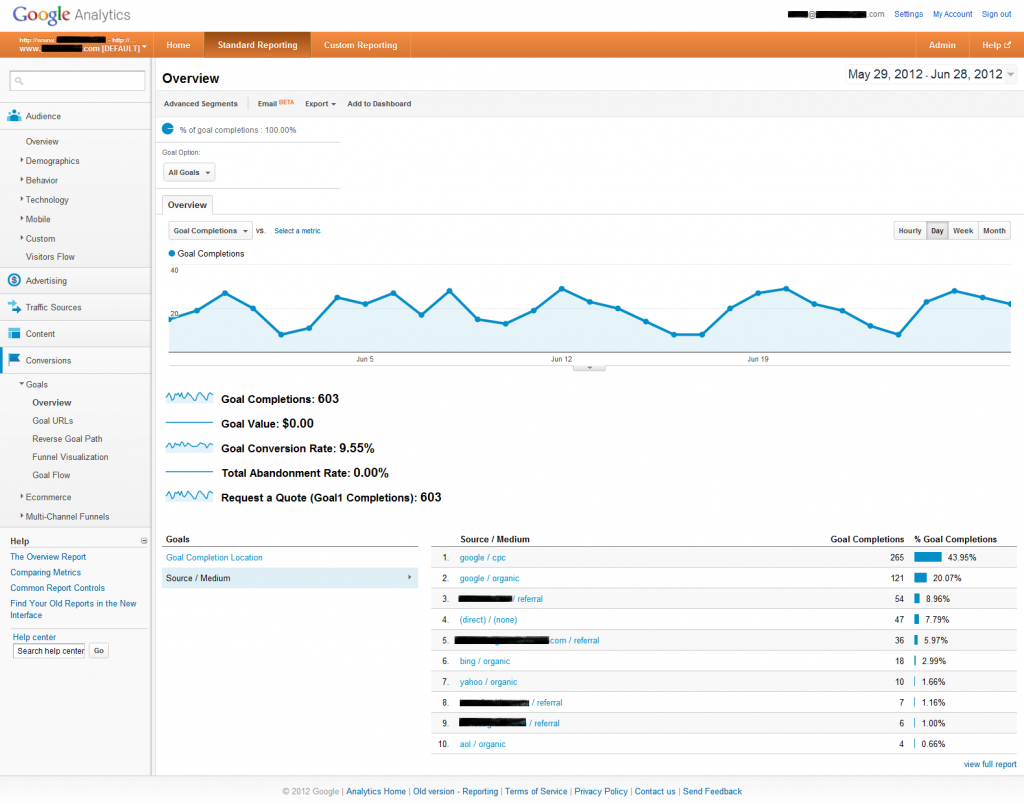 As you can see this provides a general snapshot of goal information and if you click "Sources/Mediums" you see the top 10, and another click will take you to the full list. Still, the value of this data is somewhat limited. The real fun comes when you set up some custom reports. You can learn exactly what keywords and search engines are driving leads, whether visitors convert as well on mobile devices, what cities/states/countries conversions are coming from, etc. As I mentioned earlier, the custom report options are practically endless, but in the end it all comes down to using that data to better optimize your site for search and conversions. Without this data, you're flying blind and unfortunately that's the position far too many website owners find themselves in. I hope this introduction into the most basic Google Analytics goal/conversion tracking has been helpful. Don't forget to
Subscribe to our feed
so you can follow our future Analytics tutorials and feel free to
contact us
if you have any questions in the meantime.