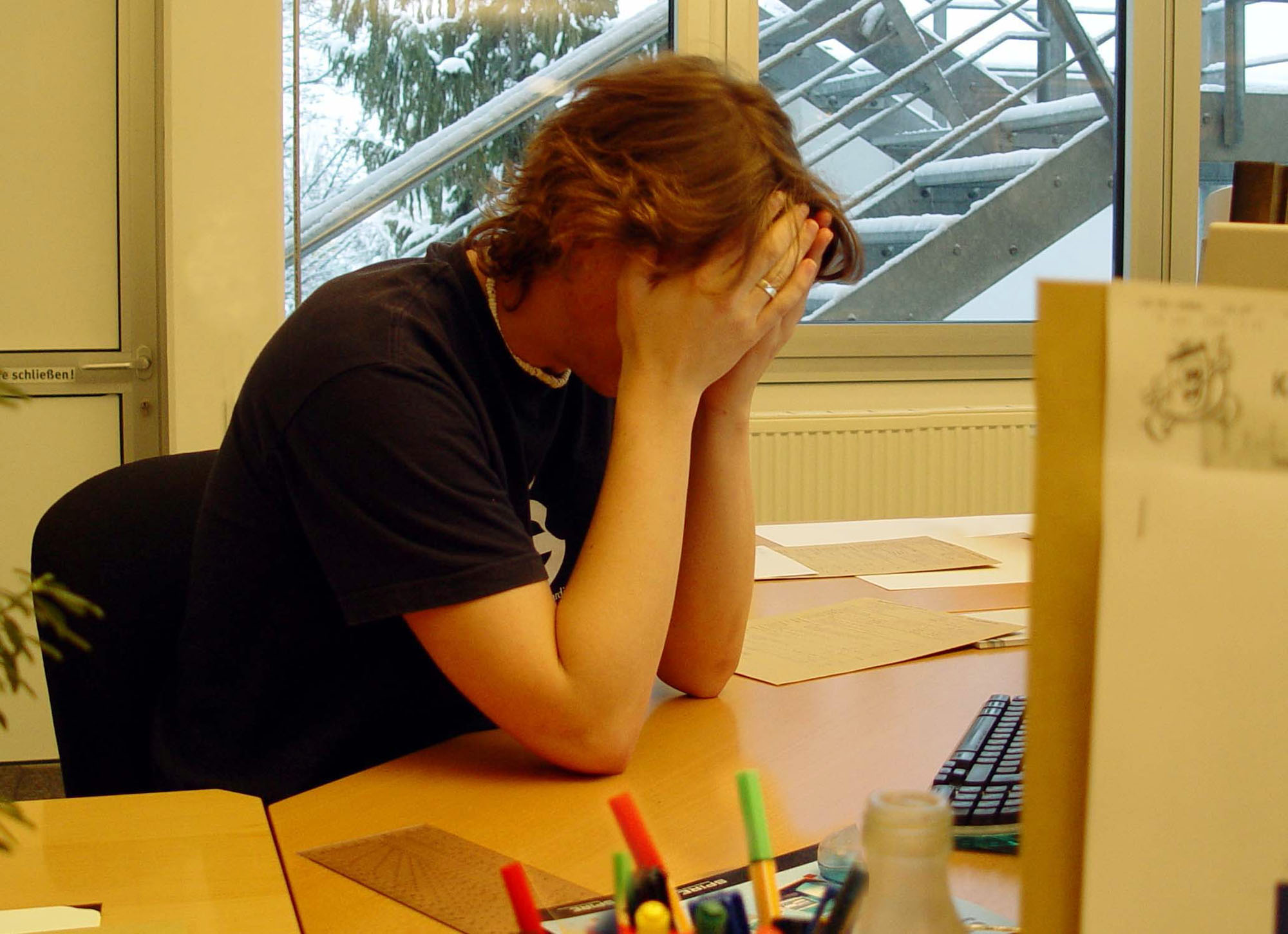 If you follow this blog with any regularity, then you're probably familiar with my
ranting about Google Analytics taking away our organic keyword data
. Rolling with the punches, I've even attempted in the past to offer
strategies to recoup some of that lost data
, or at least explain how to make some inferences based on the table scraps Google left us with. Now I fear we'll all look back on these earlier struggles as "the good ol' days", folks. Why such a melodramatic intro? Oh, no reason..... It's just that
Google decided a few months ago that they would no longer provide ANY keyword data
for Google organic searches! I apologize for the delayed post, but as you can imagine, I've been stricken with such GTSD lately, it's a battle just to get out of bed in the morning. If you're new to this topic, I'd recommend checking out the first two links above, but here's a quick recap. As
Danny Sullivan notes
, our "(not provided)" journey really began 2 years ago when Google first began encrypting the searches of users who were logged in, and then things just snowballed (emphasis mine):
Over the past two years, the percentage of search terms as "not provided" has increased asMozilla's Firefox in July 2012, Apple's Safari browser in iOS 6 in September 2012 and Google's own Chrome browser in January 2013 have used encrypted search, even when people aren't signed in at Google.
Obviously we'd been dealt a serious blow, but it wasn't until September this year when Google announced that all searches would now be secure. Oddly I haven't yet seen 100% of searches hidden behind "(not provided)", but we've gone from 30% in 2011, to 50% in 2012 to right around 90% as we wrap up 2013.
Barry Schwartz highlighted this mysterious phenomenon
back in Sept., but for whatever reason I'm still seeing it today:
In fact, I checked this morning, and this site shows 93.4% of all Google organic search queries as being not provided. What about the other 6.6%? Maybe the SSL migration of Google is not 100% complete yet?
Either way, you can sympathize with his frustration:
I guess Google felt, what the heck, 70% of search queries were not provided anyway, let's go all in! Screw online marketers. Screw webmasters. Screw SEOs. Take away their real search queries. Make them depend on getting that data from Google Webmaster Tools, which is far from a complete picture of your data.
Google Keyword Data is Still Available... For a Price!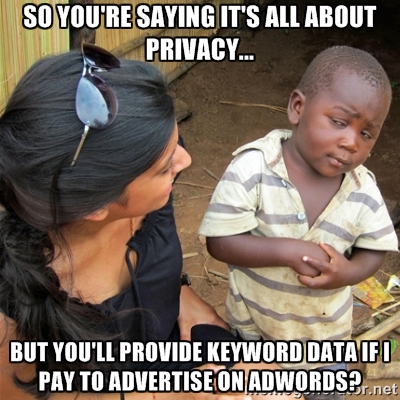 Throughout this saga, we've all wondered what Google's motivation is for this move, and the privacy excuse just doesn't wash. Because if you're a Google Adwords advertiser, you're swimming in a sea of paid search keyword data. I suspect the phrase "you can't put a price on privacy" has already been coined, but apparently it's also incorrect when it comes to Google keyword data. The price, apparently, is what your cost per click. As always, I have to say I don't begrudge Google, who has a responsibility to their shareholders, for putting their bottom line first. I just can't understand why they won't be honest about it. In fact it might be nice if they offered a paid, monthly subscription service that would allow us to recapture the organic data, but that's probably wishful thinking. It should also be pointed out that Google doesn't "owe" us this information. We are after all talking about a private company and Google Analytics is a free service they don't have to provide. It just sucks that they got us hooked on that juicy keyword data for so many years and then just took it away! Clearly we find ourselves in a beggars can't be choosers situation. The question is, where do we go from here?
Not Provided Survival Strategies
I mentioned a few methods for adapting to the new reality of lost keyword data back in July 2012, but that was when most businesses were only seeing a 20-50% loss, so those strategies aren't all that helpful given the latest update. So is all hope lost? Well, not totally. For starters, you can always use Analytics to review your most popular landing pages and the traffic sources driving people to them and get a rough idea of what your visitors are searching for. Beyond analyzing landing page data, there are some other more advanced strategies you can employ to remain a more informed online marketer. Fortunately some SEO and online marketing gurus have done the heavy lifting already.
Barry Schwartz, for example, offers these 5 tip
s, harvested for a
Webmaster World thread
:
1) Develop / install a good search facility on the site and keep the logs of internal search queries. 2) Track clicks on blog tags, or install more query-based navigation systems. 3) Leverage the Google Webmaster Tools API to take as much query data from there. 4) Consider installing search facility or suggested keywords to click into emails, social widgets, apps 5) Go fully broad match on every single keyword and pay AdWords for your data.
At the bottom of this
Search Engine Watch post
 announcing the Sept. update, Thom Craver links to these 5 other helpful resources:
The
Not Provided Kit
was far more useful, to track trends, when Analytics was still providing some Google organic keyword data... Now it mainly sounds like a cruel joke or something for those prone to self-flagellation. I wouldn't say that no useful data can be harvested, but it seems aimed at showing you data you've lost. The first item in the "kit" is:
Your Current Percentage: A single-chart dashboard showing your current 'not provided' percentage (ie. how much open data remains).
When it's 90-100%, I'm not sure how much help the rest of the kit will be, but it couldn't hurt to explore it on your own and see if you find anything useful.