Have you heard about this thing they're calling the "mobile web"? From what I can gather, it's just like the normal web, but apparently you can now access it from some cellular telephones and from these keyboard-less laptop devices people are calling "tablets". It sounds like a fad to me, but with even 
Google telling web developers
 to optimize for mobile, people are sitting up and paying attention.
All joking aside, with mobile explosion over the past several years we've been inundated with articles expressing the importance of mobile design, SEO and conversion strategies. Rather than digress with a 
deluge of statistics about skyrocketing mobile usage
, something I think we're all aware of at this stage, today I'd instead like to talk 'mobile conversion tracking'. After all, how can you develop and improve your mobile strategy without that data?
(Apologies in advance for the length of this post, but I feel that the screenshots and understanding the "whys" behind setup decisions will be helpful. You'll actually be able to set your report up in about a minute.)
Google Analytics Goal Setup
If you're reading this post then I assume you already have Google Analytics installed on your site, but in order to go any further you'll also need to have goals set up to track conversion actions (purchases, form completions, newsletter sign-ups, etc.) on your website. I wrote 
a post a while back
 showing you how to set up a basic goal. The screenshots are now outdated, but the goal setup process is largely unchanged. If you haven't already, go set up your GA goals and then come back. (It's okay, we'll wait.)
Note:
I'd recommend setting up a funnel for your goal while you're at it, for reason's you'll see in just a moment.
Google Analytics Custom Reports
While many people are comfortable living inside GA "dashboards", they really only provide you with snapshot data that isn't particularly actionable. To really drill down to a granular enough level that you can understand user behavior on your site, you need to set up custom reports. Setting up your own reports under the Google Analytics Customization tab provides you with the data you need to improve your marketing and optimize your site for conversion.
Setting Up Custom GA Reports
To get started with custom reports in Analytics, click on the "Customization" tab in the main navigation: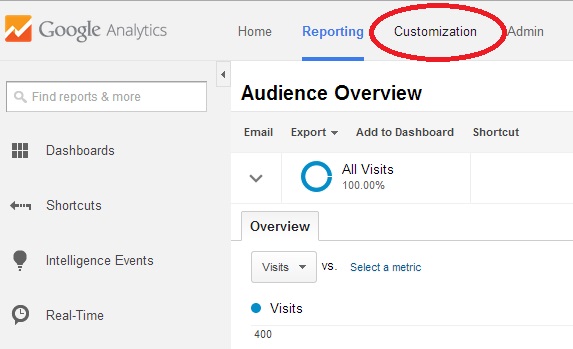 When that page loads, click on "+ New Custom Report".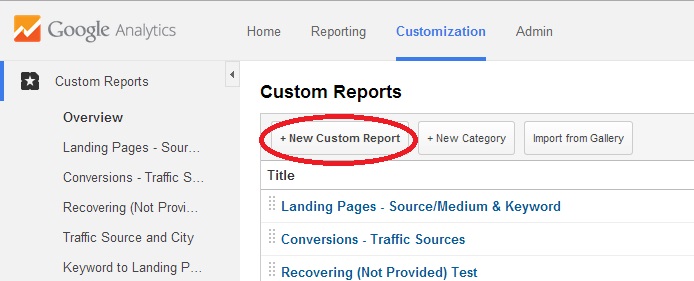 Once you get the hang of this, I'd also recommend browsing through the "Gallery" for reports created by others that you can use and/or modify for your own purposes, but for now it's more important that you understand the setup process. Now, getting back to the point of this post - analyzing mobile traffic and conversion data. Part of understanding your site's mobile visits is understanding your desktop visits and then comparing. It's not uncommon for sites to have higher desktop conversion rates, with mobile conversion rates that drag down the overall rate. So, while you can set up filters so your reports only show mobile data, the report we're going to create today allows you to drill down by device type. In the example we'll use today, the "goal" (conversion) is very simple - the
completion of an online quote form
.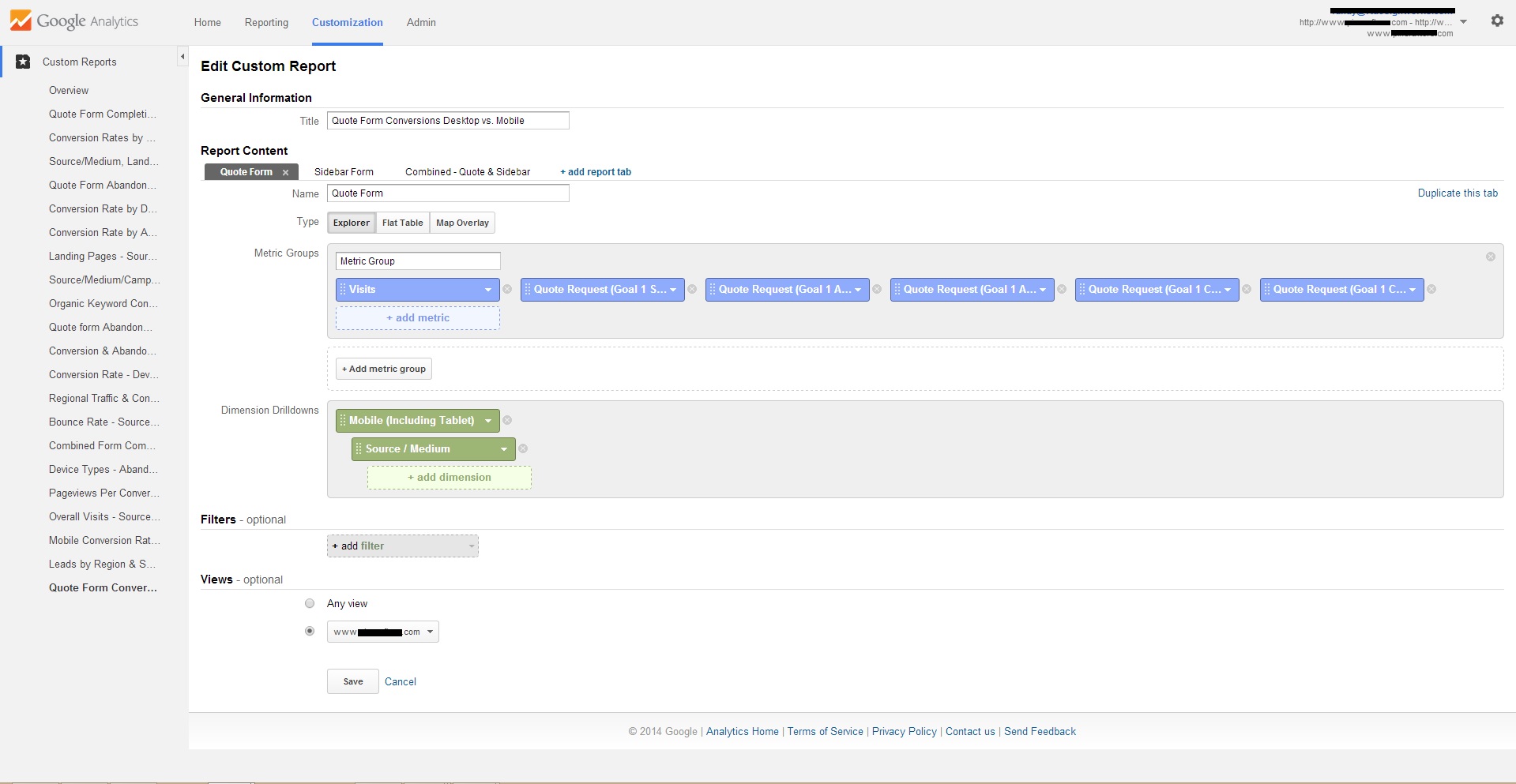 The key to setting up any custom Google Analytics report is selecting the right 
metrics and dimension drilldowns
 - don't waste space with data not relevant to your objective.
A metric is a count of some data type, like pageviews, that is summed up across your Google Analytics hits. A metric corresponds to a column in a report. Dimensions allow you to break down a metric by a particular value, like screen views by screen name. Dimensions correspond to the rows in a report.
You were undoubtedly frustrated by the screenshot above because the wording of most metrics was cut off, so allow me share them each, along with Google's descriptions now.
Google Analytics Metrics
Visits

 - The number of visits to your site. For more information, see How Visits are Calculated in Analytics.If you're creating a visitor segment for a remarketing list, then this is the number of visits to your site during your lookback window (7, 14, or 30 days).

Goal 1 Starts

 - The number of entrances into the goal funnel.*

Goal 1 Abandoned Funnels

 - The number of times visitors entered the goal funnel but did not complete conversion.*

Goal 1 Abandonment Rate

 - The rate at which the goal was abandoned (the ratio of Abandoned Funnels to Goal Starts).*

Goal 1 Completions

 - The number of conversions to the goal.

Goal 1 Conversion Rate

 - The percentage of visits that resulted in a conversion to the goal.
*These 3 metrics are optional and only apply if you've set up a goal "funnel". While a "goal" URL is the URL of the page a visitor lands on after converting, "funnel" URLs are the steps taken during the conversion process. In some cases there may be multiple "funnel" URLs, but in our example there's only one - the form page itself. As you'll see in the metrics described above, this funnel allows us to analyze how many visitors visited ("started") the form page, but didn't fill it out. High funnel abandonment rates can be a red flag that the form is too long or confusing. While you can derive useful data without funnels, it's best to set them up to get a more complete picture of how your visitors convert.
Google Analytics Dimension Drilldowns
As the name implies, "Dimension Drilldowns" are how you drill-down into your data. In this case, we're using the following dimensions:
Mobile (Including Tablet)

- Indicates whether or not visits were from mobile and tablet devices (Yes/No).

Source / Medium

- Source/Medium describes where your traffic comes from. The Source is the place users are before seeing your content, like a search engine or another website. The Medium describes how users arrived at your content. Values for Medium include "organic" for unpaid search traffic and "none" for direct traffic. Custom values you define for Source and Medium will also be included in this dimension.
You can fill out the Title, Name and Metric Group with whatever makes the most sense to you, so you can easily distinguish the report from any others you may create in the future. Once you've filled out all necessary fields and chosen your metrics and dimensions, you're ready to view your reports: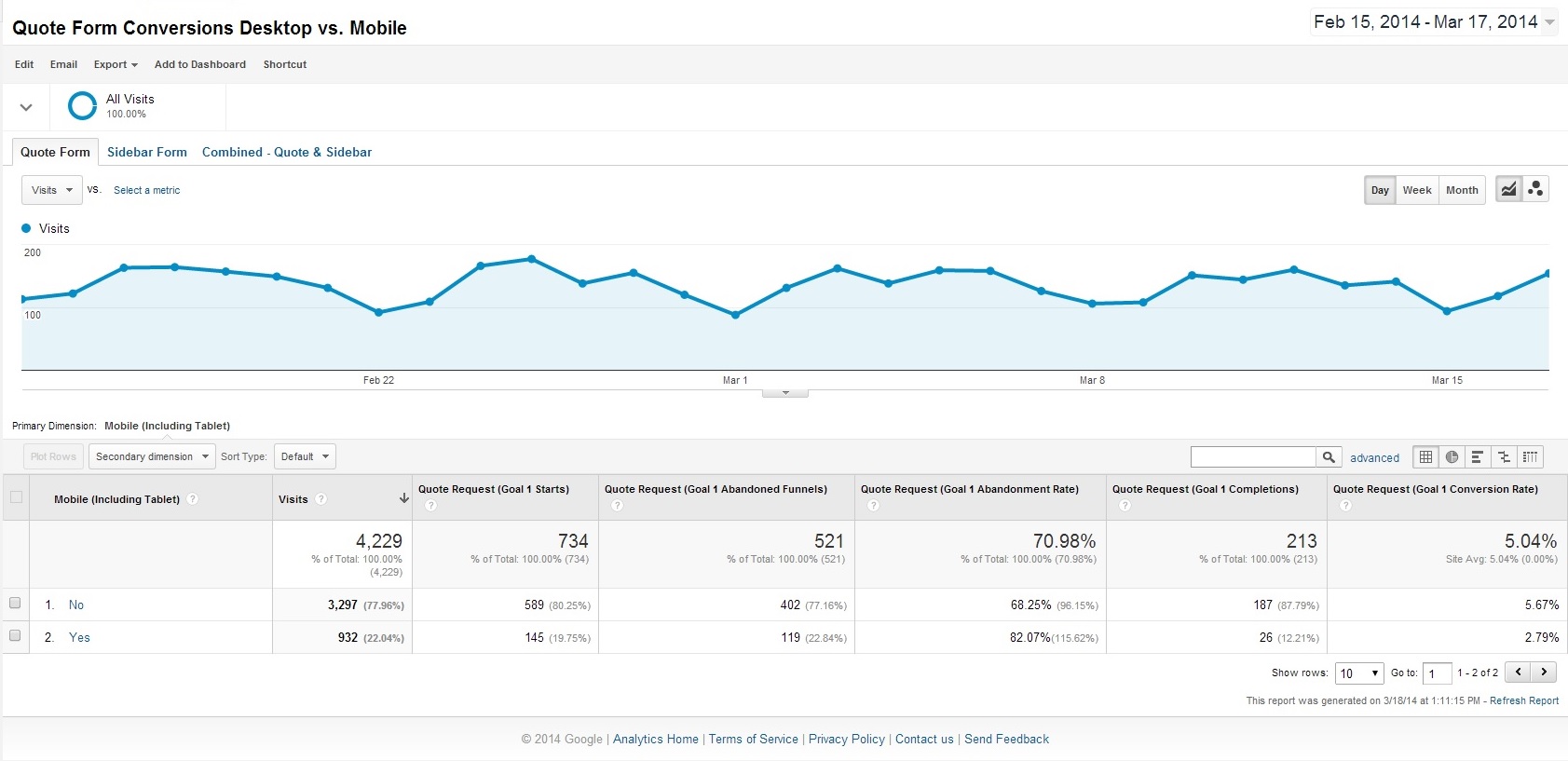 There you have it - conversion data across all devices, and then the breakdown of Desktop ("no") and Mobile ("yes").
But wait, there's more!!!
Google Analytics Traffic Source/Medium Drilldown
This is where things really get interesting.... Do you remember how we added a "Dimension drilldown" for "Source/Medium"? The reason that's important is because you need to understand the conversion behaviors at a more granular level than just what device-type they're using. Users who visit your site from various sources will are known to behave differently. For example, if you blog a lot about universal topics, you'll likely get a lot of organic search visits from people looking to read your content but not necessarily complete any "conversion" action. At the same time, if you also advertise online, you're likely advertising a particular service or promotion, so visitors who click your ads are higher quality leads, more likely to convert. If you click  either Desktop ("no") and Mobile ("yes"), you get a source/medium breakdown that looks like this: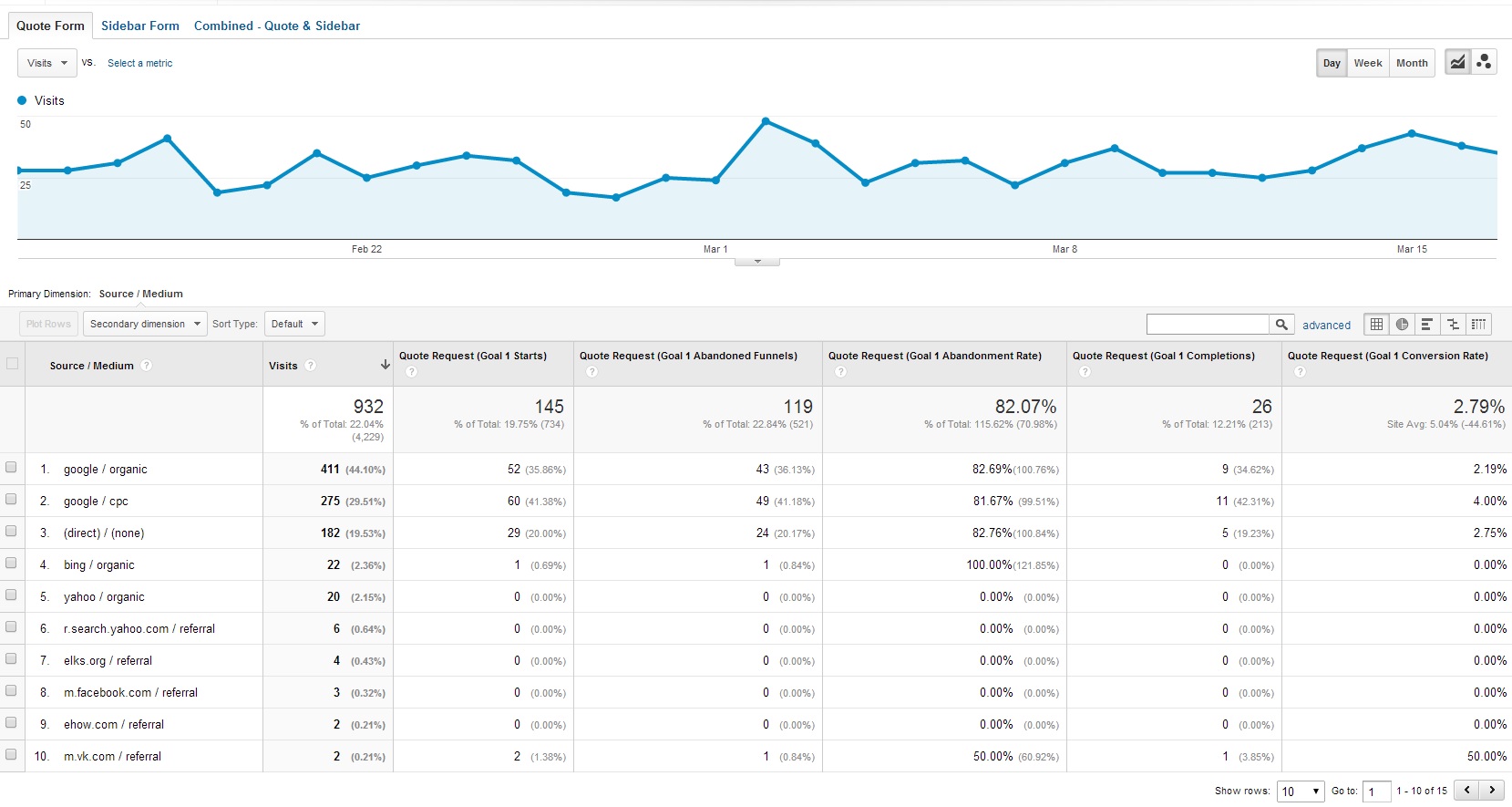 See how the top two mobile traffic sources are both "Google", but one is "organic" and the other is "cpc" (cost-per-click, aka pay-per-click, aka PPC, aka Google Adwords ads)? Clearly, and unsurprisingly, users clicking paid Google ads we're using to drive traffic to this client site are converting at nearly twice the rate of Google organic visitors (4% vs. 2.19%). If those rates were reversed, and overall organic traffic converted at a higher rate, it might signal a problem with our ads. Now, go back to the top level device-type breakdown by clicking "ALL" under the report title in the upper right, and now click "no" to see desktop source/medium breakdown for desktop devices, which still represent nearly 80% of traffic to this particular site: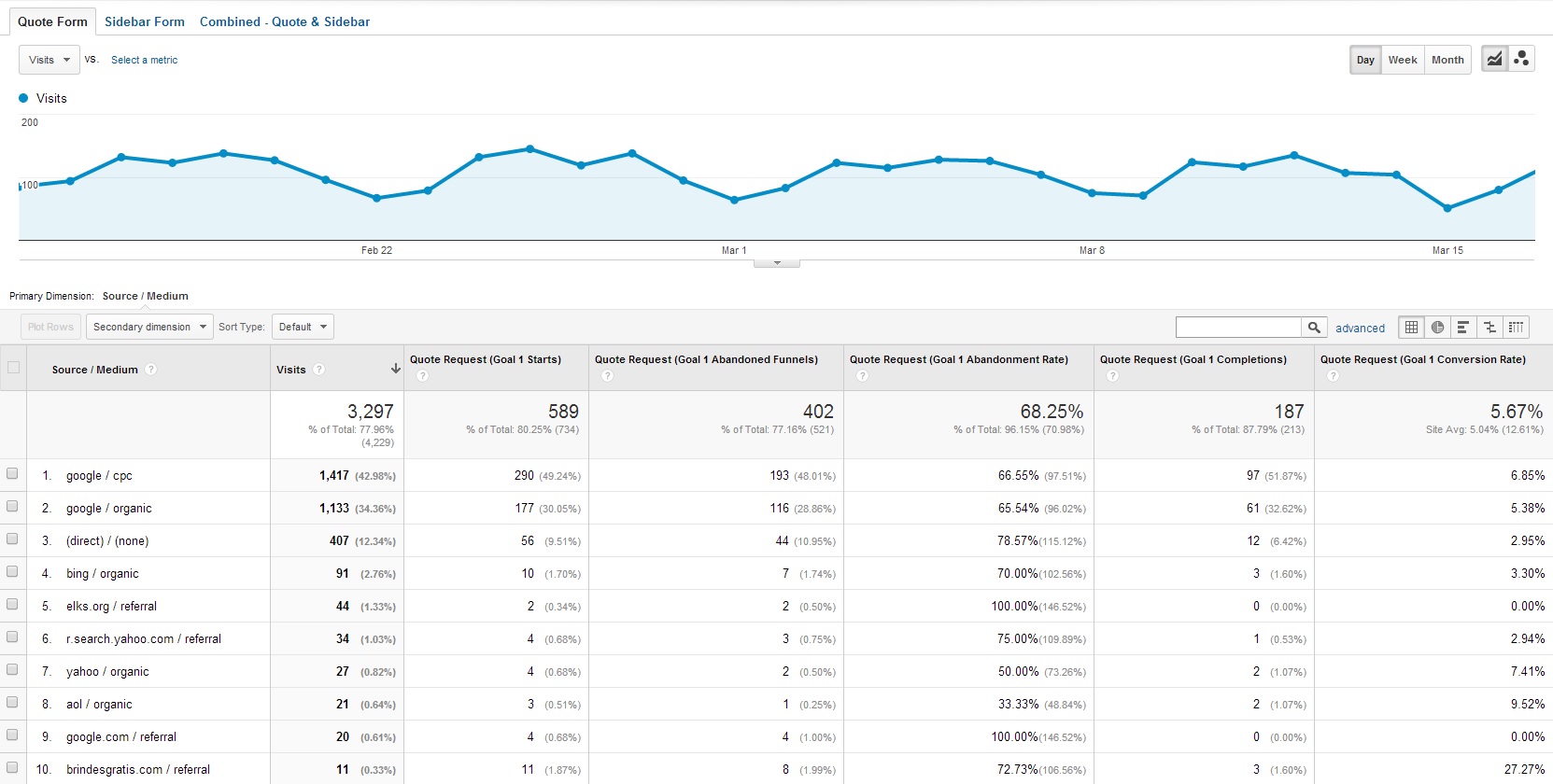 As is often the case, particularly when the conversion is the completion of an online form, desktop conversion rates are considerably higher (than mobile) across all sources / mediums. But analyzing this data over the last several months has allowed us to better optimize for mobile by adding shorter forms within sidebars of some specific landing pages and by serving a shorter form on the main "quote form" page when we detect a mobile device. On that last point, I'd like to include one final tip before wrapping this post up - easy tracking of multiple, similar goals. I just mentioned that we added additional forms to the sidebar of some of this client's landing pages. What I didn't explain is that the forms are just shorter versions of the main form, so the conversion value is the same to this client, regardless of which form is filled. Still, in order to analyze the efficacy of these new in-page forms, we created a separate "thank you" page so we could set up a separate "goal". In order to view the conversion rates of the new sidebar form as well as the combined conversion rates, rather than create entirely new reports, I simply duplicated tabs within the original report and modified the metrics. You may have noticed these tabs across the top of the last several screenshots:

I was able to create the "Sidebar Form" and "Combined" tabs easily by clicking "Duplicate this tab" link, found near the upper right on the report setup page, which you can always access again when viewing your report by clicking "Edit" at the top. At any rate, I can now review conversion metrics based on device-types, with complete source/medium breakdowns, for all of this site's forms and compare to past data when there was only a single form and it was shown on all devices. Again, I'm sorry for the length of this post but I think the detailed explanations will be invaluable to Google Analytics customization beginners.