Summary:
Our latest case study of local search results, both in local packs and "local organics" - a search for "laser tag" on Google, Bing and Yahoo! Today we exam both the similarities and the differences in search results on the world's top 3 search engines and revisit an issue we've discussed recently - Bing powered Yahoo! results pages differing significantly from Bing results.
In September I coined the phrase "
local organics
" as a term used to describe search results that appear to be standard Google organic search results (rather than part of a "local pack"), yet they are local to the searcher, based on their location settings (often autodetected). What I neglected to mention at the time was Yahoo! and Bing do this as well. I did mention this a couple of weeks later in a post about
Bing powered Yahoo! results
, but only in passing so I thought it was worth noting again after my random search for "laser tag" turned up some interesting results.
Why Laser Tag?
Honestly, I can't remember - I first Googled the term several months ago. I can only say for certain that I wasn't actually looking for a venue to play laser tag or a place to rent equipment. Something online made me curious about what type of results the search would generate, so I checked the 3 major engines and the idea for this post was born. As you've likely noticed, my search results case study posts center around pretty random searches. This is partly by dumb luck (writing about what I stumble across) and partly by design (examples of every day things people might search). The latter is obviously the more serious motivation because it helps us understand how the major search engines are determining what results to show, which illustrates the need for proper optimization.
Google Laser Tag
As I mentioned above, I first searched for "laser tag" on Google, which produced these results: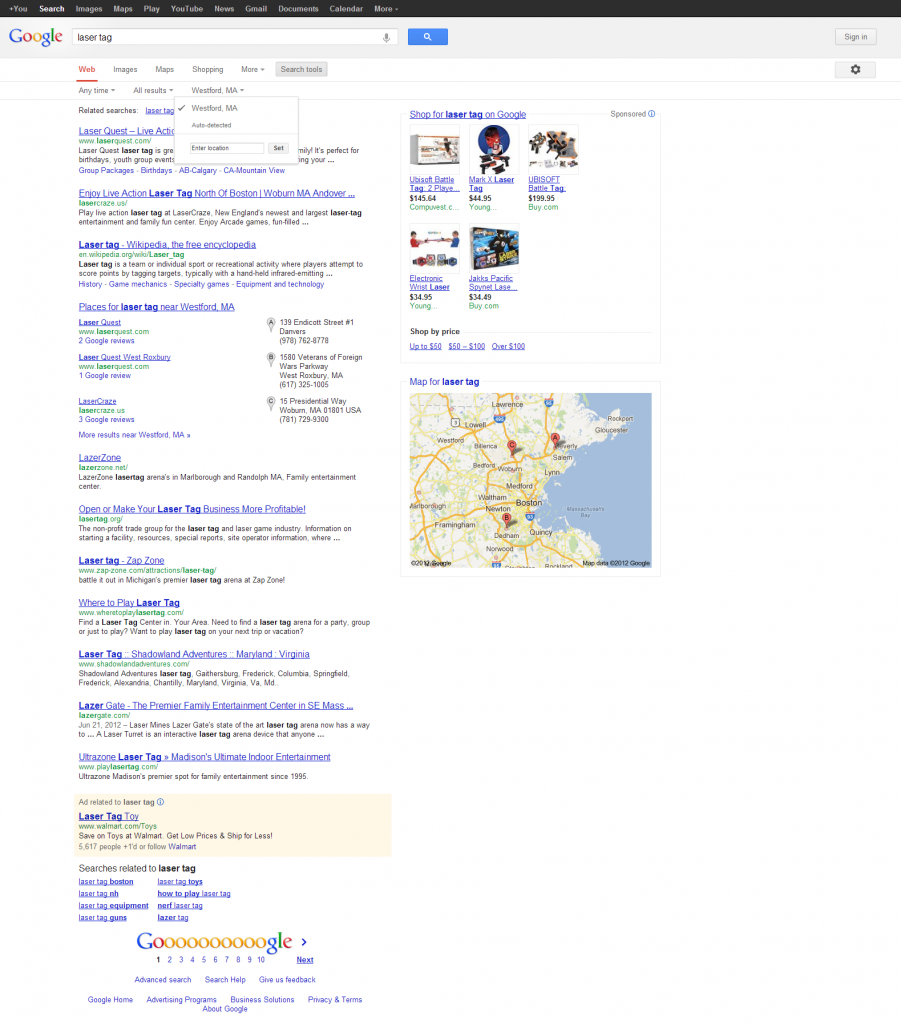 Now the first thing you'll likely notice is that in the location settings, Google has decided that we're located in the Boston suburb of Westford, MA. I've mentioned in other posts that this is caused by our Comcast business class IP address. This is easy enough to manually change, as you'll see shortly, but I thought we should examine these results first because they include the local pack. As you can see, Google is showing a "local pack" with 3 local results for laser tag centers in the area. At first I was a little surprised by this, but "laser tag center" is a legitimate category option in Google+ Local, so when Google interprets local search intent, they usually display a local pack if there are results to be shown. The surprise for me was the fact that "laser tag centers" were big enough to justify their own category. But did you notice that the local pack wasn't the only thing Massachusetts-y about those results? #2 organic is a local (to Westford, MA) laser tag venue called "
Laser Craze
". In fact Laser Craze also holds the #3 position in the local pack as well. The first result after the local pack, #4, is also a local Massachusetts laser tag venue,
Laser Zone
.
Lazer Gate
is another local venue in MA and it holds the #9 position. Clearly a great example of "local organics"... But what about some of the other organic results on this page - Why is #6 a place in Michigan, #8 in Virginia/Maryland, and #10 in Madison, WI? Google thinks we're in Mass., so why would it be showing us local results from other states/regions? My best guess here would be that we're looking at sites that rank organically globally - meaning location settings have no bearing and it just happens to be that these "local" websites are ranking anyway.... Bolstering my case is the fact that I still see all three of those results in the fist 2 pages, even after changing my location to 05401/Burlington, VT.
Laser Tag Burlington VT - 05401
Take a look at the Google results for 'laser tag' after I changed my location to Burlington: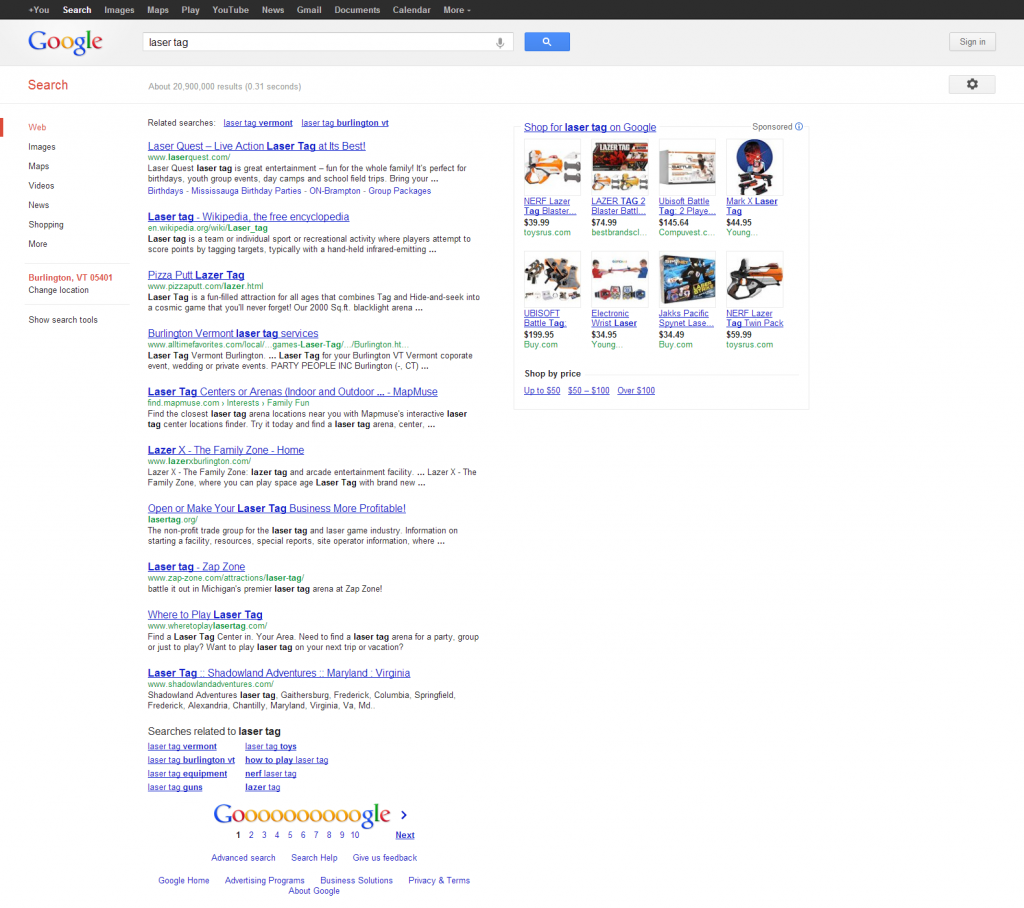 Because we live in a much less populous region and with fewer laser tag venues, Google has chosen not to show a local pack at all here. They are however attempting to show some "local organics" - first with
Pizza Putt
at #3. The #4 result is an interior, region-specific page on a site called "AllTimeFavorites.com". Essentially it's not a "local" site, but a type of directory that has a page for our local area. Unfortunately it appears to be an out of date/abandoned site that quite frankly is a huge mess and pretty useless. #6 looks promising as a "local organic", however
Lazer X Burlington
is in Burlington, NC - not VT. C'mon Google, get it together! Why aren't you perfect yet?! Seriously though, I cut them a lot of slack because the search engine really does a lot of amazing things that make all of our lives easier - but this is a bit of surprising error.
Bing Laser Tag
Bing produces similar "local organics" to Google. They show Pizza Putt again (which is the only laser tag venue I was initially even aware of in BTV) as well as a "
Vermont laser tag
" interior page of party planning site Punchbowl vendor directory: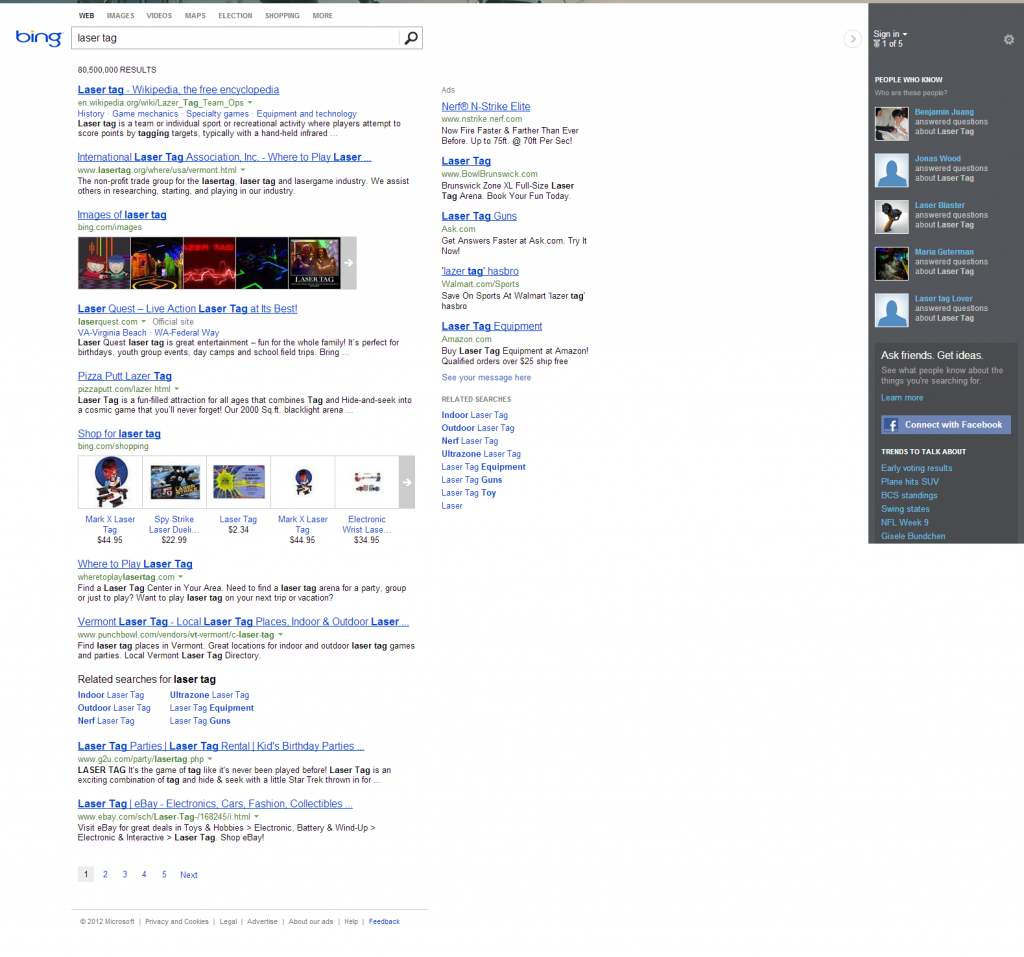 Bing even includes several "local organics" in search results beyond the first page. Take a look at page 2 below: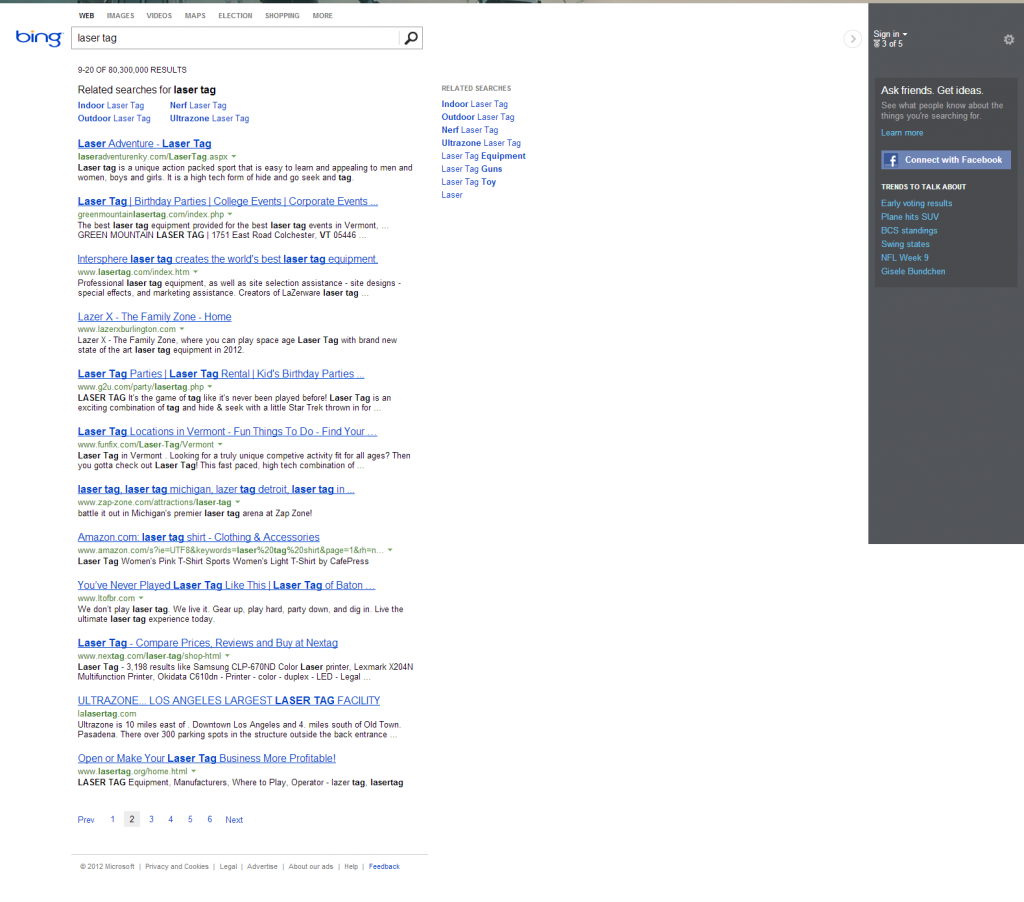 As you can see there is a company called
Green Mountain Laser Tag
as well as the "Vermont Laser Tag" page on another national directory site - Fun Fix. I dug several pages deep and was still finding various "Vermont" pages on directory sites. I don't believe I've ever seen "local organics" on Google past the first page. Either way, it's always interesting to see how the search engines are trying to display localized results outside of local packs and when the searcher didn't include any geographic language. For whatever reason, I'm not seeing the same on Yahoo:
Yahoo! Laser Tag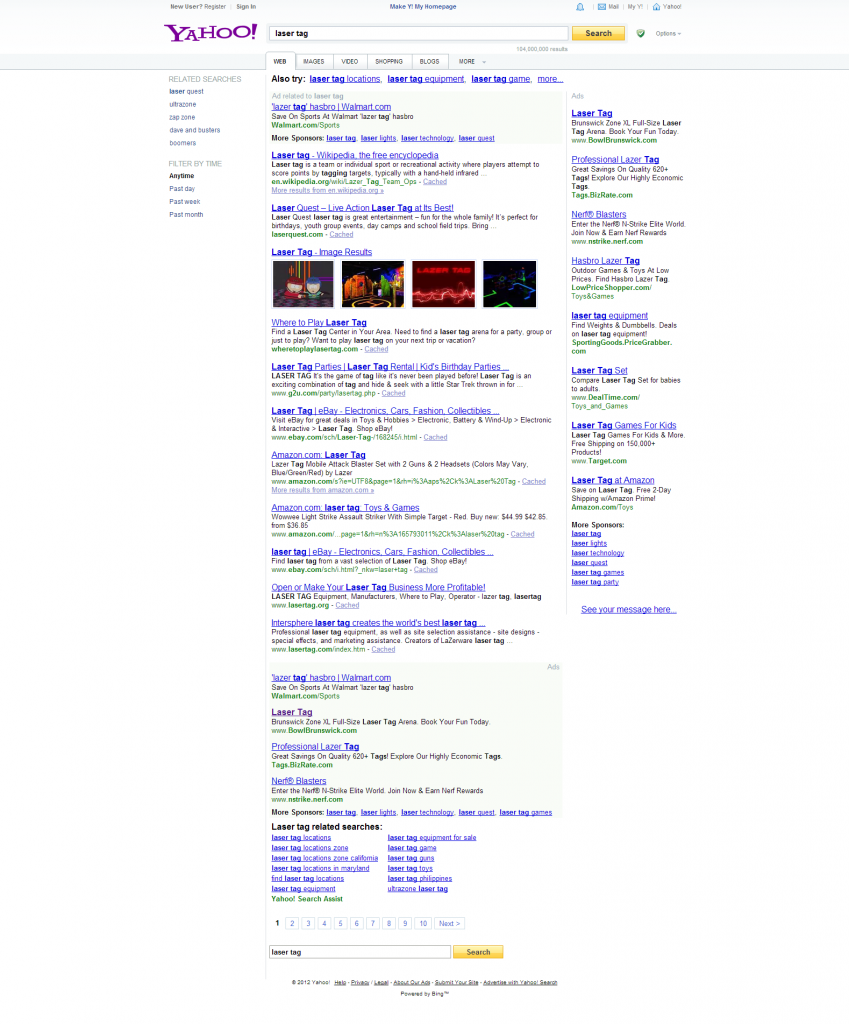 It's not news that
Bing powered Yahoo! results aren't identical to Bing results
and there's still a lot of mystery around the variances, but I it particularly odd that Yahoo! isn't showing anything local (organic or otherwise). I've mentioned issues with changing location settings on Yahoo! in the past, but in my experience there's always been some default setting still. Today doesn't appear to be an exception, because I get a local pack when performing a more obvious "local" search - "plumber":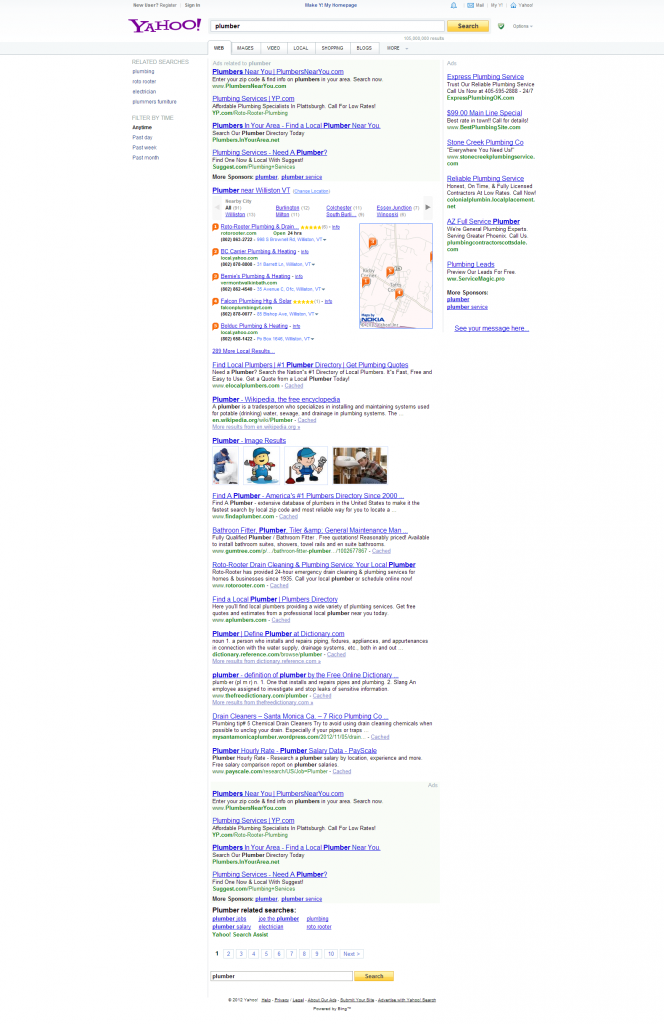 You can clearly see that Yahoo! thinks we're in Williston, which is an improvement because Yahoo! has also always detected our IP address and placed us in a Boston suburb. At least Williston is a town in the same county, so I'll call that progress. Just for the heck of it I attempted to change my location settings, which I can do manually or ask Yahoo! to auto-detect: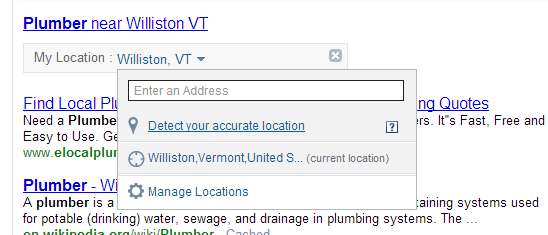 Unfortunately Yahoo! failed to detect my location:

Baby steps... Anyway, back to the point - Yahoo! didn't show any local results for the "laser tag" search, so I want to point out again that despite what we read all over the web, they haven't completely relinquished control of their results to Bing. We already knew that Yahoo! controls their local directory listings (items that show in their local pack) and we already knew that they still tend to mix up the organics a bit differently on the two engines, but now we also know that they differ in how they decide whether or not to show "local organics" results. I ran some other test searches and it's almost looking like Yahoo! isn't showing local organics at all right now. Maybe a test? The conspiracy theorist in me can't help but wonder if the reason Yahoo!'s results are less "local" is a strategy being used by Bing to further take away search engine market share. Is this Bing orchestrating a managed decline of Yahoo!? Or is this just a continuation of
the slide
that's been underway for years? Whatever the case, the search results on Google and Bing tell us that if you own or manage a laser tag arena or any other type of local business, you should be claiming all of your local directory listings to build your citation profile and you should be optimizing your website with geographical keywords. It would seem that "local organics" are here to stay (and increasingly becoming part of the expected user experience) so it behooves you to stay ahead of the curve and make sure you're doing all you can to optimize your website and online presence for local search.