Earlier in the year, as part of my
2013 SEO year in review post
, I mentioned the 3D satellite imagery that had become available to users of
Google Earth
and New Google Maps:
For several years now it has been possible for the uniquely bored to construct 3D virtual models of buildings and upload them to Google Maps, but examples were few and far between. For example, I recall only BTV airport having a "3D" version in Google Maps when I explored the area over the years. That all changed last fall when Google Earth and Google Maps (if you're a logged in user who's gotten the upgrade) began rending 3D satellite images.
This is actually just one feature of the New Google Maps, but arguably the coolest. You can get a taste of the others in this 2 minute promo:
New Google Maps 2014
http://www.youtube.com/watch?v=N6DrfYHVcXs
Until recently however, not everyone has had access to the "new Google Maps" and the 3 dimensional features. Late last week
Google announced
that they were finally  beginning to roll "new Google Maps" out to the general public and doing away with the "old" maps. I'm glad they let us ease into it, because like Barry Schwartz at SERoundtable, I found myself returning to the old version quite often in the early days, as the new version seemed to lack or hide features.
Google Earth 3D Imagery
As I said, I mentioned the new 3D satellite imagery as part of my 2013 wrap-up, but given how popular I think this will become in the coming years, I thought it was worthy of its own post. In that original mention, I include this single static screenshot from new maps: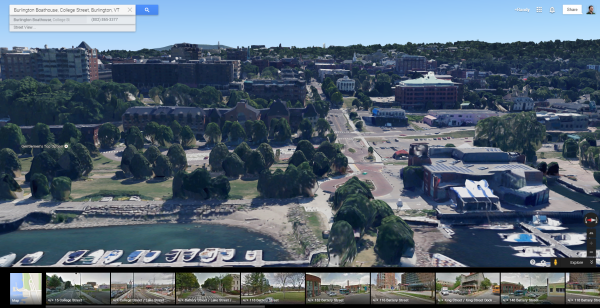 When viewing live on Google maps, you can pan around and spin your vantage point to be from any of the four directions on a compass, and view from two different aerial angles. As you can see in the screenshot above, I was looking east from the Burlington waterfront. Unfortunately Google hasn't yet included 3D features in embedded maps yet, so I can't share anything interactive with you here yet. The best I can do at this stage is include screenshots or screencast videos like the short one below: http://youtu.be/jfuuoALX8Jg We start the clip looking northeast from the waterfront before heading east on College St, moving quickly over to Main St. When we hit the intersection with Church St., we head north and fly over the entire
Marketplace
. You'll probably notice at the end that the spire on the church seems to be separate and floating. Like the odd appearance of trees in 3D maps, obviously there are (at this stage) still certain precision and resolution limitations. You probably also noticed in the video that Google Earth allows you to spin a full 360 degrees, rather than limiting you to north, east, south and west like when you're using Google Maps through your browser. You aren't locked in to only 2 aerial angles when using Earth either. The same is true when you're using Google Earth on your mobile device, as you can see in this screenshot I took from my iPhone, looking over the Winooski dam bridge, toward everyone's
favorite traffic circle
and the Champlain Mill (you can even see the 
MyWebGrocer
 sign).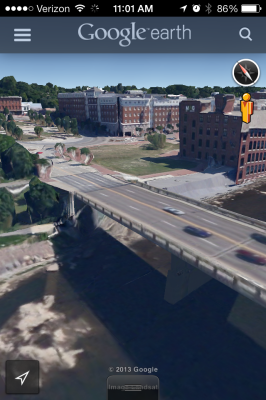 Here's another video recording of the Google Earth 3D user experience, this time showing a 360° view of the
Fletcher Allen Health Care
main campus and a downtown Burlington fly-over, ending at the Boathouse: https://www.youtube.com/watch?v=qjgpSCXT7jk Pretty amazing, huh? A major technological leap given that just a year ago you were lucky to see a few user-built 3D models of buildings. Even though Google is clearly now uploading 3D imagery for entire metro areas, it's worth noting the imagery is only available in select cities at this point.
Google actually keeps a list
, which oddly enough doesn't include Burlington. I found 3D maps in cities like Louisville and Dallas as well, which also aren't included in the list. Perhaps the roll-out is accelerating and it became difficult to maintain an up to date list? I can only imagine where things go from here, but I wouldn't be surprised if we all start hearing more about "
Google Project Tango
" over the next couple of years. Just remember where you heard that name first! Didn't whet your appetite enough to click? Try this:
The 5" Android smartphone's sensors make 250,000 3D measurements every second to create an accurate 3D model of the space surrounding you, updated in real time.
Now pick your jaw up off the floor and get back to exploring the
latest features of New Google Maps
.
Note: If you're in the Burlington area and you plan to explore your neighborhood, be forewarned that the 3D imagery only seems to cover roughly a 13 (W to E) x 3 (N to S) mile area over mainly Burlington, S. Burlington, Essex and Williston. So most of Colchester, Milton, etc. will be out of luck for now.