Summary: It seems that Google is once again testing changes to their local listings. Though instead of any fundamental change to the core of their directory, like moving from Google Places to Google+ Local, this time they're just testing the display of even numbered local pack layouts in search results. It's unclear why in the past local packs always only included 1, 3, 5 or 7 results, but they have apparently started showing 2, 4 and 6 packs to users lately, though infrequently.
Here on the Vermont Design Works blog I often post about various changes Google is making or has made to their
local search results
. When it comes to the Google "local pack" specifically, I often
include screenshots
and have repeatedly mentioned that these usually contain 1, 3, 5 or 7 results. The number varies depending on how likely it is that search intent is "local", how many local businesses match the search and what businesses are properly categorized in the Google+ Local (formerly Places) directory. Even back when the local directory was still called "Google Places", the local pack was always 1, 3, 5 or 7. To my knowledge, no one had ever seen a local pack of any other number.... until today! Today, while reading a Mike Blumenthal post about how
Google resurrecting local packs
for searches it had previously stopped showing them for, I decided to test some of the example searches Mike used. But instead of using his "Olean, NY" examples, I swapped in "Burlington, VT" (as I usually do) for local searches. I didn't see anything noteworthy or out of the ordinary in most cases, until I searched for "
houses for rent in burlington vt
":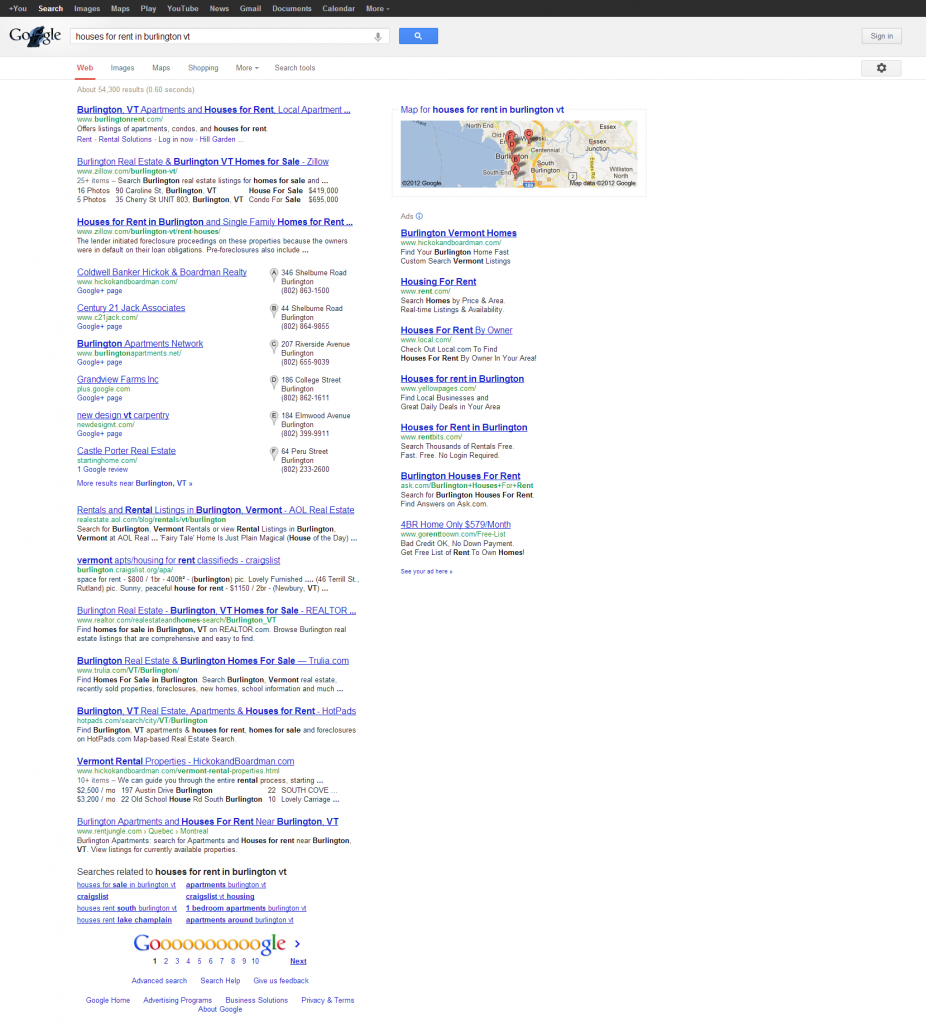 Click the image above to enlarge. Notice anything strange? Yup, that's a local 6-pack. Sadly after a brief Twitter exchange, I've learned from @mblumenthal that I'm not the first one to see even numbered local packs:
@vtdesignworks @davidmihm I have seen them... 2 packs and 4 packs as well... not very common...

— Mike Blumenthal (@mblumenthal) November 13, 2012
I've mentioned in the past that I suspect Google will begin to randomize the local pack as time goes on to account for highly competitive industries. For example, there are hundreds to thousands of plumbers in most metro areas, but most users will only see a handful of these companies in the local pack. Presumably, whether through randomizing or some other means, Google will figure out a way to account for this issue. The odd/even local pack testing certainly doesn't strike me as the solution to that problem, but it's a good indication that they continue to test changes to local results, which is a good indication they (like us) aren't satisfied.
As a quick aside, Blumenthal has a new post up today that highlights another new Google+ Local "feature" that is borderline useless. I won't bore you with the details because it's unlikely you'll care, but the way Blumenthal summarizes his feelings is how I've felt about how the people at Google+ Local/places have been prioritizing for some time:
Did you ever ride in a car that had chrome pipes & fancy spinner hub caps but you always felt lucky when you arrived at your destination? And then the owner, for the next upgrade, added mirror dice rather than fixing something substantial? Well that's what seems to have happened to your Google+ Local page.
So while seeing even numbered Google local pack is a nice indication that they're still working out bugs, they're still throwing out silly shiny objects that won't help the vast majority of business owners who are attempting to manage their Google local profile.
Has anyone else experienced Google testing even numbered local packs in your search results recently? Let us know in the comments below. If you need help with local SEO and managing your local profile online, contact us today.