Over the years we've all seen a lot of hilarious images of people caught by
Google's Street View
cameras doing embarassing things, but as a company who deals with local SEO and
Google Places
in particular, we're more interested in the constant inaccuracies we see in
Google Maps
. After all, Google Maps is the engine that powers Google Places, so we'd like to have a little more confidence in the service's ability to display accurate business information. How can we help our clients claim and optimize their Places listings if Google isn't going to display their correct information or worse, show their physical location on the map as being nowhere close to their actual location.
Getting a Business Label on Google Maps
Before we dive in to the J.Crew issue I discovered today, let's take a quick look at map markers that you see when using Google Maps, but not necessarily after having performed a local search. This also has nothing to do with how well Google Places listings perform and rank in standard organic SERPs. When manually viewing Google Maps you've undoubtedly noticed that many businesses have a map marker (the images vary for different industries), but other businesses don't show up at all. I just want to make this distinction clear because we're not talking about the red or blue "pins" that are tied to Google Places listings and Adwords ads, which you see on maps after performing a normal search for some sort of local service. Anyway, since I started working here almost 3 years ago, it was always a point of frustration for us to see the listing for one of the other building tenants showing on the map, but not ours. We have nothing against our friends at
CPA Site Solutions
, mind you, but
Vermont Design Works
is arguably the property's principle tenant, so why shouldn't we at least be sharing the space on Google Maps? Well, there's no simple answer, and if you look around any town on Google Maps, you'll quickly realize that there are a lot of businesses missing, but seemingly no pattern to the data lapse. An attempt at clutter prevention likely has a lot to do with what's going on, but it's unclear how Google selects which businesses to feature. Still, like ranking anywhere on Google, people have figured out some clues as to how you can get a leg up and after reading various posts claiming success using "
Map Maker
", we decided to give it a shot sometime in 2009 or 2010. We decided to use
these "Map Maker" instructions
and then wait patiently.... very patiently. We only checked back every month or so and after well over a year we saw no change... Then a few months ago (early 2012) Google appeared to have updated the business labels for 130 W. Canal St..... to show a business that was no longer in the building and had only ever been here for less than a year! Fortunately, for whatever reason, Google updated the map labels again just in the last month or two and voila: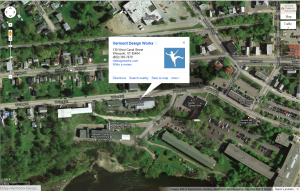 Finally! Of course, while we're thrilled to see our own label on the map, the confusion about what dictates which businesses get the privilege of having their label on Google maps remains. We're left just crossing our fingers that our label remains.
Correct Address Wrong Market Location on Google Maps
Now let's turn our attention to a much larger accuracy issue Google Maps is having. It's one thing for Google to not want to clutter up their maps when multiple businesses share the same address, but it's entirely different to place a retail clothing store label on a sewage treatment plant, as Google Maps has done in the case of
J. Crew in Burlington, VT
.
(Note: I'm including screen shots and linking to map results rather than embedding a map so Google doesn't try to make a liar out of me if they ever silently resolve this issue).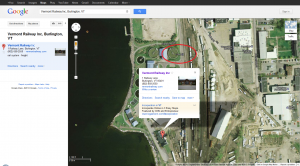 Now, you may notice in the screenshot above that I didn't search Google Maps for J. Crew, but "
Vermont Railway Inc., Burlington, VT
", so let's rewind a bit. Yesterday I saw that
Handy's Lunch
, who we follow on Twitter, had
tweeted that they were at Vermont Railway
. Having never heard of Vermont Railway, I was curious and did what I always do - I Googled it! I then checked Google Maps to see where they were located. Setting aside the fact that their address is 1 Railway Ln. and Google doesn't seem to have any streets with this label, they appear to have gotten that location right... but I immediately noticed, just to the north, a
J. Crew
label showing up on one of those big cylinders at the sewage treatment plant (I don't know, nor do I want to know what those cylinders are or what they do - but I know they aren't full of overpriced clothing). I've seen minor address inaccuracies in Google Maps before (markers being on the right street but not in the exact location, etc.), but this is a doozy. J. Crew is actually located about a half mile away in the downtown mall,
Burlington Town Center
. So why is Google Maps so off the mark on this one? I would have guessed that it was based on having the wrong address for any number of reasons (inaccurate Google Places listing, citations around the web, etc.), but that's not the case, as you can see: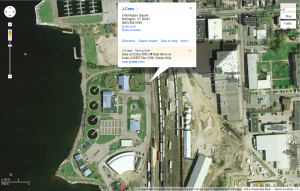 It should also be noted that the label image being used is a pair of scissors and a comb, indicating J. Crew is a hairstylist, but that should be the least of their worries right now... Anyway, notice that when you click J. Crew's name, the pop-up shows the correct address, further confusing the issue given that the map marker is showing up on an unlabeled street. Add in the fact that when you click from the pop-up over to
J. Crew's claimed Places listing
, the small map shown to the right displays the correct location: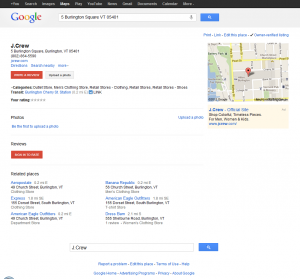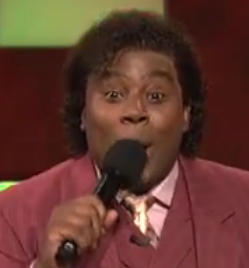 And for what it's worth, no categories related to hairdresser are shown on their Places listing, so no easy clarification on that minor issue either. But to summarize, J. Crew in Burlington has an accurate and claimed Google Places listing, with the correct map location marker and categories, but for some reason Google Maps on its own thinks the clothing retailer shares a location with a sewage treatment plant a half mile away. The only question I have is:
Oooooweeee! What's up with that?
What's that? The waters aren't muddy enough for you yet? Well, take a look at what I noticed happens when you mouse over (but don't click) Sewage Treatment Crew. A different type of pop-up appears containing the following text: "J Crew - Burlington J Crew Author: CityVoter. Date: June 23, 2009". Unfortunately there's no link to cityvoter.com to investigate further and the closest thing I could find on CityVoter.com myself was
this page
, which again features the right address. (If you follow that link you might notice that the map marker is slightly west of where it should be, but no where near the sewage plant).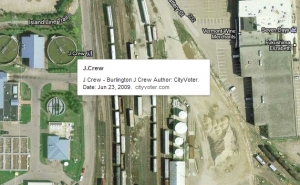 So, we're back to where we started - Google Maps remains a big freakin' unexplained mess, but as
Andrew said
when I showed all of this to him yesterday, "you get what you pay for." This is a great point, and one I keep in mind when I see business owners complaining in forums that Google has messed up their Places listing and negatively impacted their business. As unfortunate as that is, Google isn't being paid to host Places listings. They offer this free service as part of their effort to provide the most relevant search results to users. Yes, I know all of their free offerings are the bait intended to make you bite the hook of paid services, but that's why businesses are in business - to make a profit. Besides, if Google didn't consistently produce the most relevant results, users would leave. Getting back to the point about accuracy issues in Google's mapping service - you definitely do "get what you pay for" as a maps user, but the point of this post isn't to whine about something so insignificant. Rather, my goal is to let other users know that they aren't alone by highlighting how something simple can go off the rails so easily in Google Maps, without any explanation. I'm confident Google will continue cleaning things up over time, as they've done in all areas, and maintain market share in the web search industry (come on, who's even challenging them?) Still, it can't hurt to take a few jabs when you see the Masters of the Universe failing in such an inexplicable way.  If anything, this should give us solace knowing that machines haven't completely outsmarted us...
yet
.
Unrelated Side Issue for J. Crew Burlington on Google Places
If all of the  above wasn't confusing enough, I discovered another issue vis-a-vis J. Crew/Google while researching this post, but it's unrelated to the map marker choas. They actually have a
duplicate (unclaimed) listing
, which is something Places had been getting better about. Places generally merges or removes duplicate listings, but for some reason it hasn't done so here. It's possible though that this is deliberate, as there are a couple of key differences between this listing and
the claimed one
- the URL is missing on the unclaimed one and instead their is a link to the
Burlington Town Center's Places page
above the phone number. Could it be that this is how Google Places intends to handle listings for mall retailers? It makes sense to link to the mall's own listing, but only if that's in addition to the retailer's website. Either way, I've never even seen a field with a "mall" or "shopping center" option when claiming a listing, but perhaps it's new. Out of curiosity I checked a few other stores in the mall to see what their listings were like. I don't have the energy to even try to comprehend and explain the anarchy I saw, but I will say that I found a
Macy's listing
that had both the link to the retailer's URL
and
to the mall's places page. That seems to indicate that this may be the way Google is planning to go with listings for retailers that are in shopping centers, but it's the first I've seen or heard of it. Has anyone else noticed weird mall retailer listings in Places like the ones described above? How about completely off the mark labels on Google Maps? Let me know in the comments below. The more examples we have to research, the better we all can understand the system and ause that knowledge to improve our visibility on the web.