Summary:
It's easy to miss, and who knows when it was added, but there's now a way to "Show service area" when looking at a local business or local search results in Google. Today we explore a number of different ways that you can wind up viewing a company's service area and the types of location targeting these companies are able to utilize in their local listings.
Ever since it was announced that
Google+ Local was replacing Google Places
as the search engine's local directory service, we've had a lot to say about the changes... But very little of it has been good. Whether it's the option to
merge with existing Google+ business pages
being very limited by business type,
disappearing reviews
or any number of
other bugs
, there hasn't been a whole lot to get excited about. The item I'd like to highlight today, identifying a business's service area on the map, is actually similar to disappearing reviews, in that it's not a new issue that's somehow unique to the latest local directory platform. Both issues have in fact been ongoing for years, but now it seems there's at least a partial solution for business owners who want to show customers their complete service area on the map.
Google+ Local Service Areas
First, for those not especially familiar with the management side of Google+ Local/Places and how local service areas are selected, let's take a look at how this is handled in the back end. Remember, despite changing the front-end user experience, the form business owners use to claim/edit their listings had gone unchanged from
Google Places
up until "the merge":
Service Areas and Location Settings

Depending on the types of products and services you offer at your business, this section can be a bit tricky. As you'll see in the screen shots to the right, there are 2 options. For those that only deal with customers at a bricks and mortar location, like a retail store, you'll want to choose the first option – "No, all customers come to the business location". This option works for most businesses, but what about home services companies like plumbers and electricians? Businesses that serve customers at their own locations will want to select the second option – "Yes, this business serves customers at their locations". If you do go with the second option, you're then presented with additional options, much like the old "Choose Your Own Adventure" books we all read as kids…. Okay, it's not that exciting because I can't tell you that "you're the star of the story". Essentially Google just wants to know what areas you serve and you can either specify a radius from your business address or add in a list of specific zip codes and towns/cities. Additionally you'll need to decide whether or not you want your business address displayed in your listing. For further details on this option, I recommend reading our blog post on the recent Google Places policy change, because if you choose to display your address but you don't serve customers at your location, Google may remove your listing.
Note: I strongly encourage you to read the post I link to in that excerpt to learn about Google's policy change earlier this year that now requires that all

service area businesses hide their address

. Additionally, I'm now told that the back-end management of listings has changed for the businesses Google allowed to merge.
As you've likely figured out, we're not talking about the first paragraph/image in the excerpt above because those businesses don't have "service areas". Instead we're talking about anything from HVAC technicians and construction contractors to taxi services and catering companies. Basically any company that serves customers anywhere but at the business location.
Google Local Ranking Issues
But let's rewind for a minute, back to the beginning, so I can explain the issue with setting service areas. Early on, the biggest frustration for business owners was that Google was placing far too much emphasis, in terms of local listing rankings, on
proximity of a business to the Google Maps centroid
:
Another issue is one of the primary ranking factors – proximity to the centroid. The centroid is essentially the map marker Google uses if you just search the name of a city or town. If you then couple that city/town name with a search for a service or product, you'll often notice that the top 7 local results all have locations very close to the centroid. This doesn't make a lot of sense if, for example, your business is the largest construction company in Boston, but your physical address is in a suburb like Brighton. Some business owners have attempted to account for this issue by buying a PO Box as close as possible to the Google centroid, however this is against Google's policies and will get your listing removed. Mike Blumenthal notes that Google seems to be trying to resolve this issue, to some extent, through "location sensitivity". This still doesn't deal with the fact that they never show more than 7 local results, placing less weight on proximity to the centroid is at least a step in the right direction.
I've definitely seen Google make more progress on this in recent months, and hopefully they're now factoring in the business type more, because obviously it makes sense to weigh proximity more heavily for pizza delivery, but not so much for a cleaning company that serves an entire metro area. So progress is progress, but there has still always been an outstanding issue on the front end - users haven't been a ble to view a map of a business's full service area. While users might reasonably assume they're in the service area of any businesses they're shown, especially in cases where business owners have accurately entered all of the towns/cities/zip codes they service, we can't always completely rely on Google. To use an example I've used in the past - default location settings are often based on IP address, and in the case of Vermont Design Works, we have Comcast Business Class for our ISP and that places our IP address in the Boston area, so we get Massachusetts local results. Granted that's an extreme example, but it illustrates how imprecise Google's location detection can be. So wouldn't it be nice if you could view a business's total service area in Google Maps to be sure they serve your area? Well, now you can! I only noticed this feature in late summer, but given how easy it is to miss, it may have been around for several months before I caught it. Because our friends at
iMarket Solutions
deal almost exclusively with "service area" businesses (
contractor websites and marketing
), I asked them to supply me a few example clients I could use for this post, and as always they came through for me. Let's first take a look at
the listing for EC&S
(Environmental Controls & Service), an
Elizabethtown, PA HVAC contractor
:
As you can see in the screenshot above, they show you a small map of what we'll call their location for now, but there are issues here that we'll discuss in a future post as well. So for argument's sake, let's pretend that little map in the right sidebar shows EC&S's location... But it still doesn't show their service area, which is what we're talking about today, right? I'm getting there... Okay, so the next step is to click that little map, which takes you
here
: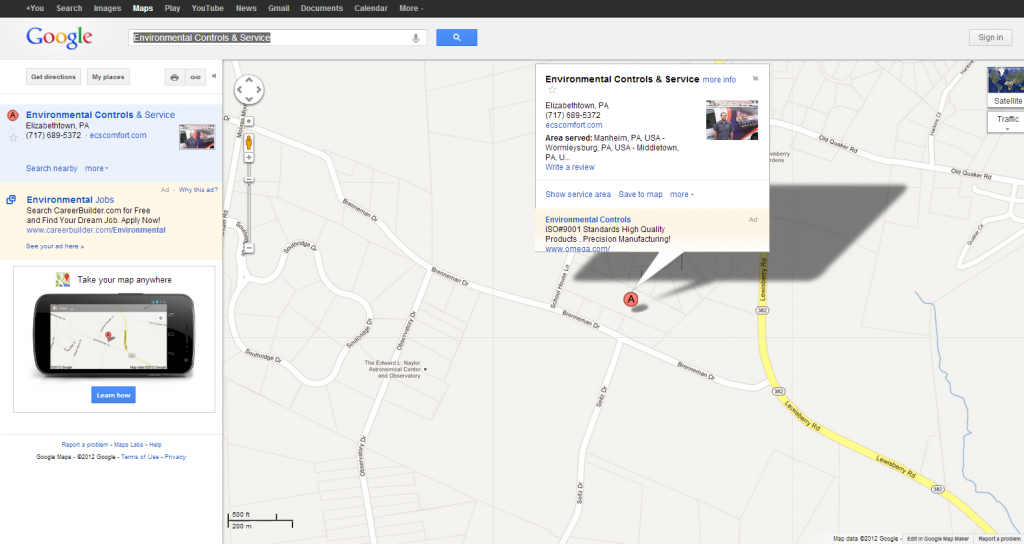 Now that we've got a larger map, it kind of seems like we're getting somewhere, but we're still very zoomed in looking at maybe 1 square mile, give/take. Unless we're neighbors with this business, we can't tell from this map if we're in their service area. But did you notice, squeezed in between the basic listing information and the Google ad in the overlay/pop-up, that there's now a "Show service area" link? Take a closer look again: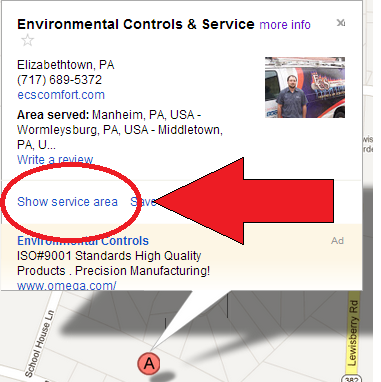 Show Service Area in Google Maps
You can't miss it now after I've drawn all over it, but if you noticed it before I'd be surprised. It's right in what I'm relatively certain is the least clicked area in the overlay. How many people use "save to map" or the "more" dropdown which is for editing, reporting problems or emailing maps. At any rate, here's what happens when you click "Show service area" text: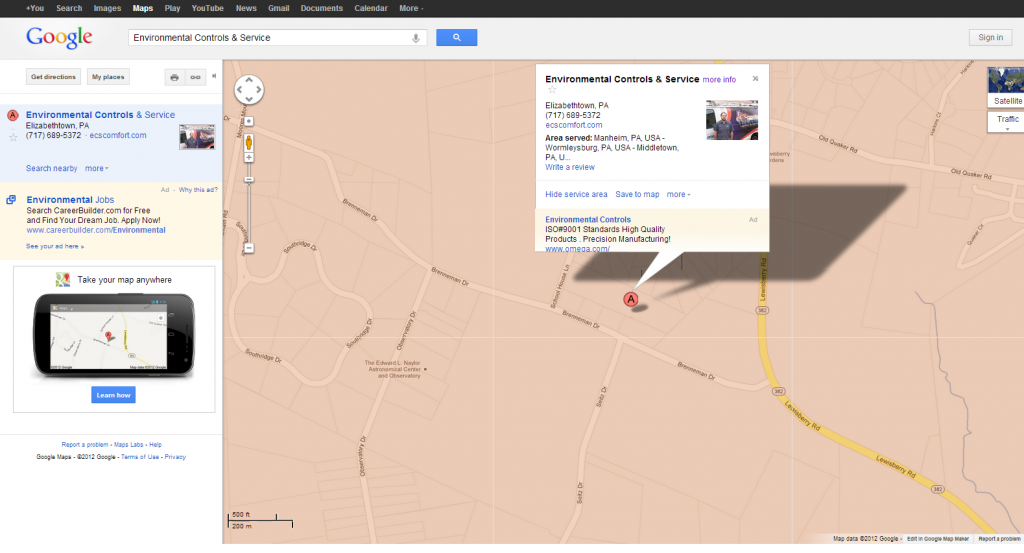 Yay, the map is now tinted orange! Wait, that doesn't help us... Zoom out and keep zooming out until your entire map is no longer orange: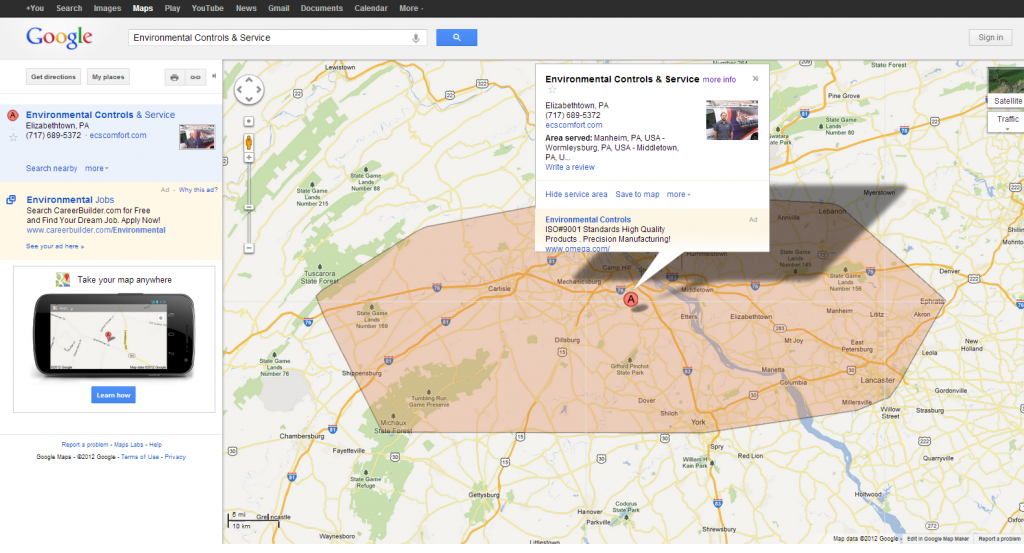 Alright, now we're talking! This odd polygon is the result of a business owner having entered each individual town/city/zip code for their entire service area. Assuming most people know roughly where their home is when looking at a map, and assuming the business owner has set up their service areas correctly, any user should be able to follow these simple steps to determine if the service area. And they really are
simple steps
, I just dragged this out for the purposes of this post so you can understand how difficult it might be for the average user to ascertain the full service area if they didn't already know. Once you know, it's a few seemingly unnecessary clicks away, but it really only takes a matter of seconds. Still, wouldn't it be nice if you could view the full service area when viewing the individual listing? Let's quickly take a look at another example, just so you can see what it looks like to "Show service area" for a business that uses radius targeting, rather the polygon style service area map that shows when businesses enter all individual towns/zip codes. iMarket provided me with
Cincinnati heating and AC contractor RineAir
as a great example of a client using
radius targeting
: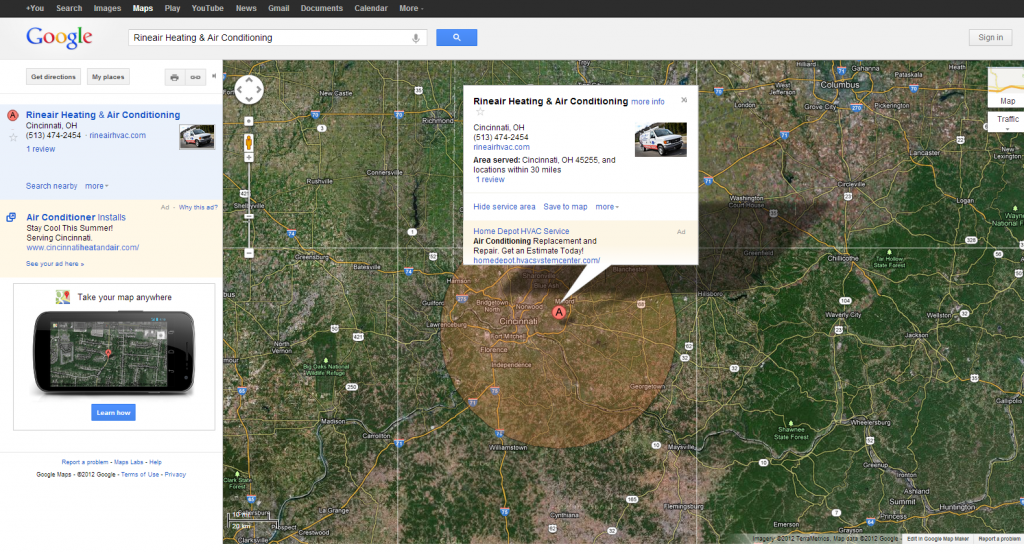 As I mentioned earlier, there are other issues with what Google seems to be telling the user is the business's location, which is why radius targeting is a more attractive option for some business owners managing Google+ Local listings, but as I mentioned, I'll detail those issues in a future post. For now, let's take a look at one other way to access "service areas" that may just be the most useful - "Show service area" on individual listings within a map search results page (rather than when you're already looking at a single specific listing). Take a look at this results page for the search '
beavercreek or heating
':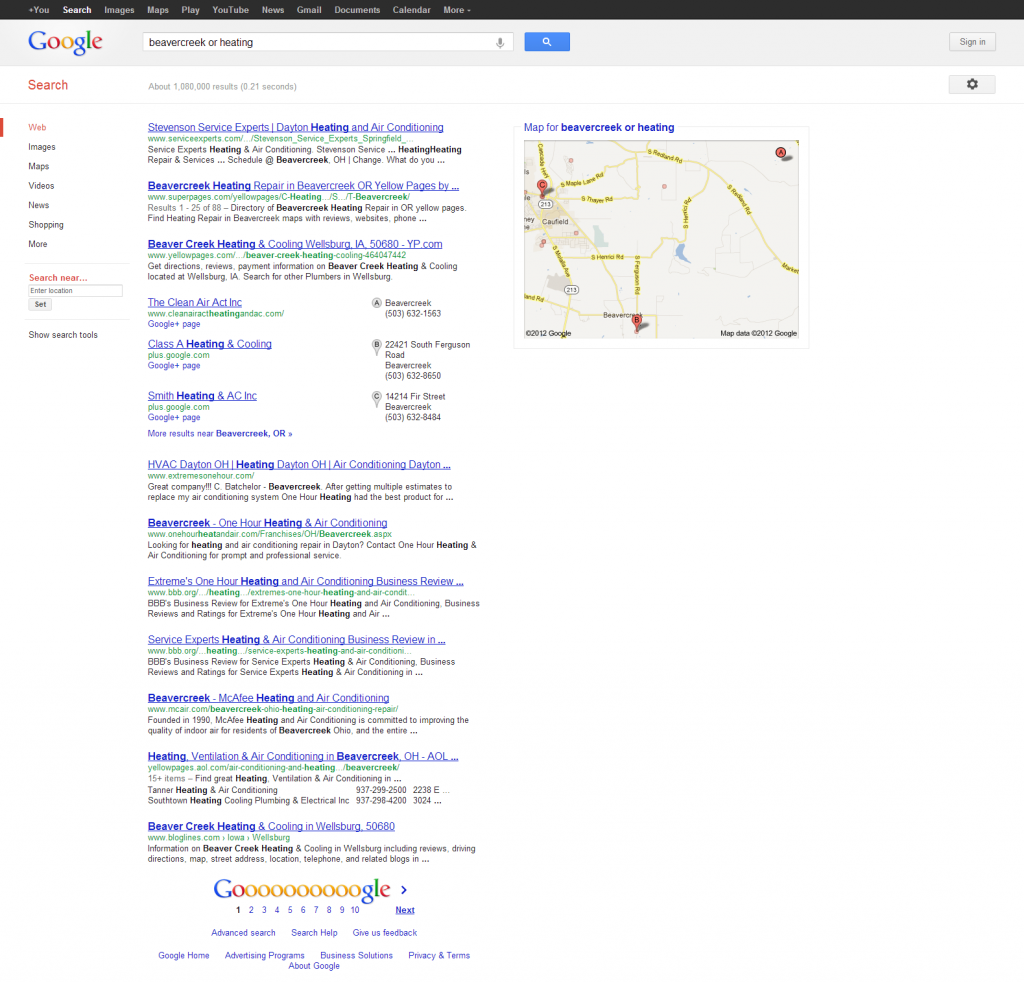 As you can see, Google is only showing a 3 business local pack in this case, probably because Beavercreek is a small, rural town in northern Oregon. But if you click the map with corresponding location markers to the right you'll be taken directly to full
Google Maps results
: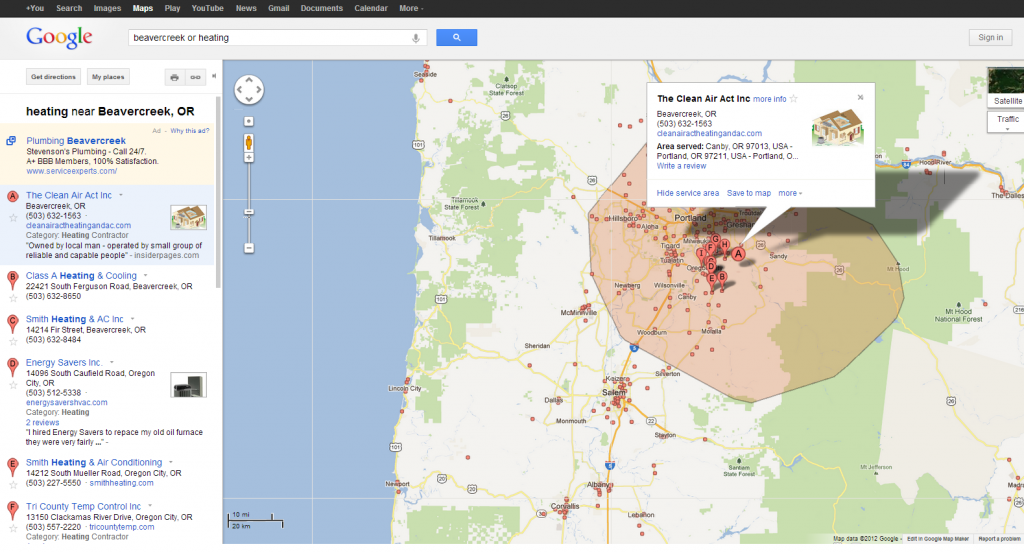 Above you can see that I've skipped by selecting an individual business (you can do this either by clicking on it in the left scroll area or by clicking on a pin on the map), clicking "Show Service area" and zooming out so you can see the whole area. A few paragraphs back I mentioned that this might be the most useful instance when you would use "Show service area", but why? Well, if you already know of a specific company, there's a good chance they serve your area, but if you're just doing a search for a company you've never dealt with before, seeing if you're in their service area would be particularly helpful. By the way, did you notice anything strange about the map markers? Take a closer look, I've isolated just that part of the map: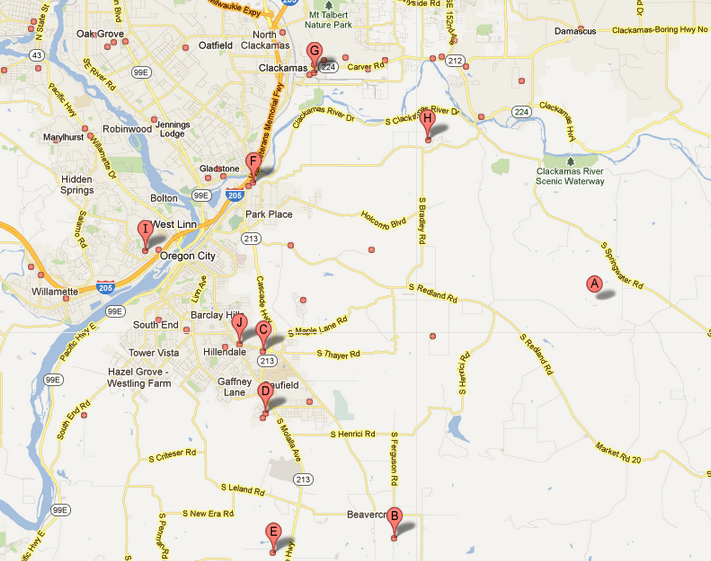 I'm glad to see that the first listing, "A", is an iMarket client -
Portland heating and AC contractor, The Clean Air Act
- but can you see how their marker is different than the others? All of the others have the normal "pin"-style map marker, but The Clean Air Act has just a circle, and it seems to be floating out in no man's land. Well, the difference in the markers has to do with shown/hidden addresses. When the address is hidden, just the circle is used and it's centered over the defined service area (rather than specific location). Essentially all of the Clean Air Act's competitors in this list are violating
Google's quality guidelines
. Again, we'll be exploring these issues further in a future post, but I felt it was worth briefly touching it here. Do you own a business that serves specific areas but haven't even begun your local SEO strategy?
Contact us
today so we can talk about how to get you started.