Notice the question mark at the end of the headline above? It started out as an exclamation point but sagged a bit when I began to really think about what this change probably means - even more chaos and inconsistency. And of course this raises big questions like: what happens to the Google+ Business Pages many of us have already created? Google Places/Local/Maps have been struggling to get things right for years and as far as I can tell, things have only gotten worse. I can see progress on some fronts, but they don't ever take the time to perfect anything before overhauling the system. Whenever it seems like they've started to straighten things out I know it's time to reach for my Raid can because I know Google Places is set to unleash an infestation of new bugs on their own system. Given that they're in the process of completely throwing out and replacing the old system, I'm pretty confident that things are about to get messy. Now, before I highlight some of my observations of what's changed so far and give more of my opinion about where this is all headed, let me just direct you to some of the early coverage from the past couple of days. There's no sense in repeating what he's already detailed so I'll summarize and link you to the full posts below.
This post by
Samantha Murphy
, fed to 
Mashable's Twitter
 account early Wednesday, was the first sign that something was going on with local search on Google. The frustrating thing was that the embedded videos (posted by Google) explaining the new move were pulled from YouTube within minutes. They were reposted later in the day, but neither the videos nor the text in the post explained what this meant for Google Places at all. It would seem that they were unaware of the implications at that early stage because they addressed "Google+ Local" as if it was just something new/separate from everything else. In fact the videos were basically just for "users", which is understandable, but it left business owners and local SEOs hanging.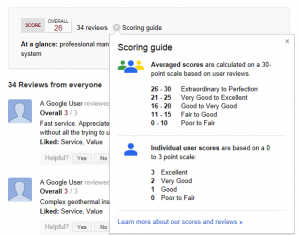 The Mashable post was however useful in that it explained the new Zagat-style rating system being adopted by Google, but it wasn't clear how this would translate because Zagat was primarily used for restaurant reviews. In the end though, it appears that they've figured out a way to turn reviews on a 5 star scale in to 0-3/3 reviews and a way to calculate an
overall "out of 30" collective score
.
***UPDATE: Editing (before posting) about 24 hours after writing the next paragraph I see that it's no longer accurate, at least for the moment, but I'm not removing it simply because I wouldn't be shocked if changes revert several more times before settling down. At the moment I can only access the new +Local pages, but just a few hours ago I could access either ***
One other key takeaway, which I verified with a variety of tests, was the fact that you're only being linked from search results to these new Google+ Local pages if you're logged in when you perform your search and on the mobile side of things, only Droid devices are currently supporting the new local pages. Now, you can still access the new Google+ Local page if you want to work hard figuring out how to find it, but if you simply search when not logged in, local pack results will take you to old style Google Places pages (though they're modified a bit because of the new Zagat ratings. Oddly
5-star ratings still show in search results
for non-logged in users.) Click the thumbnails below to see screen grabs showing the difference in how the local pack appears for logged in and not logged in users: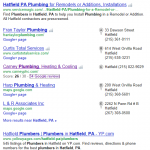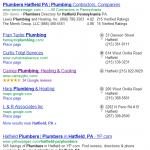 It was already pretty clear that Mashable left out the fact that Google+ Local is the replacement for Google Places, but this was the earliest post I saw detailing the change. In it, Mike Blumenthal was able to put my mind at ease a bit by making it clear that nothing has changed in how Google ranks these pages (yet!) and that for the time being, business owners will still manage their listings from the Places dashboard. The primary change at this point is simply that front-end user experience. But again, right now that all depends on whether you're logged in or not, so what Google has essentially done is added another layer to what causes different users to see different search results. The post goes on to talk about how results will continue to become more socially based, but that's no less ambiguous than any statement made since the announcement of Google+.
And then there's this:
Google is still rolling out the change so the details of how all this will work are not yet clear. But they note "If you don't yet have a Google+ Page for your business, we encourage you to create one now. And if you do already have one, hold tight for news on how to get it linked to your local listing."
This is one of the most important outstanding questions in my mind - What about Google+ Business pages. It would seem stupid to manage 2 Google+ pages for the same business separately. But if there is some sort of merging around the corner, how will that work if the page owner login information for each entity is different? What about when there are multiple owners of one or both listings? Hoping the official announcement post by Google would shed some more light, but as usual, I feel like Google tells us less than the SEOs figures out on our own. At least in this case it seems more a case of being tight-lipped during a staggered roll-out, rather than uninitiated Google new hires giving me an "I dunno, honestly it's my first week" (yes, that's happened before).
Google may not be telling us much, but Blumenthal to his credit has posted a series of informative posts over the last 2 days:
Google+ Local Reviews - This post discusses in further detail what the Google+ Local migration means for reviews. Mike explains that Google has done away with anonymous reviews and what will happen to older reviews.
Google Updates Place Community Edit & Report a Problem Forms - In this post, Mike explains how the community editing and problem reporting forms have been combined, which I have mixed feelings about. Sure, it's great if a friendly member of the community wants to help for accuracy's sake, but what about local competition? Hopefully this doesn't make it easier for competing businesses to sabotage each other's listings.
Google + Local: Q's and some A's - A great Q & A that really does tell us A LOT more than I've read anywhere else, including a response on one of my biggest concerns from the forum where Vanessa has been fielding questions:
I have my Google+ Business Page and my Google+ Local page claimed into different accounts. What do I do? Keep managing them separately. From Vanessa: "We know it's not ideal right now, but we're working to consolidate these pages into a single page where you guys can manage your presence across Google. We'll keep everyone posted on news in that regard." "To be very clear here, we will be combining any Google+ page you may have created with any matching upgraded Google Places listing (what we're calling local Google+ pages). "
And I feel honored that Mike specifically used to of my Qs (from his
original post
) in the list of Q&As:
http://blumenthals.com/blog/2012/05/30/google-places-pages-are-no-more-but-what-has-changed/#comment-571952
The rapid fire changes are difficult to keep up with. One has to wonder – why is Google deliberately creating such a chaotic situation?  Google has yet to learn that change is an anathema to most businesses. The updates occur on their development timeline and that is apparently chaotic. Hopefully Google has taken the time to resolve some of the under the hood problems that have been so painful (merges, dupes, lost reviews) so what we lose in learning about the changes we can make up in efficiencies down the road. Here's hoping!
http://blumenthals.com/blog/2012/05/30/google-places-pages-are-no-more-but-what-has-changed/#comment-571953
What a mess it's going to be when you're trying to manage the new Plus+Places, but your login for each is different…. It would appear to me that the when the new local environment is fully fleshed out there will be multi user management so it MIGHT be workable.
On the first question, I'm just glad to see that my question wasn't too dumb to address, but let's just say the fact that Mike "hopes" Google has resolved some of their issues doesn't put my mind at ease. On the second question, I hope he's right but I also fear that multi user management may lead to issues of hijacking by competitors.
Google+Local Retains Community Image Upload But is Missing a Way to Report Abuses - A little much needed levity after Wednesday's upheaval. Some users discovered that there wasn't anything preventing them from posting unrelated images to a Google+ Local page, and they took to Google's own page to make this point by posting pictures of some unusually hairy dudes and Hitler. After several hours, Google had removed the images, but not before screenshots were taken and the little stunt proved early on how vulnerable to attack the "community" change option leaves businesses. Lesson learned Google? We'll see.
Local SEOs Weigh in on Google Plus Local
Of course, Blumenthal wasn't the only Local SEO commenting on the change and I recommend reading all of the following posts from industry experts so that you are as prepared as you can be for what's still to come:
Google Places has been replaced with Google+ Local! What does this mean for local business owners?
 by
Anna Bourland
 @
iMarket Solutions
- Highlights: A great general overview of what this change means for business owners, especially for iMarket's plumbing and HVAC clients, whether iMarket has been managing their Places listings for them or they've been managing them on their own.
Google+ Local Replaces Google Places
 by
Barry Schwartz
@ Search Engine Roundtable - Highlights: A variety of great screenshots showing how the new pages as well as maps search results will now show on both PCs and mobile devices.
Manage Your Google+ Local Page
 by 
Barry Schwartz
 @ Search Engine Roundtable - Highlights: General breakdown of most important changes with emphasis on the future combining with Google+ business pages.
Google Places Is Over, Company Makes Google+ The Center Of Gravity For Local Search
 by 
Greg Sterling
 @ Search Engine Land - Highlights: Another unique and detailed take on Google+ Local with a lot of other screenshots, including some examples of how specific search results have actually changed.
Google+ Local to Replace Places as Google Makes a Play for More Mobile Ad Dollars
by
Miranda Miller
 @ Search Engine Land - Highlights: Miranda does a great job of analyzing what this change is really all about - mobile search and ad revenue. The surge of smartphone usage in just the past couple of years has people using mobile search far more often than desktop search, so it's only natural that this is where Google would turn their attention. Miranda also linked to this
CBS This Morning interview
 with Marissa Mayer, with Google's VP of Product Management, in which the new local platform is briefly discussed. I especially love how clueless Charlie Rose is about mobile advertising, but in fairness I bet most people outside of this industry are just as oblivious:
It's Finally Here: Chronicling the Plus-Places Merge by David Mihm @ Mihmorandum - Highlights: Another great general rundown by one of the local SEO community's premier experts. David's point about using this as another way to get more Google+ members is spot on in my opinion. It makes a lot of sense, especially given that this has been an ongoing issue for G+ - Getting users spending less time on Facebook and more time on Plus:
As I suggested in my column a couple weeks ago, I really think Google is going to use businesses as a way to get more users on Google Plus, rather than the other way around.
Rankings on Google+ Local: Some Observations - by David Mihm @ Mihmorandum - Highlights: Here David does a great analysis proving what most of us are seeing - the impact on rankings, so far, has been very minimal. In fact it's difficult to find examples of anything having changed in terms of rankings, but in the few where they have, it's not immediately clear why. The post wraps up with David recommending that business owners begin getting active on Google+ and keep on keepin' on with their other traditional local SEO efforts:
Keep plowing full-speed ahead with your traditional Local SEO campaigns just as before
Make sure that you claim both your Plus and Place pages
Get your Plus page linked persistently from your website (much like your NAP info)
Get a small amount of Google+ activity going immediately
Message all existing customers with an @gmail.com address that you're on Plus & you'd appreciate a follow
Feather in some additional Google+ activity over time
The Coolest +Local Feature No One's Noticed? - by David Mihm @ Mihmorandum - Highlights: Here David highlights a new feature - reviewing businesses AS a business. This will be great for B2B firms like ours, but I can also see businesses reviewing local restaurants that employees frequent, etc. as well. (I just left one as VDW for the bakery Cupps just down the road from us - great soups).
Google +Local NAP Info Pulling From Mapmaker (not Places?) - by David Mihm @ Mihmorandum - Highlights: This brief post highlights what appear to be some inconsistencies between the info entered in the back-end Places dashboard and what actually appears publicly on the new Google+ Local pages, but as I noted in my comment, this issue isn't new. David's theory isn't a bad one, but in light of what we've seen as an ongoing issue, I'm not sure he's right to so quickly assume this is related to Mapmaker.
What Google+ Local Means for Business
So, to summarize, at this point Google's latest iteration of local search means little in terms of both rankings and how business owners manage their listings. But given that the listing are now part of Google's social network, it seems safe to assume you might be rewarded the more you become actively engaged. Other than that, you still log in to the same area to edit your listing and the fields you can edit are all still basically the same and where listings are showing up in maps and local results remains largely unchanged. The one minor difference I do see in search results is that it simply shows the number of reviews if there are fewer than 10, but if there are more you see the actual Zagat style score. My concerns mainly deal with the future steps of this multi-stage roll-out. I can't emphasize enough how messy things could get when Google wants to merge new Plus Local pages with existing Plus Business pages, if login credentials are different for each account and/or if each has multiple "owners". In the past I've seen Google Places, in all its wisdom, merge competing companies listings, leaving them with the correct company name and address of one company but the phone number and URL of another. The most frustrating part was that in the back-end Places dashboard, the information was all accurate. Legal threats flew back and forth, one company eventually got someone from Google on the phone, and the listings were separated but local rankings dropped dramatically. Call me pessimistic, but history has taught me to be expect chaos when Google changes something and I believe this future "merge" will be a much bigger issue than this week's change. Basically all that happened this Wednesday was the front-end user layout changed, but the same information is displayed. But what happens when Google's robots (NOT humans) begin trying to figure out how to merge millions upon millions local and business pages on Google Plus? Their non-human brains have come a long way in dealing with search results, but their track record for merging listings and determining up to date and accurate information isn't great.