Last week we talked about
Facebook Offers
, a new free service in beta testing and currently being offered to a limited number of "local" businesses around the country. Basically Facebook is returning fire at Google which has been busy trying to steal away some of the social media market share, particularly with the recent
transition from Google Places to Google+ Local
. While it is again currently only in the testing phase, I have to say that Facebook Offers seems like a winner so far, in ease of use for both the business owner and the customer (thanks again for free pint,
Al's
!). Facebook may still have some serious catching up to do when it comes to local business tools, an area Google has been dominating, but Google still has its work cut out for it when it comes to the social side of things. At the same time, Google may even be hurting itself a bit on the local business side of things with a recent change they made to their own "Offers" service. A few weeks back, even before the major Google Plus Local move,
Mike Blumenthal noticed
that Google Places has overhauled their "Offers" program and many of the changes will be significant for business owners who currently use the service. Before getting into the changes, I want to make it clear that these
"Offers" (for Google Places)
are different than
Google Offers
, which is a daily deal service along the lines of
JumpOnIt
and
LivingSocial
. Google Places Offers, on the other hand, are essentially coupons/promos that business owners can feature on and control through their Google local pages.
Fun Side Note: While I was in the middle of writing this post, Google changed even the Offers info site by hiding it behind a "Sign in" page. This isn't a big deal and any old Google account will do if you're just looking for general information on the program, but when it comes time to actually set up an offer, you'll want to be sure you use your Google Places account log-in credentials, or you'll get stuck at this screen: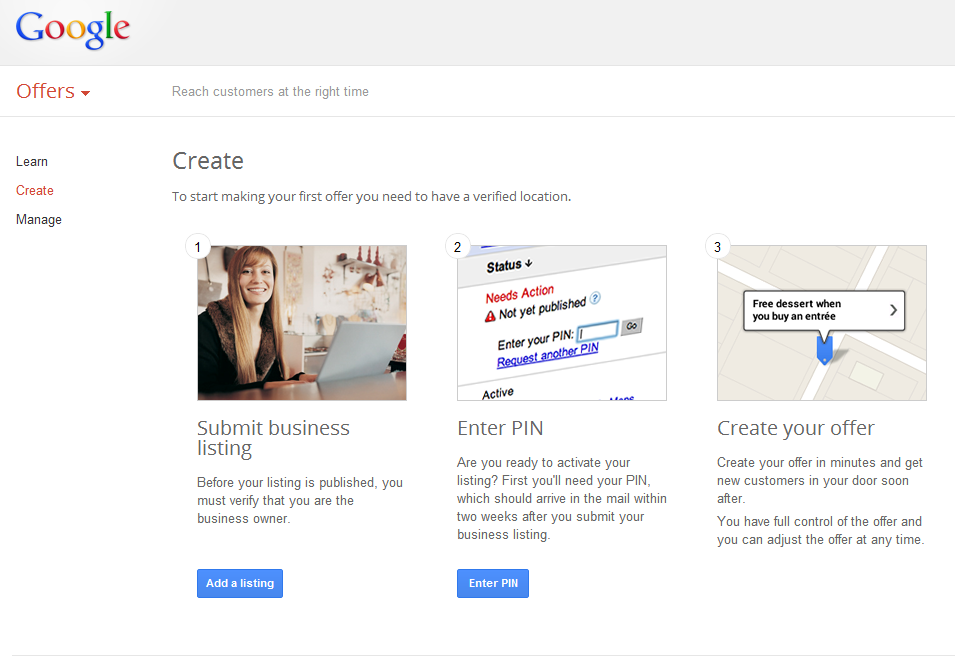 For additional screenshots, including a step-by-step walk-through of setting up a Google Local Offer, I'll point you
back to Blumenthal's post
. As I mentioned earlier, he wrote that post several weeks before
Google launched Plus Local
, but as far as I can tell, the his descriptions and screen shots seem consistent with what I'm seeing when I test the new system. Indeed I suspect the new Offers system was launched in preparation for the new Plus Local system as part of Google's broader push to become a one-stop-shop for for local business marketing. But, as I noted in a recent post on where Google is taking "local", while they seem set to launch a lot of great new
local business market services
, they also appear to be trending toward paid services and this little call to action seen throughout the "Offers" site provides further evidence that this is the direction things are headed:

It should be noted that Google Places Offers was always a free service, so this will be a significant change. From Google's perspective, they see another revenue opportunity, but for a business owner only dipping their toes in Google's local waters, I can't help but wonder if they'll scare some away. Of course the conspiracy theorist in me has me thinking this is all about driving early participation and then later Google will "announce" that Offers will remain a free service. It's definitely important to get people using the system for testing if nothing else. As you'll see in the Blumenthal's screen shot slideshow, the emphasis for these offers is on mobile. Throughout setting up an offer you see how your offer will appear on a mobile device using Google Maps for Android - One of the points specifically highlighted by
Blumenthal in his feature write-up
(emphasis mine):
Only photos from Google existing library can be used. This is a limitation of your products fall out of the narrow range they have chosen. You are allowed to limit the total quantity of offers available, the timeframe they are available and whether a user may re-use the coupon. Interestingly the offer can be limited to only certain days of the week. The management interface shows how often the offer was saved by users and how often it was redeemed. New offers are currently only appear on Google Maps for Android, Google Offers and Google Wallet apps. As far as I can tell they are not visible on the desktop and have no presence on the iPhone.
Two downsides here: No Google Offers for iPhone users and, as far as I can tell, you can't take in a printed out confirmation email like Facebook Offers allow you to do. Google is probably just trying to keep things as simple/clean as possible here, but why start now? Google Plus Local, in general, is a big freakin' mess. I guess the argument would be that "mobile is the future". I would also ask why they've chosen not to support iPhone, but that's no different than the balancing act they've been playing for a while. They want to force you in to using a Droid device by not making features available to iPhone owners but then they're also alienating a massive tech-savvy potential user base. Going back to the point about whether this will remain a free service, just briefly - I still think that's a possibility, but at the same time Google is essentially building another mobile advertising network outside of Adwords, which is actually more evidence that it will soon be a paid service. No more free lunches - pay to play! All in all, I like the simplicity of these new Google Offers. Like Facebook Offers, the system is very intuitive and user friendly for consumers and business owners alike. Still, what this new system becomes remains to be seen. My hope would be that the people behind Google's local services would recognize the ease of use of Offers and apply that principle to other services, but I'm not optimistic. I would however recommend that owners of all *local* businesses take advantage of the free trial period and get some offers online today. There's no downside. If while reading this post all you can think is, "who has the time?, feel free to
contact us today
to discuss your business's local SEO strategy and how we might be able to help. We understand that managing an online presence is simply not something many business owners have time to handle on their own and we're always happy to help.