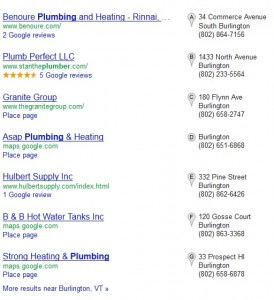 So you've finally started to build an online presence for your business or organization, huh? You've probably got a new website, a blog, Facebook and Twitter pages, and you may have even taken the next step and created your Google Places listing. But did you know that you may
now
be in violation of Google Places policies? Whether you've already claimed your listing or not, you need to know about this change to prevent your listing from being removed. Over the last several days, the SEO blogosphere has been buzzing about the following, unannounced addition to the
Google Places Quality Guidelines
:
If you don't receive customers at your location, you must select the "Do not show my business address on my Maps listing" option within your dashboard. If you don't hide your address, your listing may be removed from Google Maps.
If you're familiar at all with Google Places, you know that this is not only counterintuitive based on the idea that you should provide as much information as possible in your listing, but in the past hiding your address actually negatively impacted your rankings. As
Miriam Ellis explains in her write-up at SEOMoz
on the new policy:
Why People May Panic Over This Guideline Change

Back in early 2010, Mike Ramsey of

NiftyMarketing.com

published his results of an experiment with the then-new 'Hide Address' function in Places. He documented an immediate

drop in rankings

after choosing to hide his address. Others reported similar incidents, and it became standard knowledge in the Local SEO community that hiding your address was almost certain to result in invisibility. Business owners and SEOs who read about this at the time may now be concerned that Google's new policy will solicit the demise of their local rankings. In November of that same year, Mike Blumenthal reported that

the 'Hide Address' function no longer appeared to be negatively impacting the newer blended local/organic results

, but that it still appeared to be affecting the 7-pack and Maps-based results.
Miriam goes on to note that Blumenthal points out in a comment on her own company's blog that the latter point is even far less important today because almost all local searches are now producing these "blended" results:
Before Venice, the hiding of your address punished your listing. Now that virtually all displays are blended and there is no longer a ranking disincentive, Google is attempting to clean up their approach to businesses based on whether a user should/could use Maps to find them.
Before linking you to a number of other posts for various opinions on this change from other SEOs, let's briefly talk about what this means. We've seen Google itself "hide" a lot of data over the last year. From all of the service areas you list to information you supply in the "Additional Information" section (even though they still ask you to provide as many details as possible in all of these fields), it's been difficult to guess where Google is taking things. But this "hide your address" change is a complete 180
° and it can be difficult to determine whether or not the new rule applies to your business.
For example, our friends at iMarket Solutions develop websites and manage local SEO for plumbing and HVAC contractors, so this is an important change for their clients. Generally speaking, it would stand to reason that all "home services" companies (plumbers, HVAC contractors, electricians, carpet cleaners, etc.) would be impacted by this change, because by their very nature they do work in their customers' homes, not at their own location. You can read iMarket's take on the policy change here. Google's goal is to provide the most relevant and high quality results to searchers, so it stands to reason that they would want to show addresses only for the types of companies that receive customers at their location, as Blumenthal notes in his detailed write-up on the new policy:
I see the issue somewhat differently. Certainly Google has a right to create guidelines that affect quality as they see fit. And this policy is mostly rational. Or rather its intent is. Its goal is to provide Google Map users with locations that they can drive to and have a reasonable expectation of finding "somebody at home" there.
That's a great point, but why is Google calling businesses to ask if they serve customers at their locations, and then removing their listings without warning? The worst part is, they've been doing this before making the still unannounced policy change. Mike Blumenthal, while more receptive to the change than others, does note the following issues with the way Google has been rolling this out:
1) Penalties should never precede the public policy which was the case here by a number of weeks. We were seeing this in the forums and with Andrew Shotland's post long before it was publicly acknowledged. Change the policy, publicize the change and then enforce. 2) The initial phone calls that Google makes to inquire about whether a home business deals with customers at home should be cooperative not confrontational. If you are going to call SMBs then help them know that they have inadvertently stubbed a toe in regards to a new rule and ask them to fix it. Why anger or create fear in a potential customer when you don't need to? 3) If after some period it has not been fixed and the SMB has been alerted THEN remove the listing. It would be ideal if you then properly communicated to the business as to why. 4) The policy is written in such a way as to be somewhat illogical… as Miriam Ellis pointed out in her post. If you take it literally then there would be many businesses that would be in violation of the policy. The reality is that world is more complicated and Google's guidelines need to reflect that granularity.
And what about the issue of supplying an address for trust? Mike provides a work-around for these situations as well, although this seems to border on attempting to "game the system":
What if a business wants to show a location for trust reasons, shouldn't they be allowed to? The still can. They just need to be sure that when Google calls and checks up on their listing that they say that they do in fact conduct business at that location and be prepared to handle a drive up client if one were to come. The reality is that most businesses would accept a visit at the location and would conduct other business there if appropriate or necessary. They need to communicate that to Google if asked. I am positive that if that Google caller had asked Andrew Shotland if he could come over and sign a $10,000 contract at this (home) location, Andrew would have said yes even if it meant cleaning out his den. Google is trying to achieve a compromise between the reality of home based businesses and the need for users of Maps to be reasonably assured that they can drive someplace if Maps says they can.
This actually raises another interesting question - What about businesses, that allow customers to stop by and make payments? Presumably it would improve the quality of the listing, in Google's eyes, to provide an address for those that might need directions to the location. For those who have a more advanced knowledge of how Google Places works and who have worked hard to create and claim business listings all over the web, there is
some good news
:
How does this affect citations? Again, not at all. Just because you are hiding your address in Maps does not mean you are hiding it to Google. You will still need to get citations the way you always have. Citations are based on NAP and NAP needs to be everywhere. Thus the desire to hide your address for privacy purposes has never been entirely logical. The only reason to hide your address then or now was to be sure that clients didn't drive to your home only to find that no one was there.
As others have noted though, this
isn't just about home based businesses
. As Miriam notes in that post - without an address displayed, how will you be able to find the closest contractor to your home now and possibly avoid additional travel charges? Mike Blumenthal thinks this only applies to home based businesses, which would be a relief:
If this guideline only applies to home based businesses (which appears to the case) then perhaps Google needs to make that explicit in the documentation. Not every rule need apply to every business. Alternatively they could rewrite the guidelines in a more general way. Instead of making the criteria whether customers visit a location, make the criteria whether business is conducted in a face to face way (to include vendors etc) at that location.
It's unclear why Mike is assuming that because the new guidelines don't indicate that they only apply to home based businesses. To get you thinking about whether you need to hide your address, consider the list of types of businesses that
SEO Igloo Blog
put together. And for further details on the new Google Places "hide your address" change, be sure to read these blog posts on matter at
SmallBusinessCoach.com
and
Catalyst eMarketing
. We're on the fence about whether this is the best move at this point, but like everything Google does, it will likely change a dozen more times in the next year, but as it stands now,
Miriam's summary
of the situation seems to make the most sense (though it should be noted, she's not a fan of the change):
Clarifying Your Business Model, According To Google

Thanks to Google Places Help Forum Top Contributor, Mike Blumenthal, I feel that I have arrived at a fairly clear understanding of how Google is now classifying different business models. I'd like to pass this information on in hopes that it will help you determine whether your business needs to hide its address on its Place Page. Type A Your business is brick-and-mortar and serves all customers at its location. Show your address. Type B Your business is home-based and serves some customers at your home and some on the road. Show your address and use the Service Radius tool. Type C Your business is home-based and does not serve any customers at your home. Hide your address. I believe these are the parameters in a nutshell.
Setting aside the fact that there seems to be too much emphasis on "home" businesses, I think the point is clear. If you serve customers exclusively in their homes, rather than at your business location, the new policy dictates that you should hide your address. So I might have added:
Type D Your business is brick-and-mortar but ONLY serves customers at at their homes or otherwise offsite. Hide your address and use the Service Radius tool to identify all areas served.
That about sums it up, but it doesn't explain why Google is completely removing listings without warning. Rather than roll it out this way, why wouldn't they just look at the categories used in the listings and "auto-hide" the address based on the type of business? This could obviously lead to other issues if incorrect categories were chosen (often done automatically by Google before a listing is even claimed), auto-hiding an address is certainly better than completely removing a listing. Depending on how reliant you currently are on Google Places to generate business, you may or may not want to update your listing right way. At the moment it seems that most of the listings that should be impacted are still showing addresses. But, if you don't receive customers at your business location, we strongly recommend you keep a close eye on your listing over the coming weeks and months. Also, be prepared to answer questions about whether or not customers come to your location if Google calls you out of the blue, as explained by Mike Blumenthal above. As always,
contact us
today if you have other questions about this new Google Places change or you need any help with your local SEO and directory submission efforts.