Summary: Unlike most Google Doodles that are more for entertainment value, today's Doodle actually links you to their handy voter information tool. This tool allows you to enter your address and get the address/directions for your local polling place and ID requirement information. The tool also provides a list of the candidates, their party affiliations, as well as links to their websites and social media pages.
I'm a little late to this party, but I would be remiss if I didn't blog about
Google's Voter Information tool
- another very useful and free service provided by the big G. Those of us in the "web world" have been aware of this tool for several days now, but only today when Google released an election themed Google Doodle did most Americans probably become aware of it: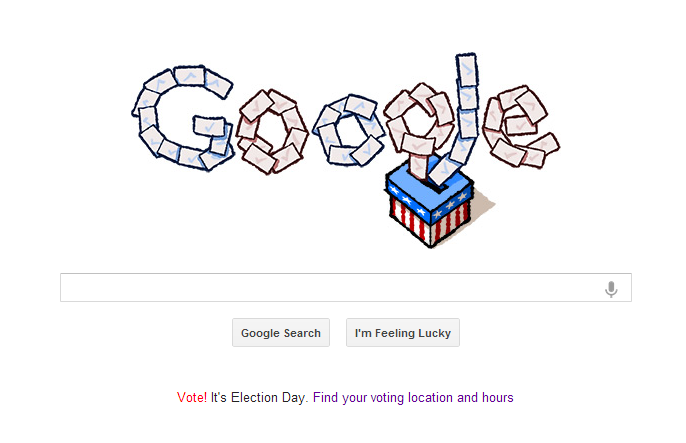 If you click on the Google Doodle itself you're just taken to the search results page for "
Where do i vote
", which has been modified to include this address search form at the top, which will allow you to locate your polling place:

You can type your address in or text link seen at the bottom of the Google Doodle screenshot above, you'd have been taken directly to the
Google Voter Information tool
. As you can see, there is only one polling place in Winooski, but Google provides a map, a link for directions and the hours the location is open. They even include Vermont voter ID requirement info.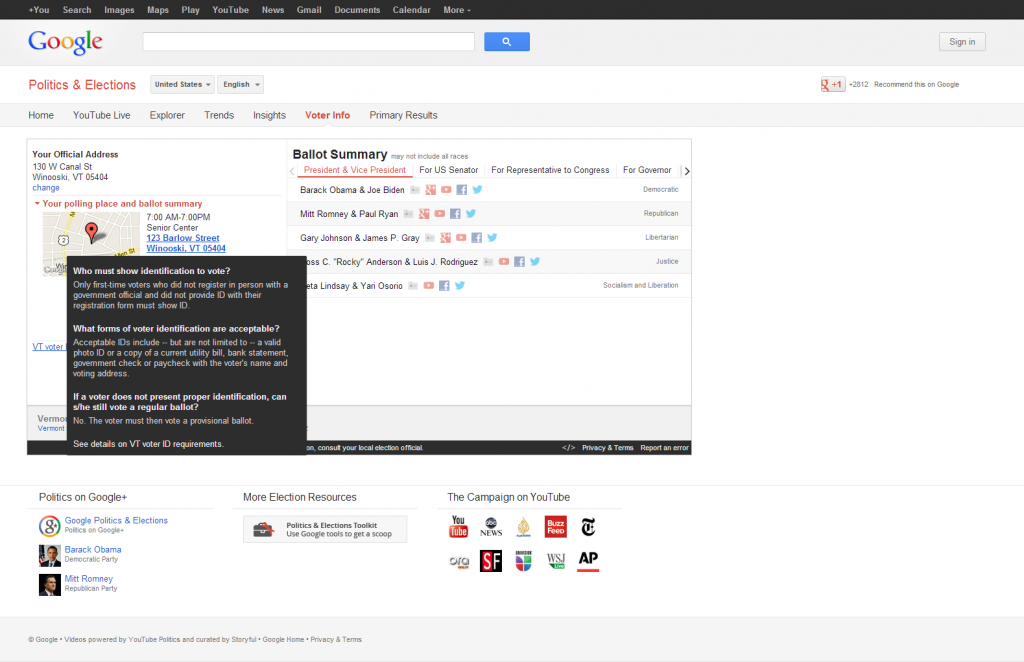 But this tool is much more than simply a polling place locator. To the right of the polling place information is a list of the candidates that are on the ballot in this state. Even the lesser known presidential candidates differ on a state-by-state basis because they didn't all meet the ballot requirements in all states. Anyway, Google has a convenient little carousel that let's you cycle through the different races. Once you select a race, you then see a list of all candidates on the ballot, links to their websites and social media (where applicable), search results for their names, and party affiliation.
TIP:
When checking for your polling place, be sure to put in a complete address, not just the name of your city/town as I did at first. Searching just your town name gets you hit with this error. FWIW, I also ran in to this same issue when checking a number of addresses of businesses in Burlington, but residential addresses worked. I'm not sure how (or even why) the tool would filter out commercial addresses, but you should be aware: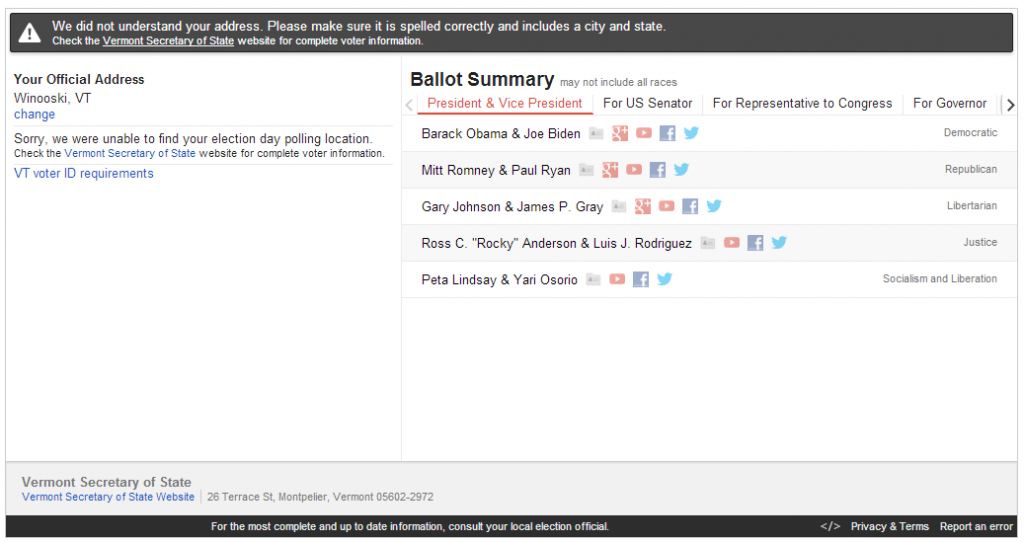 So there you have it, another great tool offered by Google gratis. Now use it - Find your polling place and vote before polls close in a few hours!