Vermont Design Works is proud to announce that we recently launched a new website for
Gridless Power
, a new portable energy system manufacturer. In addition to
designing and developing their website from scratch
, we also designed their
company logo
. As a new company trying to make a splash right out of the gate, branding is going to be key, and part of that means getting the logo just right. A great logo will appeal to the targeted consumer base, be memorable, and make clear what the company does. Our
graphic designer
mocked up a variety of excellent options which we reviewed carefully with Gridless before they selected the logo below, which they feel best represents their new corporate identity and will help them mainstream their brand:

Gridless Power's
portable electricity generating systems, or PowerPlatforms
, are designed to be used wherever energy is needed, especially areas where access to wall plugs connected to the standard electrical grid aren't available. Their scalable power generating solutions offer effective power for all sizes and types of applications in even the most remote locations; and setup of the devices doesn't require an electrician or any special installation equipment. As they explain on their Facebook page:
Gridless is developing the world's first truly mobile, scalable power platform. The Gridless PowerPlatform brings together the best of clean tech and traditional power generation to deliver power to where it's needed most.
Gridless is currently deploying their portable solar power generating systems to areas struggling with prolonged outages. They even assisted in the relief efforts after
Hurricane Sandy in Seaside Heights, NJ
. Gridless envisions these units being used to replace traditional portable generators, like those powered with gas or diesel, which cost more in the long run due to constant refueling needs. Obviously in addition to eliminating the need for ongoing purchases of costly fossil fuels, a renewable fuel source like solar is also far more environmentally friendly. Given the broad appeal of such a device and the versatility offered by the Gridless PowerPlatform, these units could be the perfect solution for a wide variety of applications. Below are just a few example scenarios in which Gridless envisions their systems being used:
Disaster Relief and Preparedness - Government agencies from local to federal, and all levels between, have a great need for power generation in emergency situations where electricity is in high demand but hard to come by. It's easy to imagine the reduction in gas and diesel demand, when easily transportable solar power is available.
Consumer - Given the scalability of Gridless Power's units, they even work as a generator for individual homeowners coping with extended power outages after natural disasters. Conceivably these would be sold in retail stores that currently only off power generators that use traditional fuels.
Outdoor Event Organizers - The energy demands of concerts, large festivals and other outdoor events make portable solar an attractive option for companies that organize and manage such events.
Developing Nations - Gridless Power feels that their units are a perfect fit for rural hospitals in countries that currently have limited electrical infrastructure in place.
Military/Dept. of Defense - Like disaster relief efforts and hospitals in developing nations, military operations often take place in areas far from any reliable source of electricity. Obviously portability and scalability are key in these scenarios as well, so Gridless Power's solar generators are a great alternative to generators requiring the constant transportation of expensive fossil fuels just to keep them running.
Clearly there are quite a number of situations where electricity generated by portable power stations would be ideal and preferable to currently available alternatives. Be sure it
contact Gridless
if you currently have or know of a need for portable power. With the challenge of conveying the flexibility and portability of Gridless's portable power systems, we had to throw out the rulebook to come up with a completely new and unique design that diverged from what you see on most standard modern websites. As you can see in the screenshot below (and of course by visiting the
Gridless site
), we used massive high resolution photos of their solar power generators sitting in the most remote of locations as the entire site's backdrop: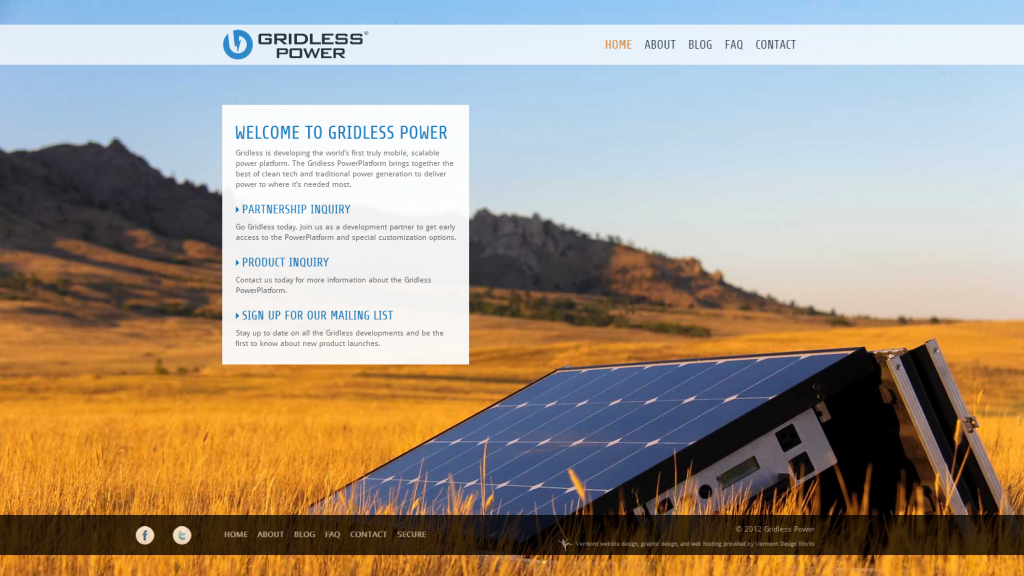 Do you need assistance launching a new brand on the web?
Contact us
today, we'd love to discuss your project with you!