Summary:
Did you know that Google sometimes asks for user input on search results? I've heard about tests they've run in the past, but until a few weekends ago, I'd never experienced this myself. So why did I get the privilege when so few have? Perhaps it had something to do with the subject matter of my search, but it's most likely random. Still, I'll explain how I triggered the test so you can draw your own conclusions. We'll also get an explanation straight from the horse's mouth.
Early in the new year it occurred to me that I'd been wearing the same Columbia 3-in-1 winter jacket since high school and it might be time for an upgrade, so I headed across the bridge into downtown Burlington to check out what
KL Mountain Shop
(a.k.a. the
North Face store
) had on post-holiday sale. After rummaging around in the sale section for about 20 minutes I almost gave up before stumbling upon
this sweet shell
- The North Face Varius Guide - for 25% off! After comparing some prices via iPhone apps and realizing it was a pretty good deal, I whipped out my credit card and then got the hell out of there before they changed their minds! Seriously though, I actually hung around and picked the brains of the employees about what insulated layers will zip in and when I might find a deal on one of those. Long story short the employees were very helpful and I plan to stop back in another month or so, but in the meantime I'm keeping my eyes peeled and Googling occasionally. Saturday, Jan. 19 was one of those days. Before looking for compatible layers for my new shell, I first wanted to see if I still got a great deal or if other retailers had since dropped the price, because I have a sick obsession with having gotten a better deal than everyone else. Bring a couch next time and we'll go deeper on that issue, but I'll say that as of today, for the color, size and year model combo I got, I still got a really great deal. But back on 1/19, I had started searching for my "Asphalt Grey" shell online, but I mistakenly though the color was called "charcoal", and here are the results my inaccurate search produced (click image to enlarge or
click here
for FULL size):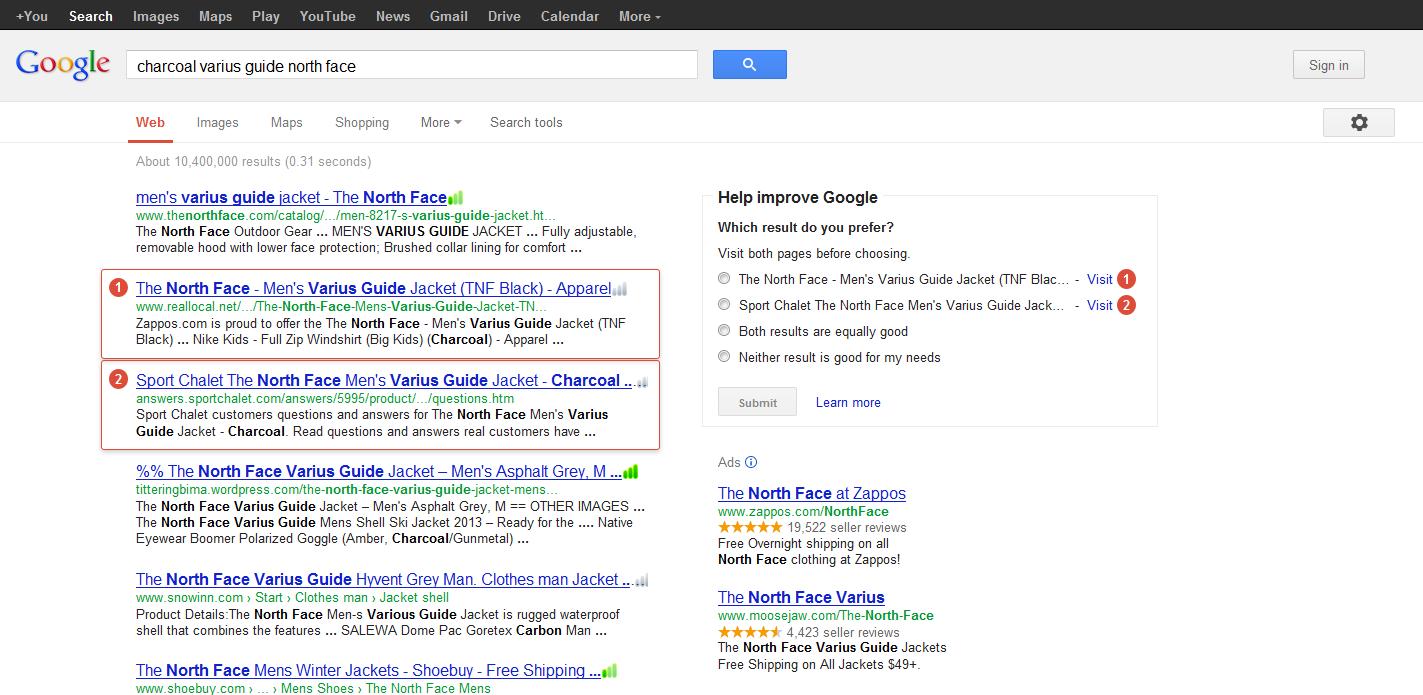 Did you see that? Of course you did, it's kind of hard to miss all that red. Setting aside the fact that I was incorrect in searching for the color "charcoal", Google did its best to find related pages that contained all of the words I searched, but almost seems to be admitting that it didn't understand what I was looking for by asking me to grade 2 of the search results. It was my day off, but as an SEO it was my duty to find out what was really going on. Clicking the the "
Learn more
" brings me to a page that is rather vague, but leaves me with the impression that these are random tests rather than reactions to specific, confusing searches like mine. They also explain the process from the user side:
When you search on Google, you may see a section to the right of your search results inviting you to "Help improve Google." Answering this completely optional form lets us know how useful different search results were to you. We'll use this feedback to improve the search experience. Here's how:

Click Visit to the right of both search results in the box.
Think about how well each page fits your information needs.
Select the radio button that matches your opinion and click Submit.
Your options are to ignore the test all together or choose which site was most relevant, with options for saying neither were relevant or that they were equally relevant. They caution that "any input provided will not directly influence the ranking of any single page", although they go on to talk about all of the testing and changes they make before closing the help article with this:
Your responses complement our existing evaluation methods by enabling you to provide direct feedback. This feedback is particularly valuable because it comes straight from you. We look forward to hearing from you soon.
This testing isn't brand new, but still relatively new - The Street noticed that Google was asking users to vote on search results
back in mid-November
. Then
Search Engine Land touched on it
in December, although if you take a look at their screenshot, you'll see that the call to action to "Help improve Google" wasn't as pronounced as it was in my search results. I have to say, this crowdsourcing is completely new to me, despite the fact that I've experienced most of Google's other tests in the past (moving URLs above meta descriptions,
changing navigation styling
, etc.) Have any of you seen these new tests or anything like them? Let us know in the comments below!