We just wanted to encourage everyone to be smart and safe over the next few days as Hurricane Sandy makes her way north to our region. If you haven't yet prepared yourself and your home for prolonged power outages, etc. please take the time to do so now. This quick
clip from WPTZ
, tweeted earlier by
Courtney Kabot
, provides a short list of a handful of items you should take care of before the storm arrives.
VT Hurricane Sandy Updates
While we aren't expected to experience hurricane force conditions here in #btv, meteorologists are all predicting sustained high wins and potentially significant amounts of rainfall. It's a "better to be safe than sorry" situation, but you should also be paying attention to the storm as it evolves over the next several days. Here's the current cone map (as of 1pm ET 10/29)
released by NOAA
: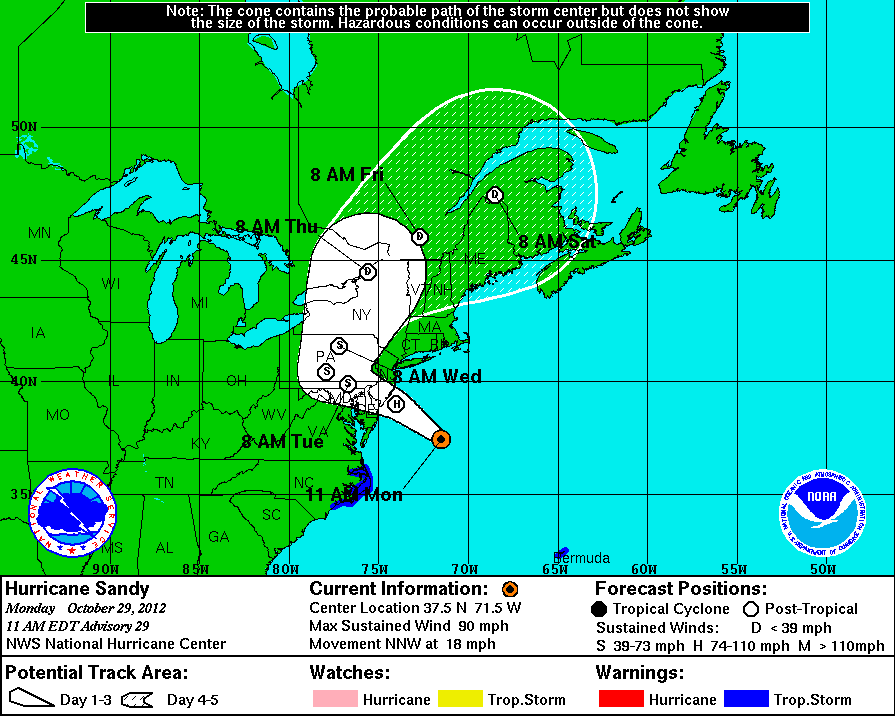 Follow this link to stay up to date on all of the latest developments. You should also keep an eye on the Special Weather Statement call out at the top of the page on your Weather.com and Accuweather pages. The current warning is as follows:
...HIGH WIND WARNING REMAINS IN EFFECT FROM 2 PM THIS AFTERNOON TO 11 AM EDT TUESDAY... THE NATIONAL WEATHER SERVICE IN BURLINGTON CONTINUES THE HIGH WIND WARNING...FROM 2 PM THIS AFTERNOON TO 11 AM EDT TUESDAY. * LOCATIONS...NORTHERN NEW YORK...CHAMPLAIN VALLEY...AND CENTRAL AND NORTHERN VERMONT. * HAZARDS...DAMAGING WINDS. * WINDS...EAST 30 TO 40 MPH WITH GUSTS UP TO 60 MPH. * TIMING...NORTHEAST WINDS WILL INCREASE THROUGHOUT THE DAY AND PEAK FROM THE EAST/NORTHEAST DIRECTION BETWEEN 4 PM THIS AFTERNOON AND 3 AM TUESDAY MORNING...BEFORE SLOWLY DECREASING LATE TUESDAY. * IMPACTS...SCATTERED DOWNED TREES AND POWERLINES ARE LIKELY... ALONG WITH POWER OUTAGES. PRECAUTIONARY/PREPAREDNESS ACTIONS... PLEASE STAY TUNED TO NOAA WEATHER RADIO...YOUR LOCAL MEDIA...OR GO TO WWW.WEATHER.GOV/BURLINGTON FOR FURTHER UPDATES ON THIS WEATHER SITUATION.
And if you're on Twitter, be sure to follow Vermont Emergency Management at @vemvt and also keep an eye on the hashtag #vtsandy.
Seven Days has also put together a comprehensive piece on Sandy forecasts and preparedness.
Based on current models and forecasts, we're crossing our fingers that our region will largely be spared, but again - prepare for the worst, hope for the best. Be smart - stock up on food, water, flashlights/batteries and other basic supplies and then hunker down when the storm arrives.
Stay safe Vermont and we'll meet you back on the internet when this thing blows over!