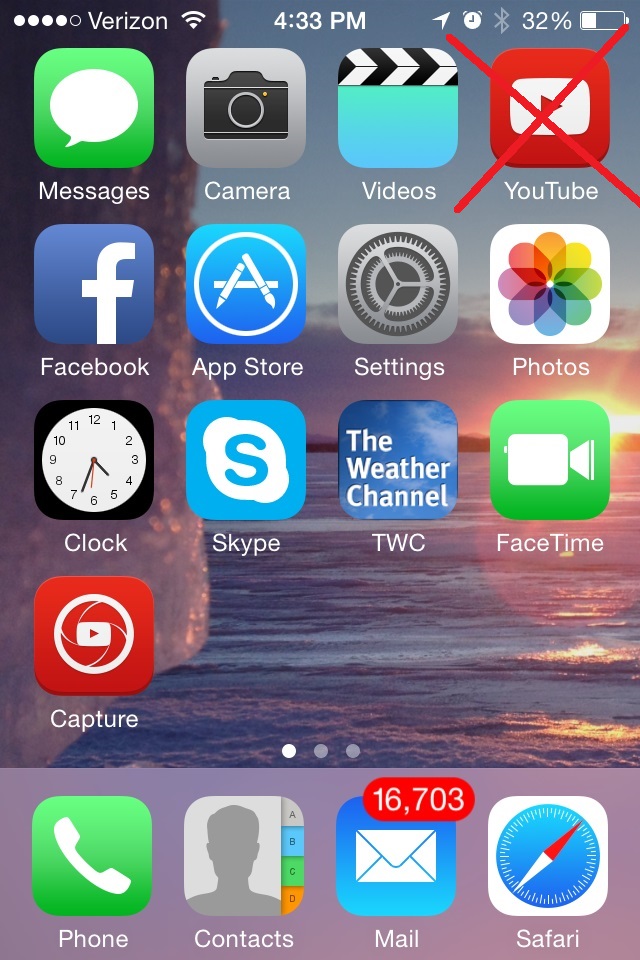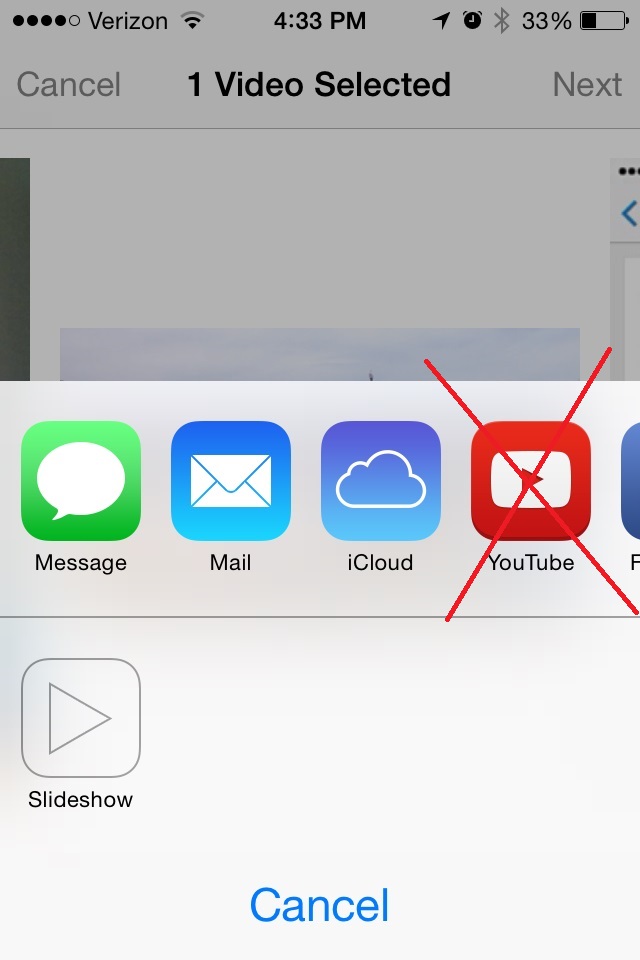 Several weeks ago I wrote a tutorial for
posting videos to YouTube from an iPhone
with iOS 7, but while writing the post I discovered that YouTube had actually created an upload app called "
YouTube Capture
" and added 1080p HD upload functionality early last year. The fact that since the 4S, iPhones have been able to record spectacular near-Blu Ray quality video has been a huge selling point, but having no way to upload those 1080p videos directly to YouTube from our phones was always frustrating, especially for marketers who rely heavily on video and social sharing. Today I'm going to give you a quick overview to show you how to post full HD videos directly to YouTube from your iPhone. The first step is to forget the way you traditionally share media from your phone, as well as how you're accustomed to using YouTube. Normally, when you post video to YT from your iPhone, the option is found among others like "message" (text), email, etc. This is the way Apple wants us to share, but as I explained, there's no 1080p upload option. The YouTube app we all have, which has actually come a long way over the years, still doesn't have any upload options to speak of. There is however a link in the menu to "Capture", which will take you to the app you'll need for today's lesson, assuming you've downloaded it.
(If you haven't downloaded it already, you'll need to now before proceeding with this walk-through.)
As is often the case, I apologize for the length in advance, but I hope the screenshots and accompanying explanations are helpful.
Recording Video With YouTube Capture App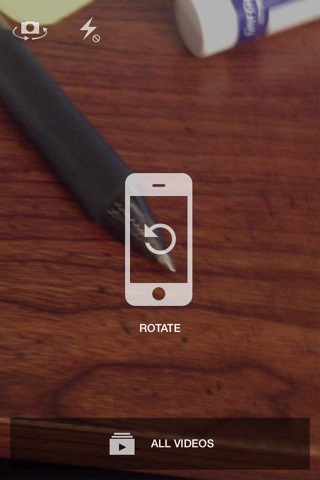 When you first open the app you'll notice several things. Aside from the obvious touch buttons for flipping to the front facing camera, toggling the flash and choosing from existing videos, what else stands out about this screen? That's right - YouTube Capture forces you to to turn your iPhone to landscape before recording! FINALLY an app that feels my pain. I've been complaining about people taking all of their smartphone photos and videos in portrait for years and I was beginning to think I was in the minority, so I feel vindicated. Now all I have to say is "
Fine, do it however you want, but YouTube - yeah, that YouTube - wants people to upload in landscape... but whatever. Call me when they invent tall screen TVs and computer monitors and I'll come over to watch.
"
Record in Landscape!!!
Turn your phone a quarter turn and you're ready to record! Basically YouTube seems to be targeting the Instagram demographic. Rather than building a bulky, over-featured video upload tool - they came out with an app that allows uses to begin recording the moment they open the it.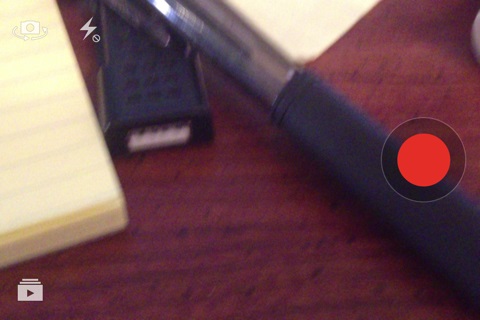 YouTube (Google) clearly understands today's "be first" culture, so they ran with it. Nice to meet you Instagram. What's that? Oh, you were bought by Facebook, right. Congratulations on that... By the way, our video site is the biggest video site in the world with over a billion uniques per month and our easy to use app doesn't limit users to 15 second videos. Nice to meet you........ Oh, did we mention we're owned by Google?
YouTube Capture Account Settings
It's worth noting that forced landscape recording is just the YouTube Capture default setting that can be turned off. In order to access the app settings you first need to leave the main recording screen by tapping "All Videos" if you're still holding your phone in portrait. (If you're already in landscape, touch the tiled rectangles with the play button in the bottom left). Then touch "Settings" in the upper right. That will bring up your default account settings, video upload quality settings, etc. The "Accounts" selection also lets you choose which YouTube account you want to post to, which is a great feature for people like myself who manage both personal and business accounts. This option lets you easily flip between multiple YouTube accounts (and social media accounts for that matter).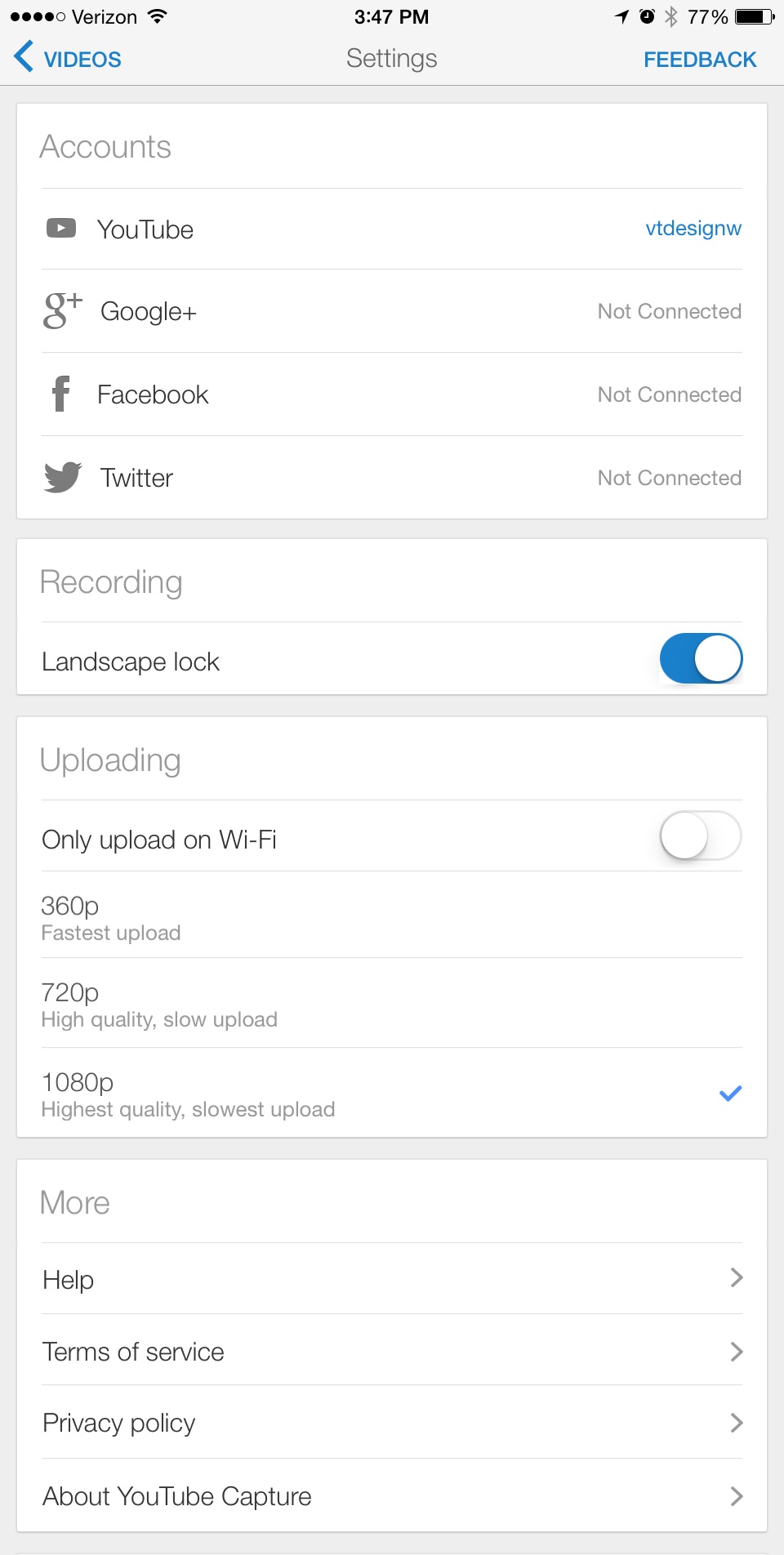 As you can see, among these settings is also a toggle switch for "Landscape lock" that you'll have to toggle to "off" if you insist on being one of
those
people. YouTube will try to shame you out of it one last time, but you can tap your way through it: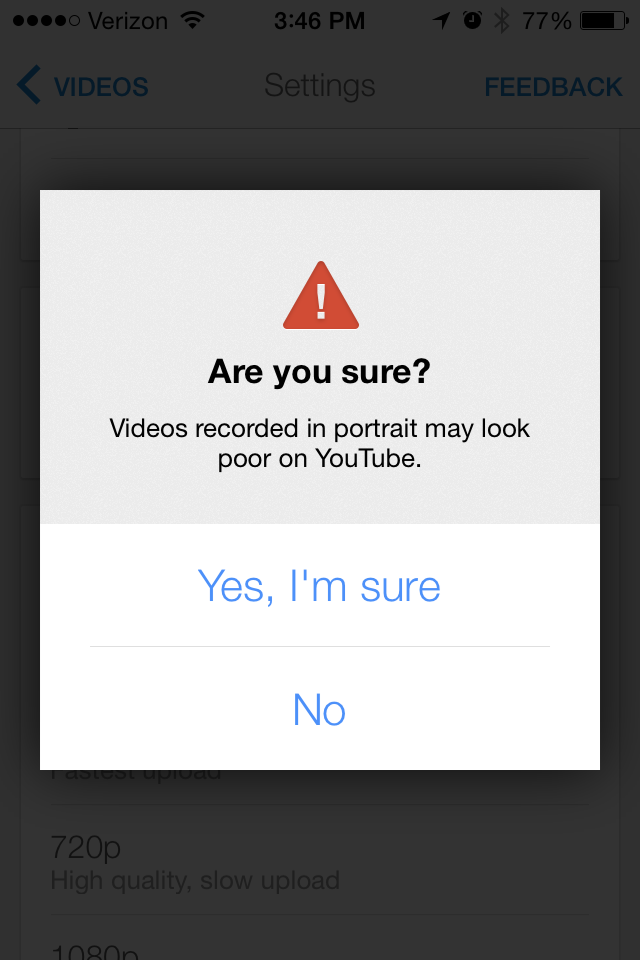 Uploading Existing Video via YouTube Capture
Now, for the purposes of this tutorial (and screenshots henceforth) I'm going to use a video I had recorded through the iPhone's native camera app, but rest assured that the screens and settings are the same even when you record a new video from the opening screen seen above. Anyway, let's get started with accessing vids from your camera roll. Assuming you're back at the app's start screen, touch "All Videos" if you're still holding your phone in portrait or the tiled rectangles with the play button in the bottom left if you're in landscape. That will take you to this screen to select from your phone's videos: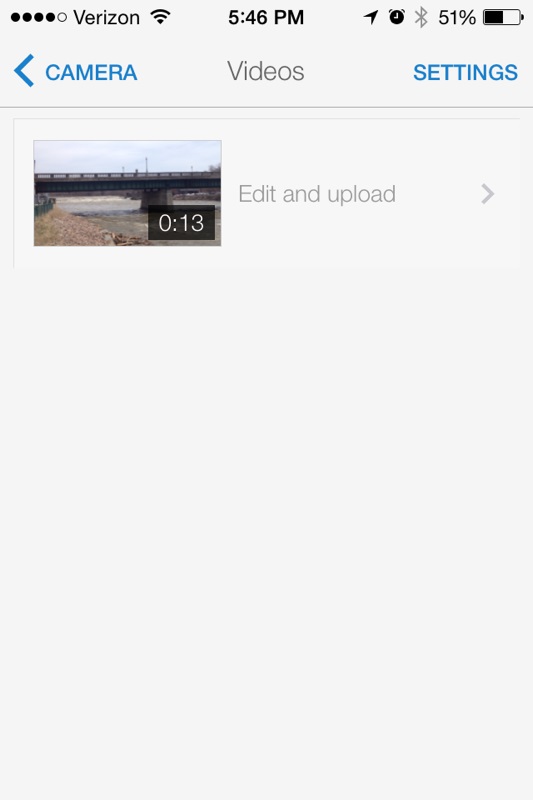 Choose a video and you'll be taken to the video edit screen that allows you to trim the video, add music and splice in other video clips: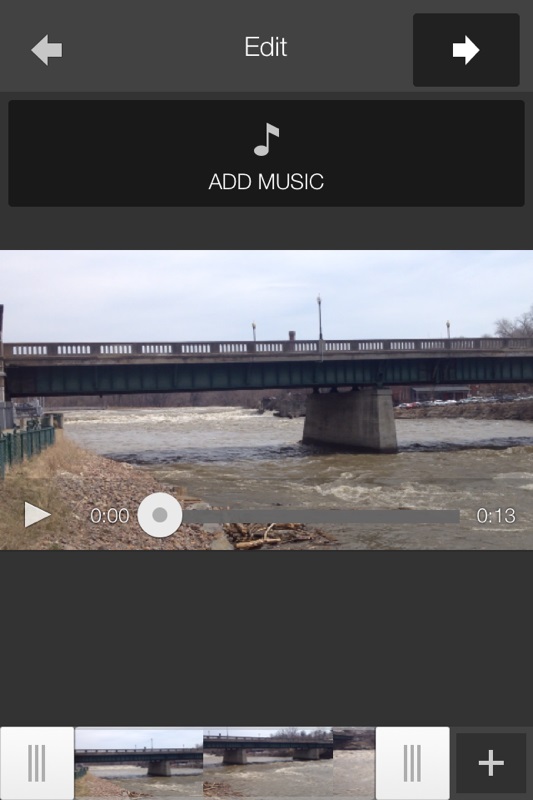 To avoid making an already long post any longer, I'll spare you an in-depth review of the "Add Music" feature, but essentially they let you choose from several dozen "YouTube Soundtracks" or add music you already have on your iPhone. This can be especially helpful for videos that are light on audio content. When you're done editing your video, click the forward arrow in the upper right to proceed to the YouTube upload settings screen: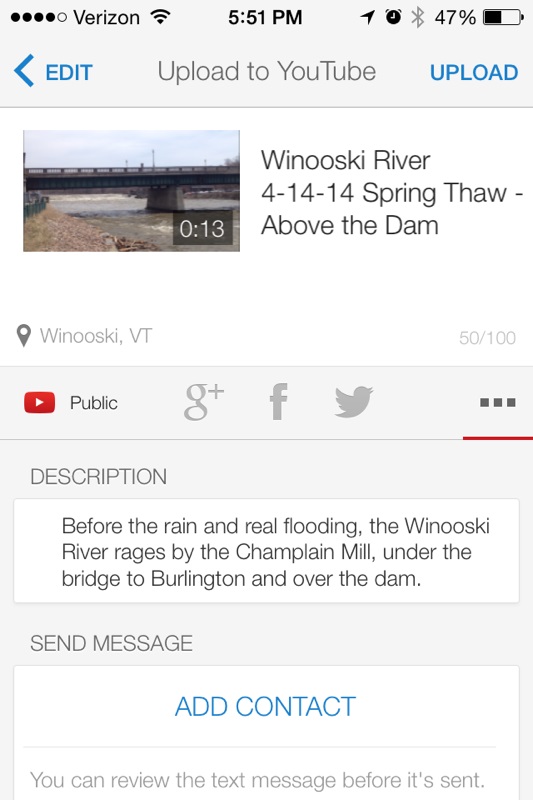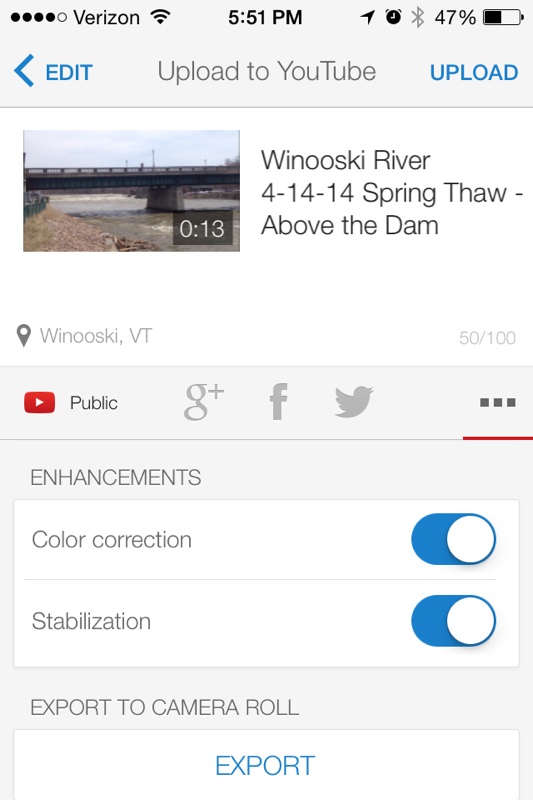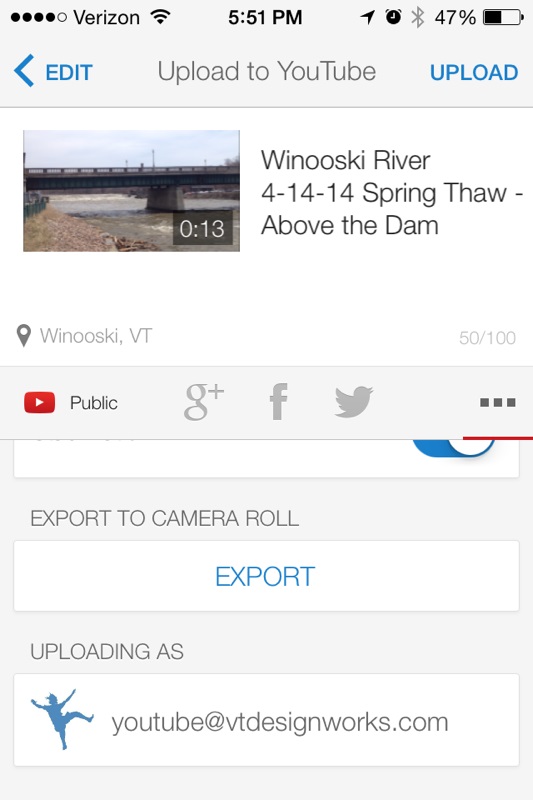 Complete your upload settings, tap "UPLOAD" and then sit back and relax - your video is being posted: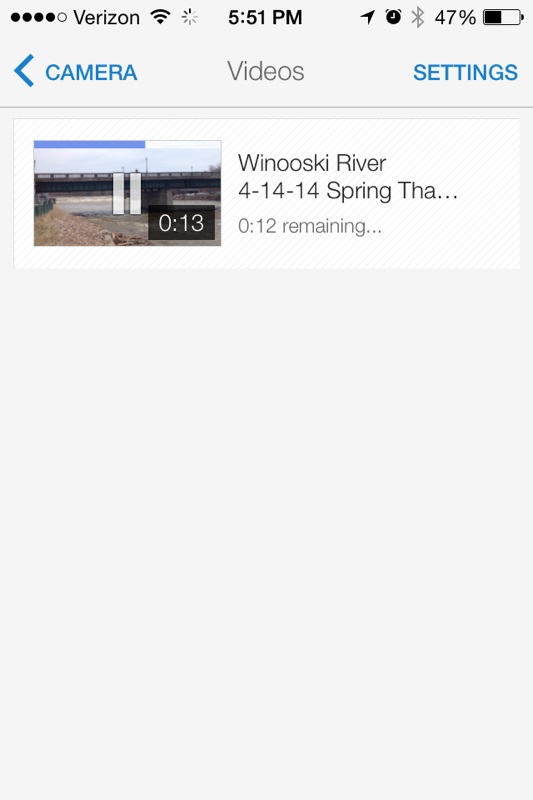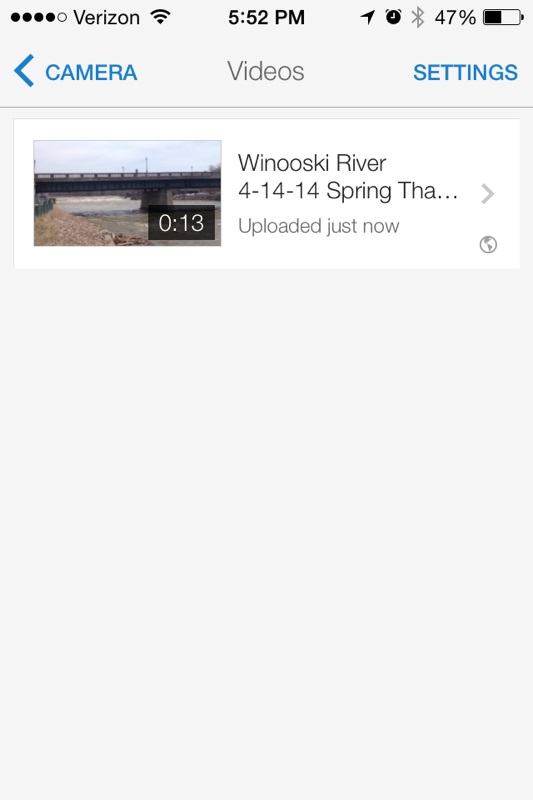 Once your video has been posted there are additional details, like adding tags and choosing a category, which you can complete to help users find your video: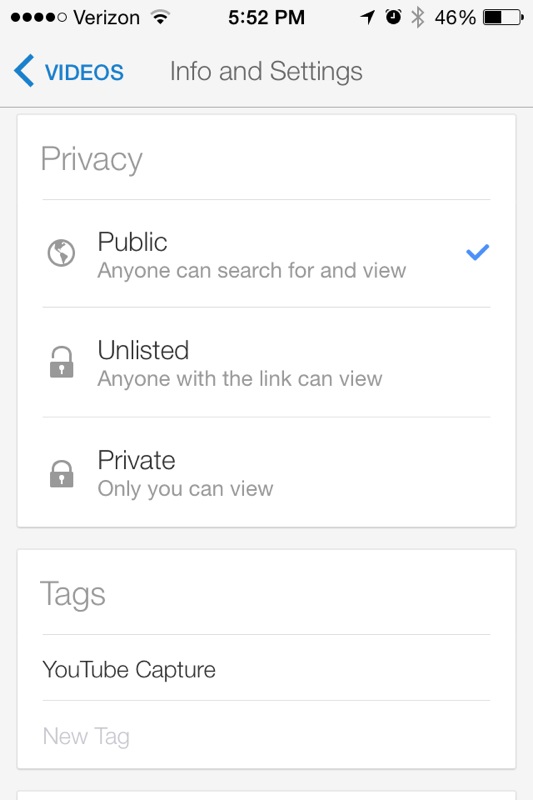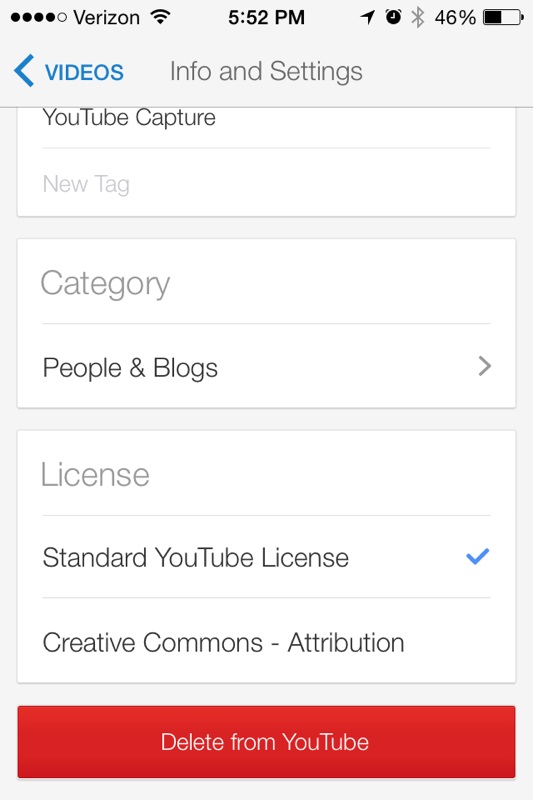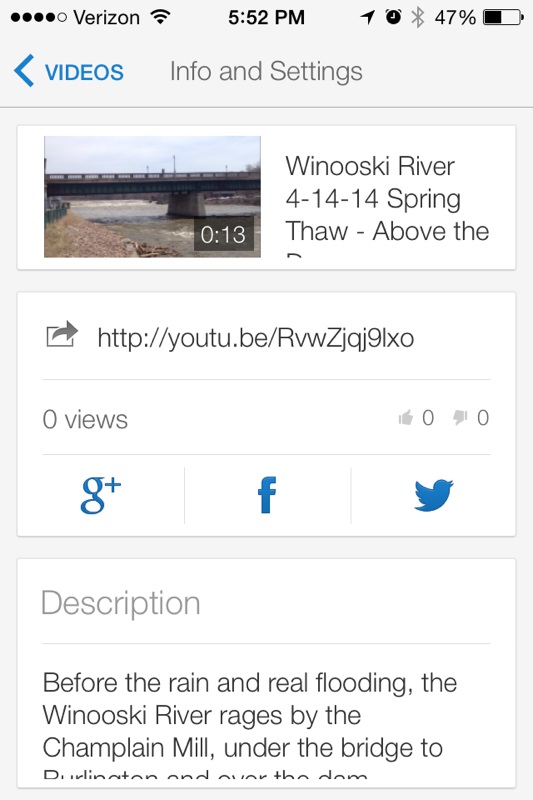 As you can see, the social media sharing options appear here as well as details about your video such as views, thumbs up/down and the share-able URL. I would still recommend double-checking and editing your video settings on the computer to make sure everything looks the way you want it to, given that most viewers of your video will still likely be on a PC. Below you can see the short 1080p video clip of the
Winooski dam
we posted via YouTube capture. As of 4/24, I've actually been able to use a trick to embed in 1080p - we'll see if that continues to work. The fact that there is no 1080p embed option by default is frustrating, but in a future post I'll teach you how that's done as well.