Note: As I began writing this post I intended to cover all issues surrounding "(not provided)", but it quickly became clear this should be split in two - 1. What happened? 2. What now? Part 1 will serve an explanation of what Google did, why they did it, and how it impacts you as a website owner. Tomorrow I'll post part 2 which explains how you can fight back and hopefully gain back some of your lost keyword data.
For new users of Google Analytics, the subject of today's post is all you've ever known, but for those of us who've been analyzing keyword traffic data for years, you know about the frustrating
change Google made
late last year. For the newbies: Once upon a time, Google Analytics showed you a list of ALL organic keywords that drove traffic to your site from searches on Google.com. Then one day, for privacy and security reasons, Google decided to
take away keyword data
for visitors who were logged in to Google accounts when they performed their search and visited your site, robbing you (as a business/website owner) of valuable organic SEO data. Instead, Google Analytics started showing "(not provided)" in place of the keyword for visits resulting from organic searches of signed in users. Early on, I was among those who shrugged this off. "How many people are really logged in to a Google account when they're searching on the web?", I asked colleagues rhetorically. Google itself even originally bolstered my position by sending out Matt Cutts to say that this would impact
under 10% of google.com searches
. The news that the new "(not provided)" blindspot would
impact single digit percentages
of organic search traffic quickly spread around the web, putting many minds at ease. It quickly became obvious, however, that my own abnormal behavior was clouding my judgement about how others check email and surf the web. It's no secret that
hundreds of millions of people use Gmail
, but I had incorrectly assumed that most were using it through an email program on their computer, like I've always done (Outlook, Windows Mail, Thunderbird, etc.). As I asked around, it became clear that I'm the exception, and most Gmail users check their email by
signing in to gmail
through their browser. Once logged in, it stands to reason that few would take the extra step of deliberately signing out before performing a search. Why would they?
What Really Happened When (Not Provided) Rolled Out
Within weeks, the anecdotal evidence was quickly
backed up by the hard numbers
:
For many, it is well above 10% but not all. Seer Interactive reported that "Out of the 37 sites, 16 had over 10% of the Google organic traffic come from "(not provided)" and one of the sites was at 21.05%." Search Engine Land reported it was 7 to 14%.
And then there was
this from SEOMoz's
Rand Fishkin
:
Tragically, it appears that Cutts was either misinformed or gave misleading information, as "(not provided)" became a major referrer for many websites, climbing into double digits in early November. Now, that percentage has risen even higher, into the 20%+ range on many sites. Hubspot's Brian Whalley reported that the average website using their analytics lost 11.36% of keyword referral data and 423 sites lost more than 20% (15 unlucky souls lost 50%+, which seems almost crazy).
At VDW, we're definitely seeing the not provided in the higher range for many clients, and there even seems to be a significant jump over the past 6 months. That part isn't a huge surprise as internet access increases (availibility in developing nations and the explosion of mobile browsing on smartphones and tablets). I've included some screenshots below showing how this is impacting our clients traffic/tracking. I picked 2 clients at random and I've captured the percentage of Google organic keywords showing as "(not provided)" in December 2011, shortly after the policy change, and just last month (6/12).
Client 1 - (Not Provided) Keywords in December 2011 - 16.8%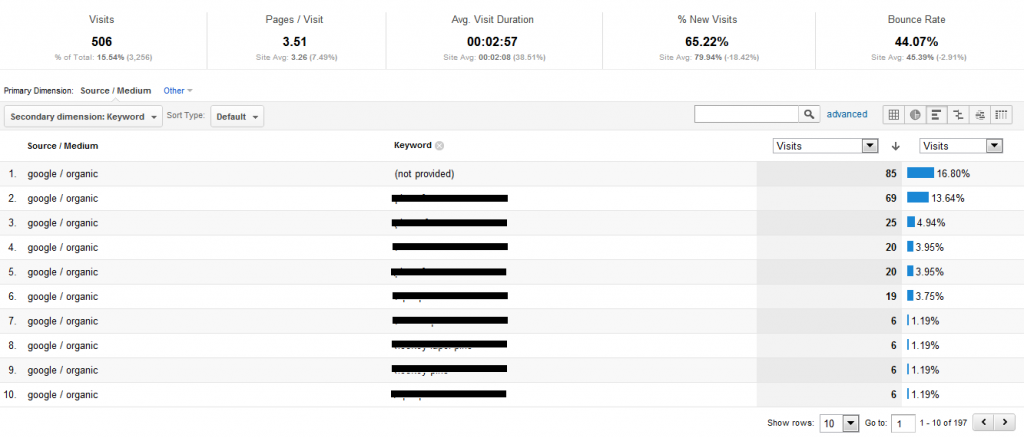 Client 1 - (Not Provided) Keywords in June 2012 - 22.10%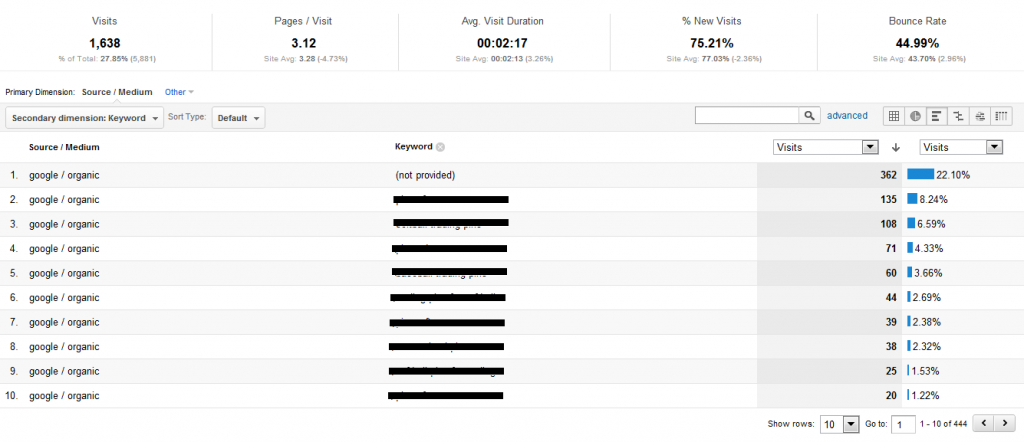 Client 2 - (Not Provided) Keywords in December 2011 - 13.27%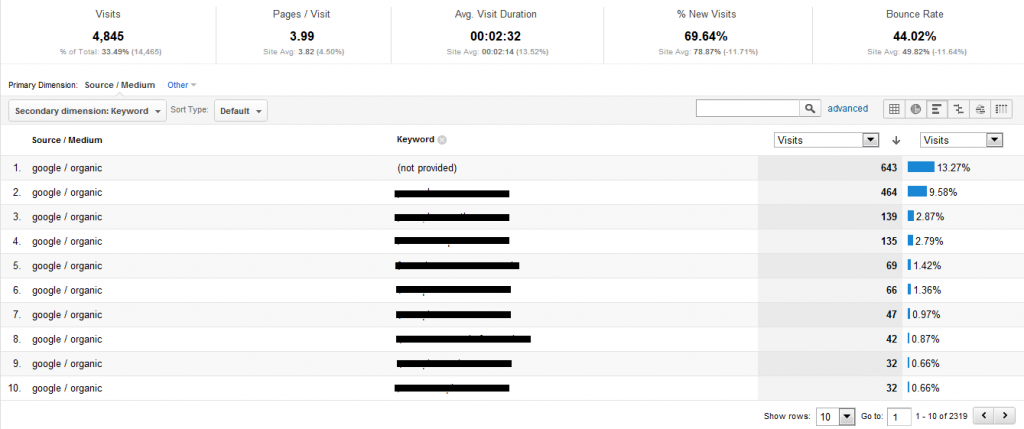 Client 2 - (Not Provided) Keywords in June 2012 - 21.31%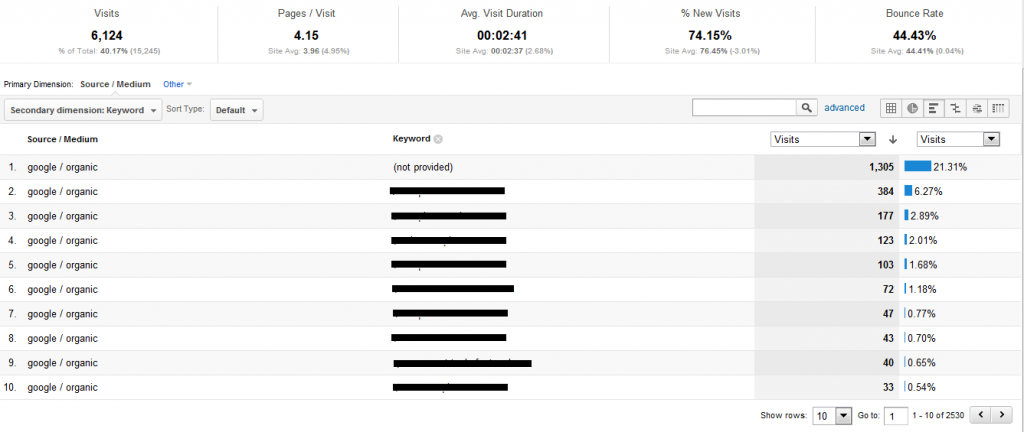 As you can see in both of these examples, they each started out well above 10% when this new policy was enacted, but they each jumped over 20%. That means more than 1 out of 5 keywords is unknown to these website owners. And again, I picked these 2 clients totally at random, but I glanced at a dozen others and these weren't atypical by any means. Now, how do you think
our own site
is faring in all of this? You'd think it couldn't be any worse than any others, and given that we work on the web, probably better right? Think again. What kind of people land on our site usually? Certainly there are the average Vermont business owners who need
professional web services
, but lately we've been getting a lot of traffic to our blog from people looking for information about
missing Google Places reviews
,
Google+ Local
and
Facebook for business
. Why does that matter? Well, because these searches more likely to come from "web people", which makes it all the more likely that they'll be signed in to a Google account. Take a look at the devastating numbers:
Vermont Design Works (Not Provided) Keywords in December 2011 - 29.94%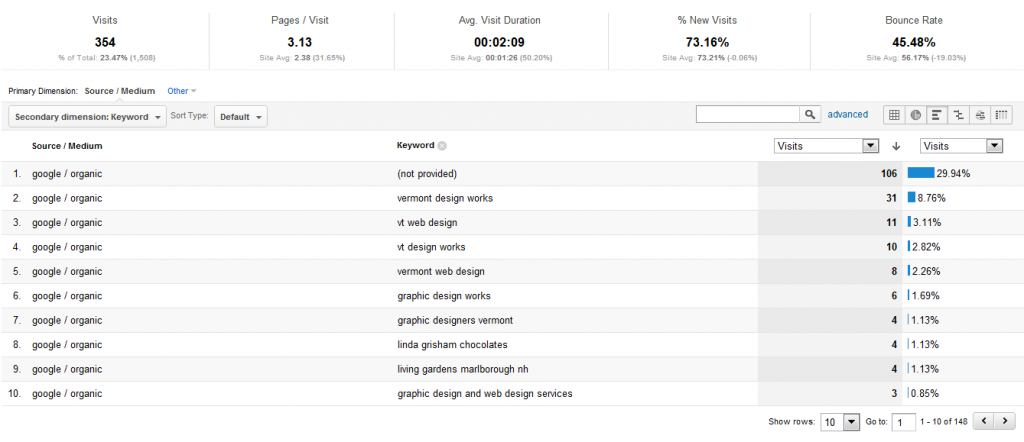 Vermont Design Works (Not Provided) Keywords in June 2012 - 49.61%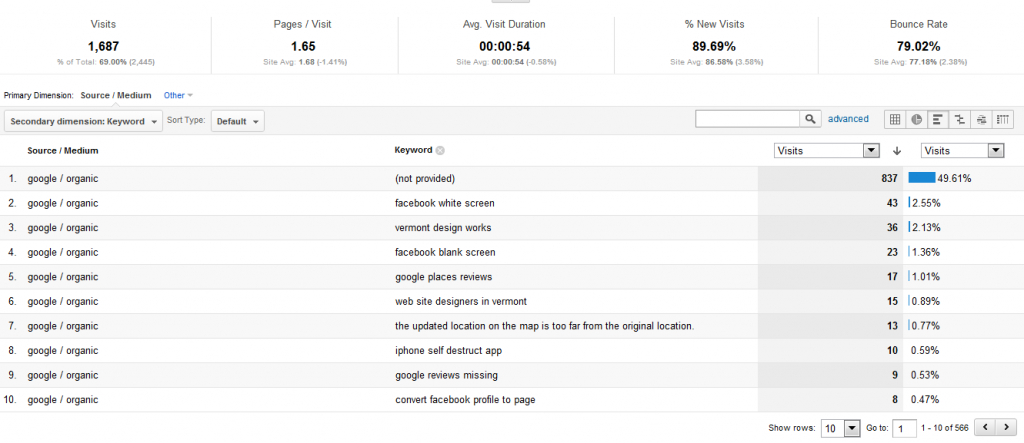 As you can see, our "(not provided)" numbers are huge, now representing about half of our Google organic traffic. Again, this is largely due to the types of visitors who we would expect to find our site. As we produce more content (mainly blog posts) on web topics, that percentage will likely continue to climb.
So What?
If you're new to running a website, you might still be asking yourself, "why does all of this matter?" Well, the answer is simple - tracking and improving conversions. On the web, like in any offline marketing, it's all about return on investment (ROI). The goal is to get traffic and convert those visits in to leads and/or sales. When you can can review and analyze the keywords that are driving traffic to your site, and track them right through to the point of conversion, you learn a lot about how your website is performing. Armed with this information you can work to improve your organic SEO, optimize conversion funnels and even use the data to build successful pay-per-click ad campaigns. Organic keyword traffic data is simply invaluable. This is change is particularly aggravating when you you consider the fact that keyword data is completely anonymous. It's not as if website owners can connect this info back to individuals and then use it for identity theft, unwanted solicitation or any other nefarious purposes. Ironically, we can still see that cities where "(not provided)" searches are coming from, but I digress. What's important is that website owners are now missing out on potentially large amounts of useful data and we're all desperate to find a way to stop the bleeding. Tomorrow we'll discuss a few methods that some clever SEOs and Analytics experts have come up with to help you recover some of this lost data.