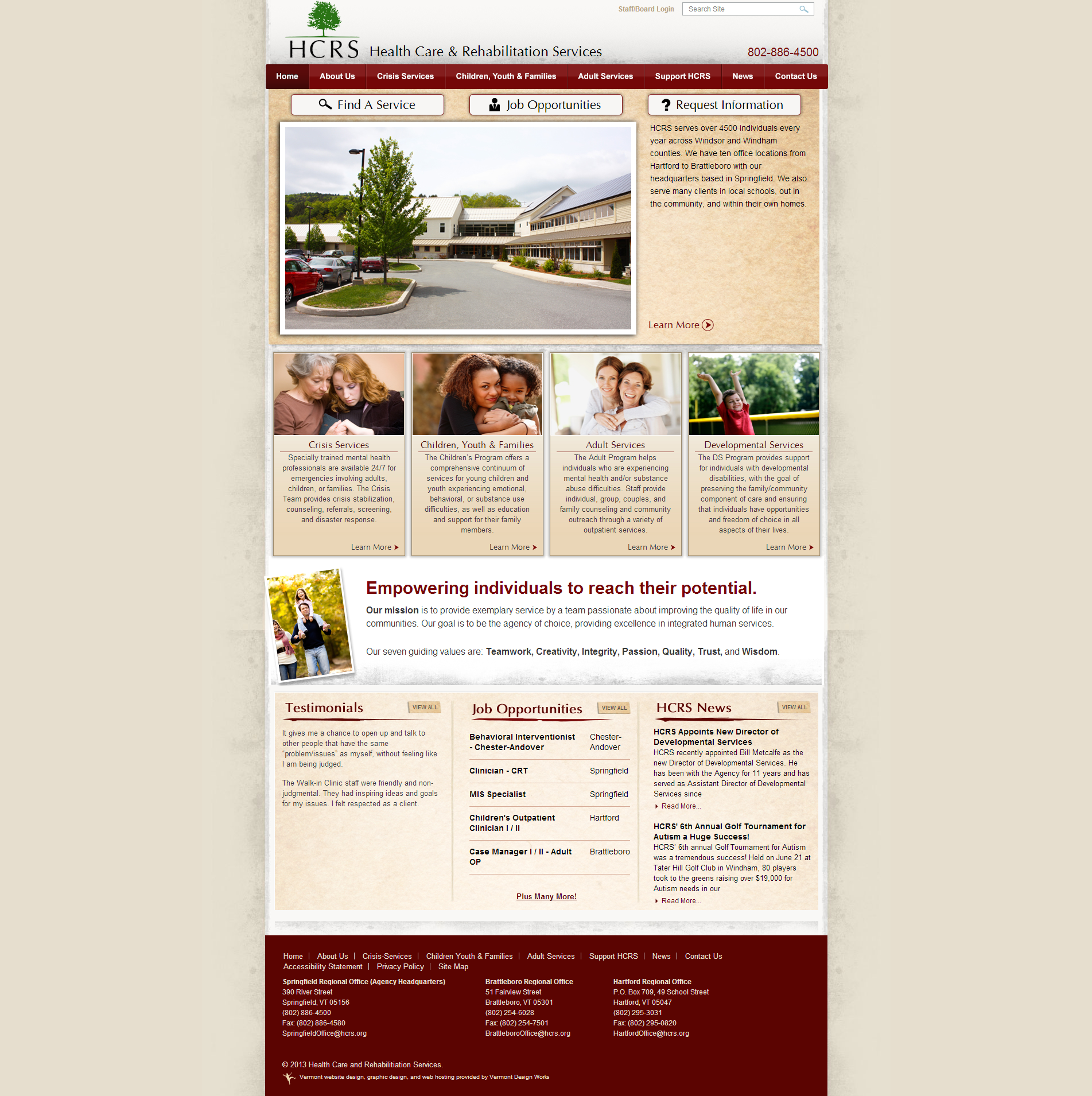 Today week we're excited to announce the launch of a new website for one of our most  recent clients,
Health Care & Rehabilitation Services
(HCRS) of Southern Vermont, one of our many
non-profit clients
. HCRS provides mental health and substance abuse services to Vermont's Windsor and Windham counties. Their programs include Adult Outpatient, Childrens Division, Community Rehabilitation and Treatment (CRT), Developmental Services (DS), Windham/Windsor Recovery Assistance Program (WRAP), CRASH. When HCRS came to Vermont Design Works they had a site that was over five years old and well overdue for an update, both in form and function. A new and welcoming design was important, but just as important was the ability to present vast amounts of information to visitors in an easily digestible and navigable way. It was also important to HCRS that the site be editable by their staff so additional content can be added or modified whenever necessary.
Web Design
To achieve the warm and inviting feel Heath Care & Rehabilitation Services was seeking, we settled on soft earthy tones that are subtle but still allow emphasis to be placed on their 3 main
calls to action on the home page
: Find a Service, Job Opportunities and Request Information. After extensive consultation with HCRS to get it just right, we finalized a design that we all agreed struck the right balance between a soothing organic feel and the professional appearance that should accompany any healthcare professional's website.
Website Navigation
Because HCRS offers such a panoply of services, it was important that they have detailed content pages for each service and that the navigational hierarchy be intuitive and accessible from anywhere on the site. To facilitate this, we decided early on to go with a fixed main navigation that "sticks" to the top of the browsers, no matter how far you scroll down on any given page. We also included the relatively standard main navigation hover-states that show and allow you to click through to the second-level, interior pages of any of the main sections. Once a user has navigated either to a top level or second level page, the second level navigation also becomes available as an embossed menu to the left of the main content area.
Content Management
As with most of our sites we installed our proprietary WYSIWYG content management system to allow HCRS employees to easily add and/or edit content at any time in the future without needing technical skills or training. Our goal is to always give our clients as much control over their own site as possible. In addition to our standard content management system and Wordpress blog, we often include a number of custom modules we've created over the years, such as photo galleries. Health Care & Rehabilitation Services' didn't require any of our other existing modules but they did want a
job posting tool
, which we developed so they could easily add open positions and archive them when filled. Please let us know in the comments below what you think of the new HCRS site and be sure to check out some of the other sites we've designed and developed over the years for organizations in related industries: