In the summer of 2012 we 
wrote about
our partnership with
Vermont Sustainable Jobs Fund
to create the
Vermont Food System Atlas
 web application, which we're proud to announce launched last year! We delayed this announcement so that VSJF could have first dibs, but the cat has been out of the bags for months now. As you may remember, VSJF envisions the
VT Food Atlas
as the information hub for their
Farm to Plate Initiative
. Our developers spent months working with massive data sets that VSJF provided about our local food system, but given that this really is their F2P vision, I think they can
better explain what the new Atlas site is all about
:
The Vermont Food System Atlas is now the permanent home of all Farm to Plate Strategic Plan documents and resources:
Below is a screenshot of the interactive "Atlas" section of the site: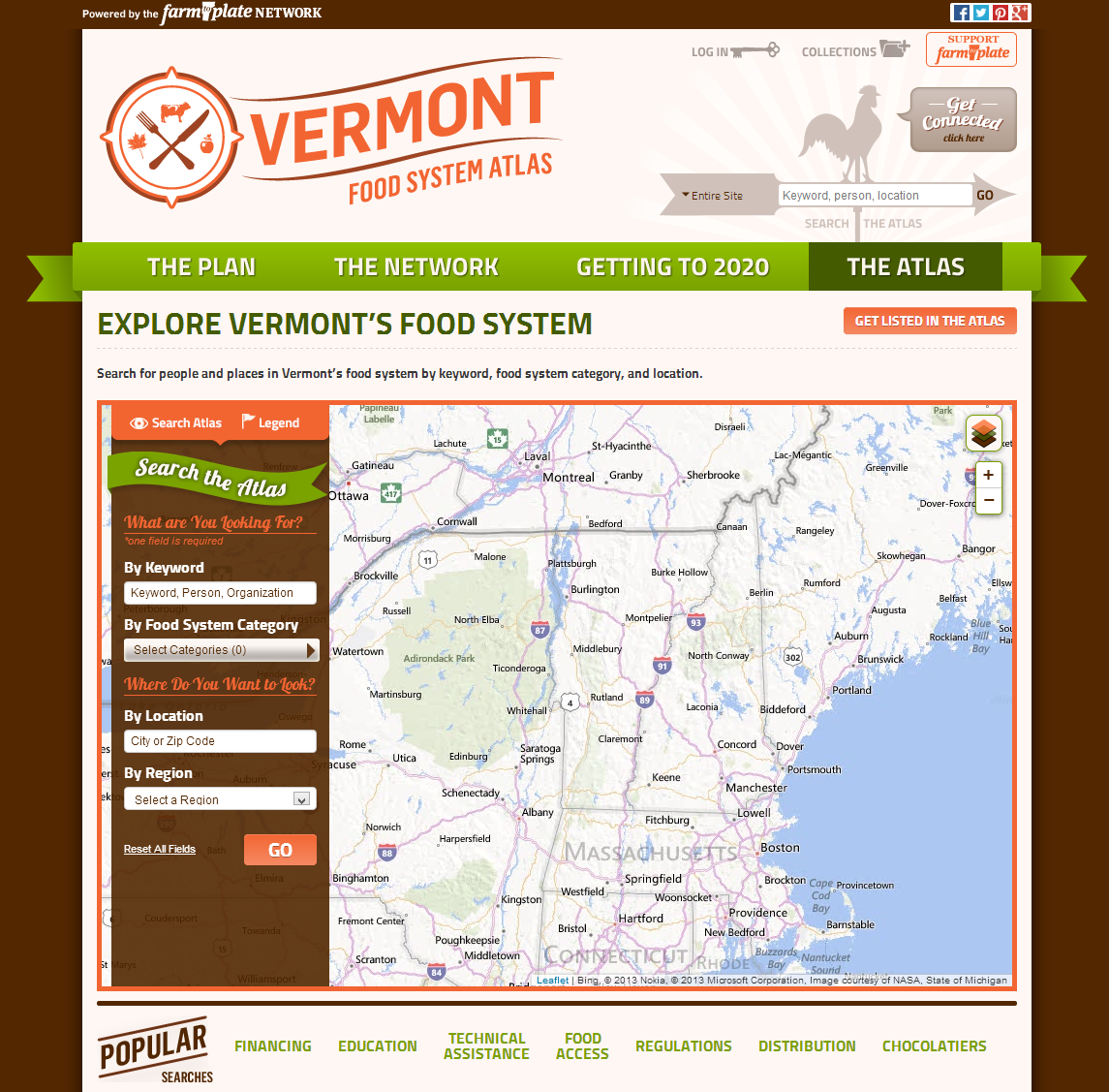 VSJF hopes that the new Food Atlas will be a model, both nationally and globally, for promoting the local food movement which is all about encouraging local food production and consumption.
The primary goals of the legislation are to:

Increase economic development in Vermont's food and farm sector.
Create jobs in the food and farm economy.
Improve access to healthy local foods.
Now that you have a basic understanding of the project, head on over to the new site now to learn about your neighbors' roles in the
VT Food Atlas
. It's really something that can't be explained - only experienced - so feel free to explore a bit and then let us know what you think in the comments below. We're currently working on "Phase II", so stay tuned for announcements on user interface and reporting improvements in the coming weeks.
Additional Info:
The Vermont Food System Atlas: A Clearinghouse Website to Advance our Local Food System on UVM Food Feed by Erica Campbell, VT F2P Program Director
Vermont Food System Atlas Nears Completion on The Bridge, by Rachel Carter, VSJF Communications Director