Last week, after seeing
this post
from local SEO specialist Mike Blumenthal, I blogged about how Google had begun
merging some existing G+ Business pages
with the newly converted Plus Local (Place) pages. Since the creation of Google+ Local a few weeks back, this was clearly a necessity, but until researching that post it wasn't clear that Google had any specific plans to start the process. After some exchanges with Mike on Twitter and the comments on his own posts, it became clear that Google had actually created a form that allowed business owners to request an early merge, for testing purposes. I spent most of the post explaining in detail how Google made it very unclear that this was the purpose of that form, with the intention of writing a pared down posted today that would just simply explain the process. But here's what I got when I went to pull up the "Upgrade Request" form just now: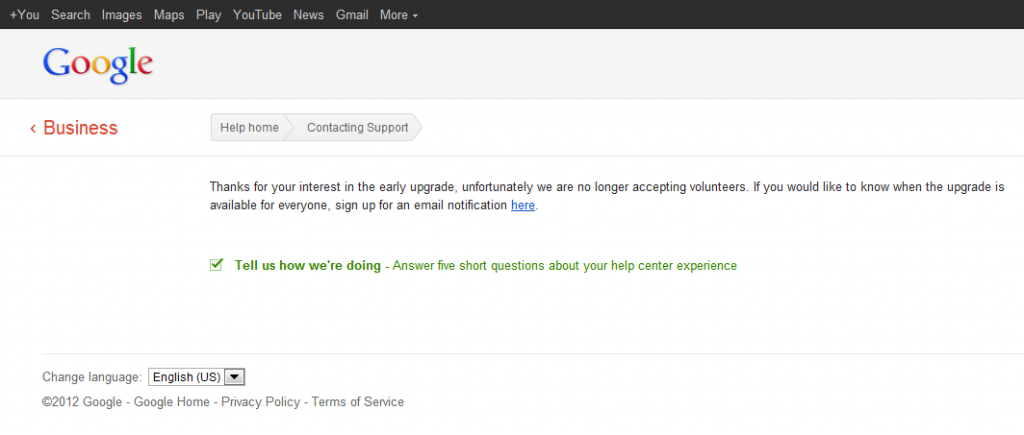 So only those few who disregarded the testing form's ambiguous copy were lucky enough to get their pages merged. The rest of us are left to sign up for email notifications? For what it's worth, I did sign up several weeks ago and haven't yet heard a thing and I know and I'm hearing the same from our friends at
iMarket Solutions
. So for now we're all back in a holding pattern again. Nothing new from the
Google and Your Business blog
, but Blumenthal seems to think we might not be too far from the full roll-out:
— Mike Blumenthal (@mblumenthal) June 25, 2012
Stay tuned: I'll post instructions whenever Google does open up the Google+ Local and Google+ business page merger option to the public. In the meantime,
email us
or call us at 802-383-7679 to talk about optimizing your local search presence or any of your other web needs.