***UPDATE: Old Version Hidden But

Not Totally Gone

(Yet!) - Scroll for that and other updates***
Well, everyone knew this day was coming, and I suppose I'm lucky to have been able to hang on to the familiar old interface as long as I have, but it appears that
Google Analytics
has finally done away with the "Old Version" option. 
(See screenshot below. Until just this afternoon the "Old Version" link at the top of the screen had still been available to me after logging in.)

I'd be shocked if I was the only one who has dreaded this day while relying on the old version of Analytics for traffic data and client reporting. It was a nice run, my friends, but it seems the time has come to learn the new interface. It's tough to complain at this point given that support for the old version was
supposed to end in January
and the updated version has actually been
available for nearly a year
, but I am a little surprised
GA didn't post anything
on their blog about today's change. Anyway, no one likes change, but in this case you'll be pleasantly surprised with all of the new Google Analtyics features once you start using them and once you've figured out where to locate familiar data using the new navigation options and layout. It's undeniable that the appearance is much cleaner and presumably very intuitive for brand new users. I struggled to come up with an analogy for what this change is like for all of us who've been adjusted to the old version of GA for all of these years and the best I could come up with off the top (after all the hard work on the photoshop above - yes, I'm a wizard with Windows Paint) was a substantial GPS update after changes to downtown streets. Have you ever lived in a city where key 2-way streets suddenly became one way streets or vice versa, to improve traffic flow? By updating your GPS device with the latest maps, you'll still get directed to your destination, and probably in a more efficient way, but the route may seem counterintuitive at first if you've been taking the same
old
route for years. In the New Google Analytics neighborhood, this means you'll just need to get used to simple things like taking a right on "Audience" instead of a left on "Visitors" to get to the top level traffic data office in the morning. In time I think we'll all grow to love new features like detailed
social media tracking
and improved
mobile app analytics
, it's just going to take a little getting used to. Mashable actually produced a nice
top 10 mash-up of great new Google Analytics features
back in November that you should check out for an overview that should help you get a little more excited about the change. Personally I was thrilled to discover just yesterday that they brought back the ability to schedule email reports. I checked earlier this month and it was still only available in the old version, despite GA's own blog saying back in November that it was coming "
in a few weeks
." I'm still learning the new interface myself, and I'm also a believer in "learning by doing", so I think putting together any sort of tutorial at this point would be a waste of time. Instead I'll just recommend heading over to
Google Analytics
right now so you can start digging around and figure things out on your own. Personally I find I remember things better that way. I will however offer you one tip, if like me you've relied at all on "Custom Reports" in the past. These are no longer managed through a navigation point in the main left-side navigation area, so don't drive yourself nuts trying to find them there. It seems Google has recognized how useful these are to many Analytics users and so custom reports have been given a featured position in the top horizontal navigation, but it's easy to miss when you aren't used to accessing it there.

Once you've had some time to work with the new Google Analytics, let us know what you think in the comments section below. What are your favorite new features? Have you discovered something that wasn't carried over from the old version?
***UPDATE***
It looks like others have begun to stumble across this change. I'm going to offer a bit of help to
Dan01 at Webmaster World
but I still strongly recommend that everyone just take the time to figure the new Google Analytics interface out for yourselves. Haven't we all procrastinated long enough? Again, the new version has been available for a year!
Usually I will look to see what pages were viewed and then look at the sources of the views and the keywords used to find the page.

There might be a way to use the new version to find this important information, but I have yet to find it.
For the data Dan is looking for, I found it easiest to use custom reports. Using the simple format shown in the screen shot below, Dan should be able to drill down the same way he'd grown accustom to in the old version of Google Analytics.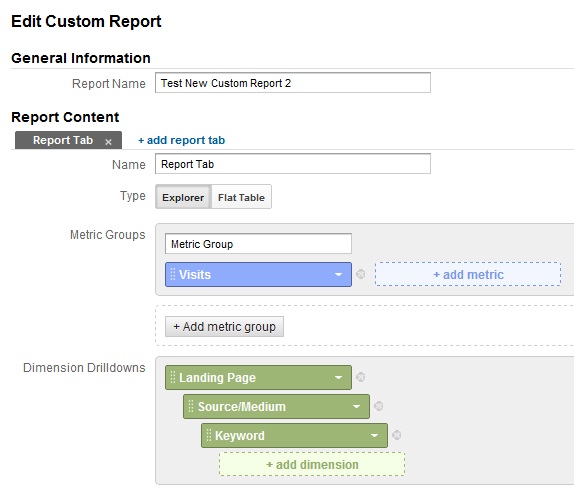 ***UPDATE - The "Old Version" Isn't Totally Gone (Yet)***
Upon reviewing the example custom report I created in the screen shot above, I scrolled to the bottom and realized I needed to expand the default view of the results (10 landing pages) to show up to 500. Just before changing this setting in the dropdown, I noticed by dumb luck that the "old version" hasn't been totally killed off - but it certainly seems like it's on its way out, as it's now being hidden (for all intents and purposes) in the footer:

***UPDATE Custom Report Drilldown***
For whatever reason, it appears that my comments at Webmaster World have been removed so I'm going to post again, as it appears Dan01 is still having trouble obtaining the data which I know is still available. See the screen shot below for Google organic keywords that are driving traffic to this very post today (click to enlarge):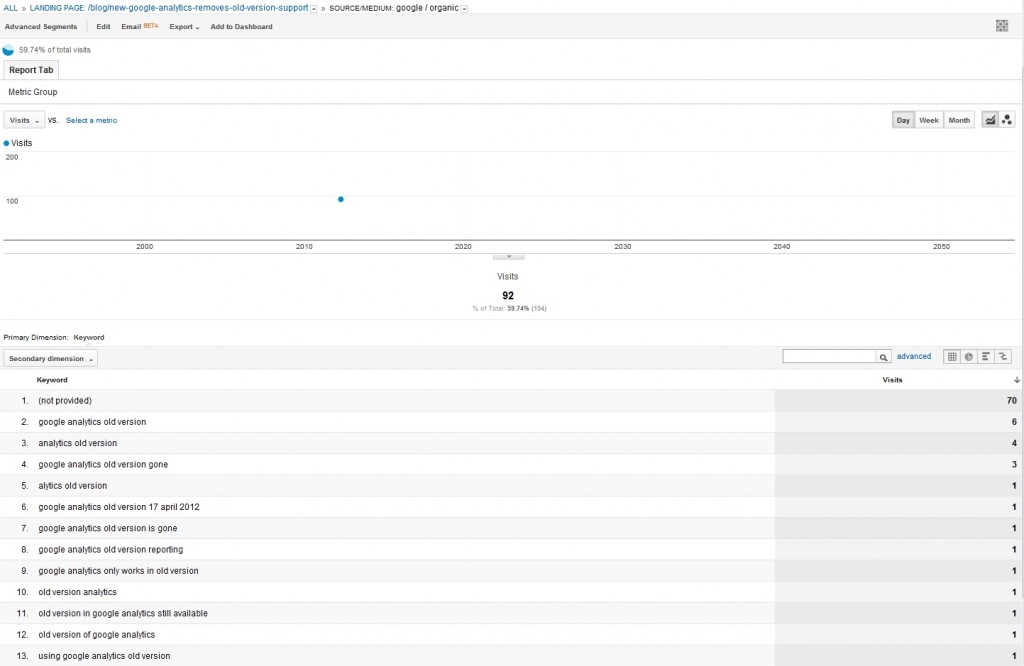 Now, most of the Google organic traffic in this case shows "(not provided)" for the keyword, but this has nothing to do with the new Analytics interface. This was a significant change Google made several months ago. Essentially Google will show "(not provided)" when the visitor was logged in to a Google account and clicked on an organic search result. While the SEO world is understandably up in arms about it, especially given that it has a much larger impact than GA predicted, this issue has been around for months whether you're using the new version or the old version.
***UPDATE*** 4/25  Barry Schwartz noticed a couple of days after we published this post that GA responded on Twitter to the massive freak-out that occurred in the forums after the "Old Version" link seemed to disappear. Barry notes the obvious reason GA moved/hid the links:
Google really wants you to switch to the new version of Google Analytics and by almost hiding the link, they think they can convert more people over to it.
I have to say it worked. I wrote this post originally thinking the "Old Version" was dead, so I forced myself to get familiar with the new Analytics. Well played, Google!