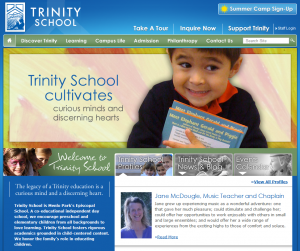 It's hard to believe that we launched the
Trinity School website for our friends in Menlo Park
over a year ago, but we're glad to have maintained our close relationship and we're excited to begin another new project with them. Our 2012
Trinity
project will be a parent/staff portal that will serve as a central access point for all of the school's various current systems. The portal will serve a wide variety of functions, including allowing access to events calendars, blog posts pertinent to specific classes, individual student grade information for parents, tuition payment systems, and more. As the name implies, Trinity's new parent/staff portal will essentially act as the web "hub" for anything and everything happening at the school. We continue to develop custom applications for our many new and existing clients, but this one will be particularly robust and full featured.
Subscribe to our feed
to follow our future blog posts and ensure you don't miss the announcement when we launch the new application. We'll be highlighting some features in that announcement post, so stay tuned! In the meantime,
let us know
if you have any web needs that may require custom application development.