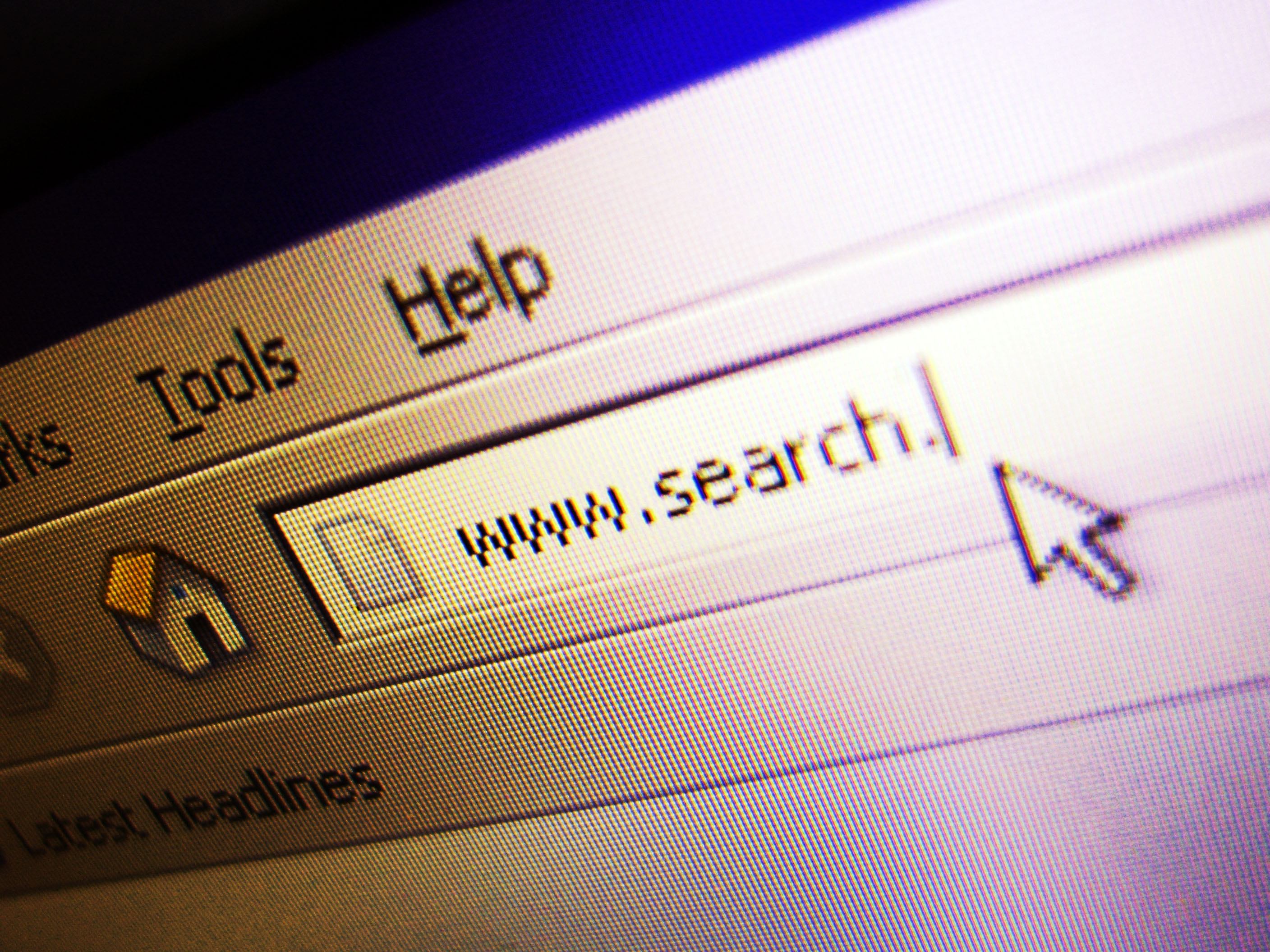 Since the turn of the millennium we've had to evolve our online marketing and SEO strategies to fit the latest search trends while ensuring we don't run afoul of ever changing search engine best practice guidelines.  This year has been no exception. Today I'm going to take a look back at what changed about SEO and SEM in 2014 - and then, once again, I will don my absurdly large Miss Cleo hat, and attempt to predict the internet of the future.
2014 SEO & SEM – This Year in Search
Whew, where do I begin? The 
predictions we made/covered back in January
 seem like as good a place as any. At the time I addressed 3 of Rand Fishkin's 2014 predictions:
I concurred with his prediction of a Twitter Analytics (the equivalent of Facebook Insights). Such a tool arrived a few months ago.
I disagreed with Rand's prediction of Google search results with no external, organic listings. I've yet to see this personally and haven't heard of it happening, but I can't unequivocally say it hasn't been tested for some users. So, I think I was right – but that's not to say Google hasn't increasingly made strides with informational results that keep you from needing to click off to an external site. At this point, though, they've still left organic results as an option, below "Instant Answers" and the Knowledge Graph.
Rand predicted that Google would publicly acknowledge updates to the search algorithm to target spammy guest blog posting, etc. I agreed with this prediction, and within weeks we had Matt Cutts announcing the death of guest blogging. While many SEOs initially went off to commit seppuku, I think more have come around to my measured reaction. There was still enough nuance in Cutts' post to indicate that continuing value in the practice, as long as you were providing unique and valuable content.
PPC Costs Skykrocket
Additionally I went out on the frailest, rotten limb and predicted PPC costs would continue to rise on Google Adwords as it became increasingly difficult to rank organically (and as Google modified SERP layouts to push organics below the fold). I also said we'd probably see spill over to Bing/Yahoo! ads as a result, which would in turn drive costs up on the Bing Ads platform as well. Few dared to prognosticate with boldness rivaling newspaper horoscopes (I take the risks so you don't have to). Unfortunately I was right – costs rose across the board as advertisers flooded the market and competition stiffened. But enough about 2014 predictions – What actually happened that people weren't necessarily anticipating?
2014 Google Adwords Changes
From a conversion tracking standpoint, the 
website "Call Tracking" feature Adwords released in August
 is probably the most significant change we saw in 2014. But even as I write this, Adwords changes are rolling out, including the just announced 
launch of Adwords Editor 11
. As someone who uses Adwords editor for the vast majority of my client account management efforts, this looks like HUGE news. I say 
looks
, because I can only see from the promo video that its appearance has been completely overhauled and that they're promising a bunch of new features and tools. I'll reserve judgment until I get a chance to use it. Beyond those items, I'd point you to the 
Inside Adwords blog
 where you could literally spend days digging through all of the smaller changes like improved 
mobile shopping experiences
 for users, the 
expansion of remarketing
, 
bulk Analytics/Adwords account linking
, and much more.
2014 Google Analytics Changes
Early in the year Google Analytics underwent a facelift in the form of some 
pretty significant top and side navigation/label changes
. Shortly thereafter they changed the labels on arguably the two metrics that give the broadest overview of all metrics in GA – 
"Visits" became "Sessions" and "Unique Visitors" became "Users
". Months later, the 
option to choose "Classic Analytics" when setting up a new property disappeared
 as Google ended their beta testing of Universal Analytics, and pushed it out as the new standard. The good news – at the time – was that those with existing "Classic" properties were allowed to keep them… for a few months. Users were encouraged to migrate to Universal by constant "upgrade" calls to action whenever they logged in.  By the end of July, Google had actually auto-upgraded everyone. The only code available in the Admin area was Universal and that is the state of things as I write this. So to summarize, you've already been auto-upgraded (if you didn't manually do it).  Your data continues to flow, even with the old code on your site, but you should update your code ASAP to avoid any potential lapses in the future.  Google could suddenly decide to pull the rug out from under you without warning…
Google Kills Authorship
That's not a typo – after years of hype, Google announced in September that your 
author-ship has sailed
. No longer will mini-bio photos/headshots show up in search results next to content you've written. It was believed that these images not only increased click-throughs due to the attention they drew, but Google suggested that these images helped build trust with users. At this point the truth seems elusive, but follow the link above for more in-depth background and to hear Google's official position.
Apple Goes Local
We talk a lot here about "
local SEO
", but mainly as it pertains to your Google local listings, Yelp, etc. etc. But this fall a new contender entered the ring – 
Apple Maps Connect
. I view this as yet another attempt by Apple to establish itself as an info-hub in the ongoing not-so-secret rivalry with Google… but as usual I think they missed the boat. They should just stick to doing what they do well, and continue harvesting out their local search… even if it is to Yelp.
SEO Changes in 2014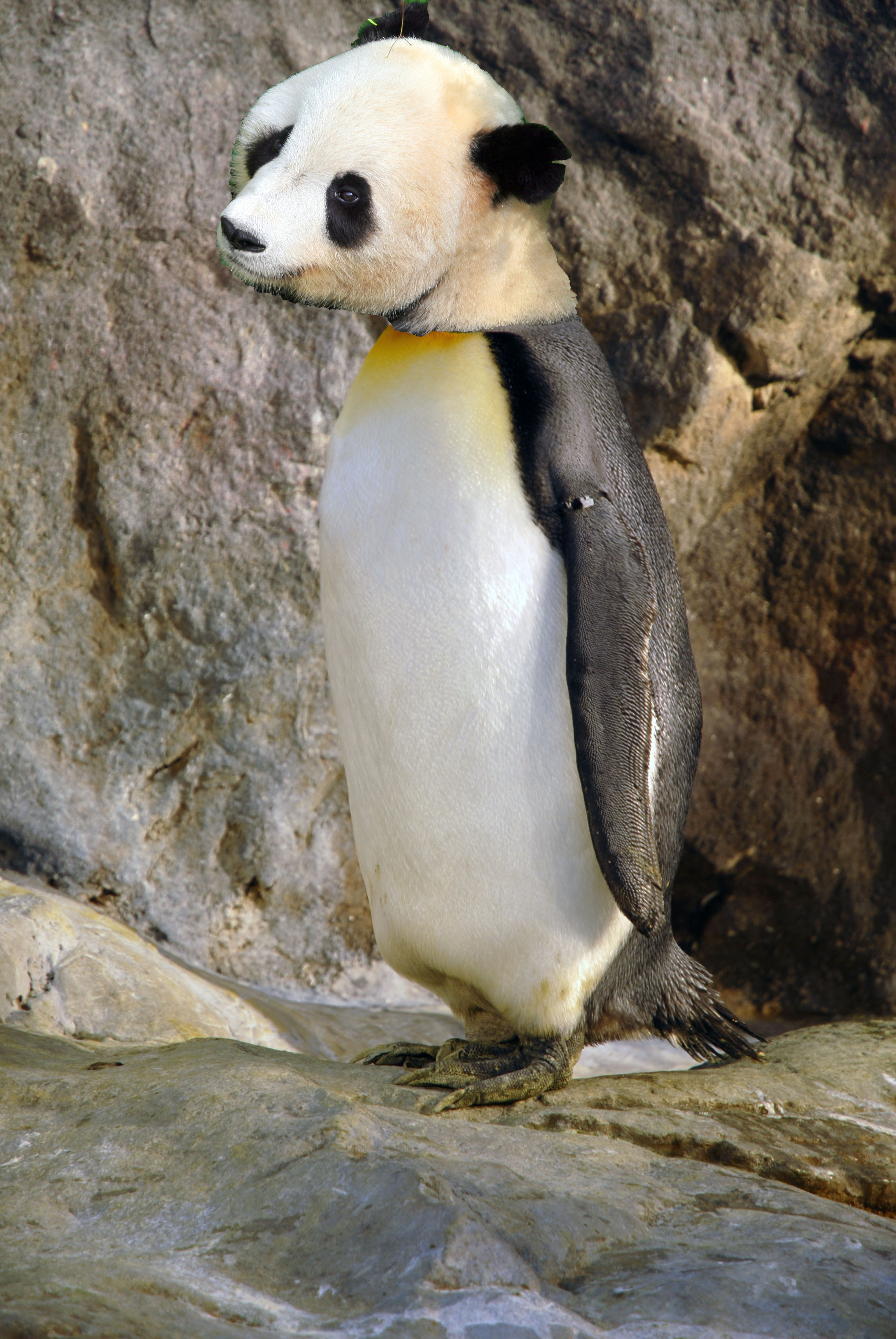 While it was all aboard the panic train for many SEOs over continued Panda/Penguin and whatever other Algorithm Animals, if you were weren't doing anything spammy (like buying links or scraping content), little should have changed for you in 2014. Sure, users continued to become increasingly mobile and have shorter attention spans, but SEO fundamentals are unchanged: Create unique, valuable content, on-page optimization (title tags, URLs, H1s, etc.), link build in above board ways. If you aren't familiar with Panda or Penguin, 
Moz has a must-read primer
 to bring you up to speed.  The gist is this – Panda was Google's way of deranking low quality sites (sites with duplicate, scraped or thing content, etc.), while Penguin mainly attacked the rankings of sites that had clearly engaged in unnatural linking practices. Updates to these Algorithm Animals 
continued throughout 2014
, including 
even today
. But again, if you weren't doing anything shady, you should be okay. If you were and got busted, check out Moz's recovery strategies in the piece linked above. In a moment, we'll talk about the types of SEO activities in which you can engage that don't risk poking the Pandguinz.
2015 SEO Strategies
Don't let your site lay dormant another year. Take 2015 by storm and get your SEO house in order once and for all. We know that many of you have businesses to run and simply haven't had the time to learn about how to drive visitors to your site and how to handle that traffic when it arrives. It's challenging enough to keep up even for those of us in this industry. That's why I'd now like to provide a crash course for the uninitiated (and perhaps a nice reminder for those who've gotten complacent).
On-Page SEO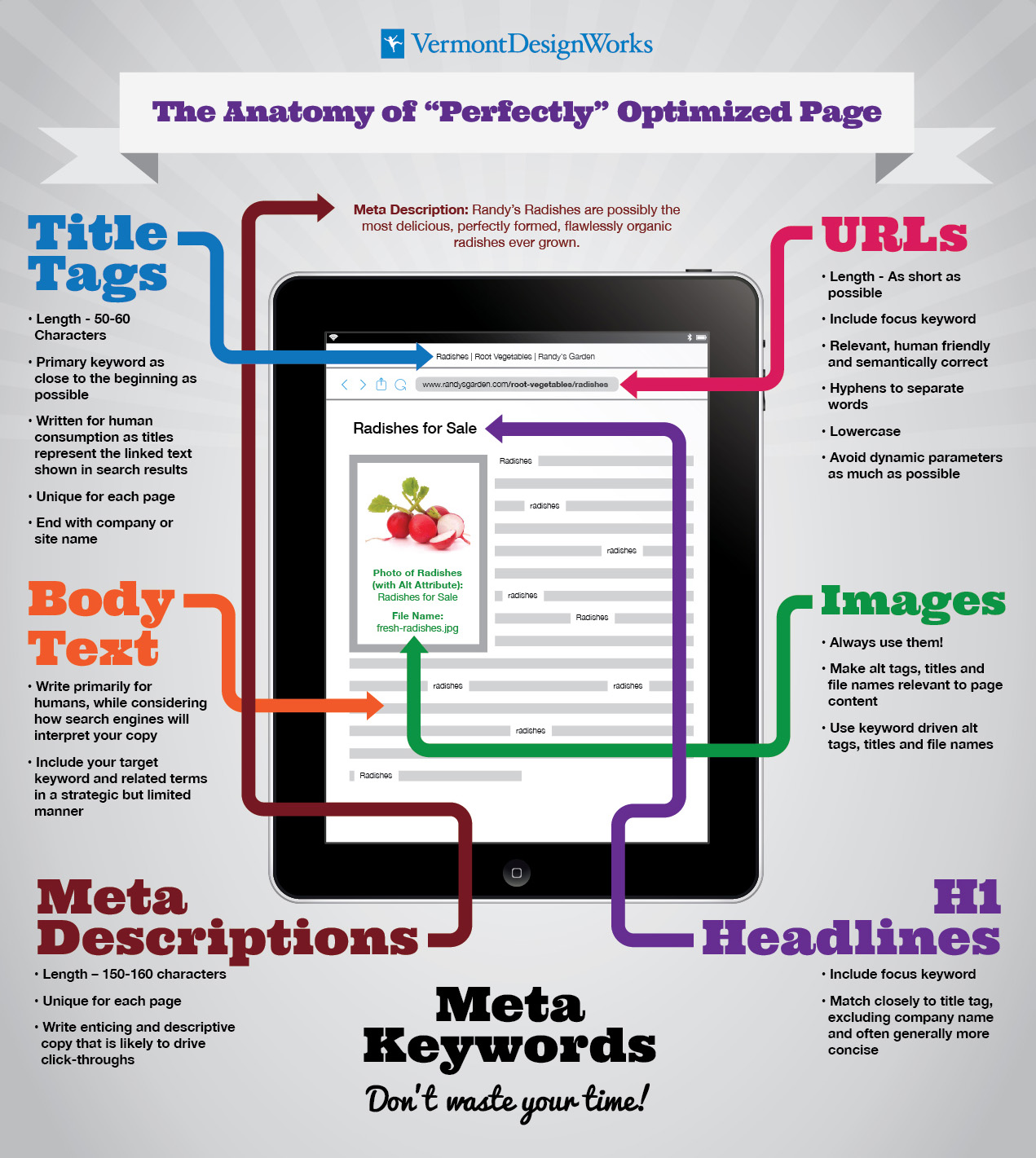 As with most things SEO, Moz is sort of the industry authority.  I'll link you to 
their On-Page Factors article
 if you're really ready to get your hands dirty, but I'm going to try to keep it simple here today. Click the image to the right for the full-size infographic of our bare minimum on-page SEO recommendations. The long and the short of basic on-page search engine optimization is that you should be creating pages and content for humans, while optimizing certain key elements and structuring your website in a way that search engines prefer. Things like title tags, URLs, image alt tags and the copy itself each play roles in on-page SEO. The key in all of this is understanding how your audience searches. For example, you generally want to avoid industry jargon if it's not the way that your potential customers actually search. At the same time you need to remember that the lexicon is always evolving and the way people search changes, 
an issue we talked about early last year
. If you don't know how your customers search, then you'll need to do some keyword research. There are any number of tools out there to assist, each with their own benefits and limitations. Agood starting point would be 
Google Adwords keyword planner
. You'll need an Adwords account to use it, but you don't actually have to be spending money/running ads.
Google Webmaster Tools Sitemap Submission
Having a website – even a well optimized one – is great and all, but what good is it if no one ever sees it? Obviously the first step is to let Google know it's out there so they can direct relevant traffic to it. That's where Google Webmaster Tools comes in. I wrote a post in September that walks you through setting up a 
Webmaster Tools account, verifying ownership and submitting your XML sitemap
. Make sure Google is indexing your site properly before you do anything else.
Google Analytics Fundamentals
If you don't already have Google Analytics tracking installed on your site, then do that before you do anything else. Seriously, go do it! NOW! We'll wait…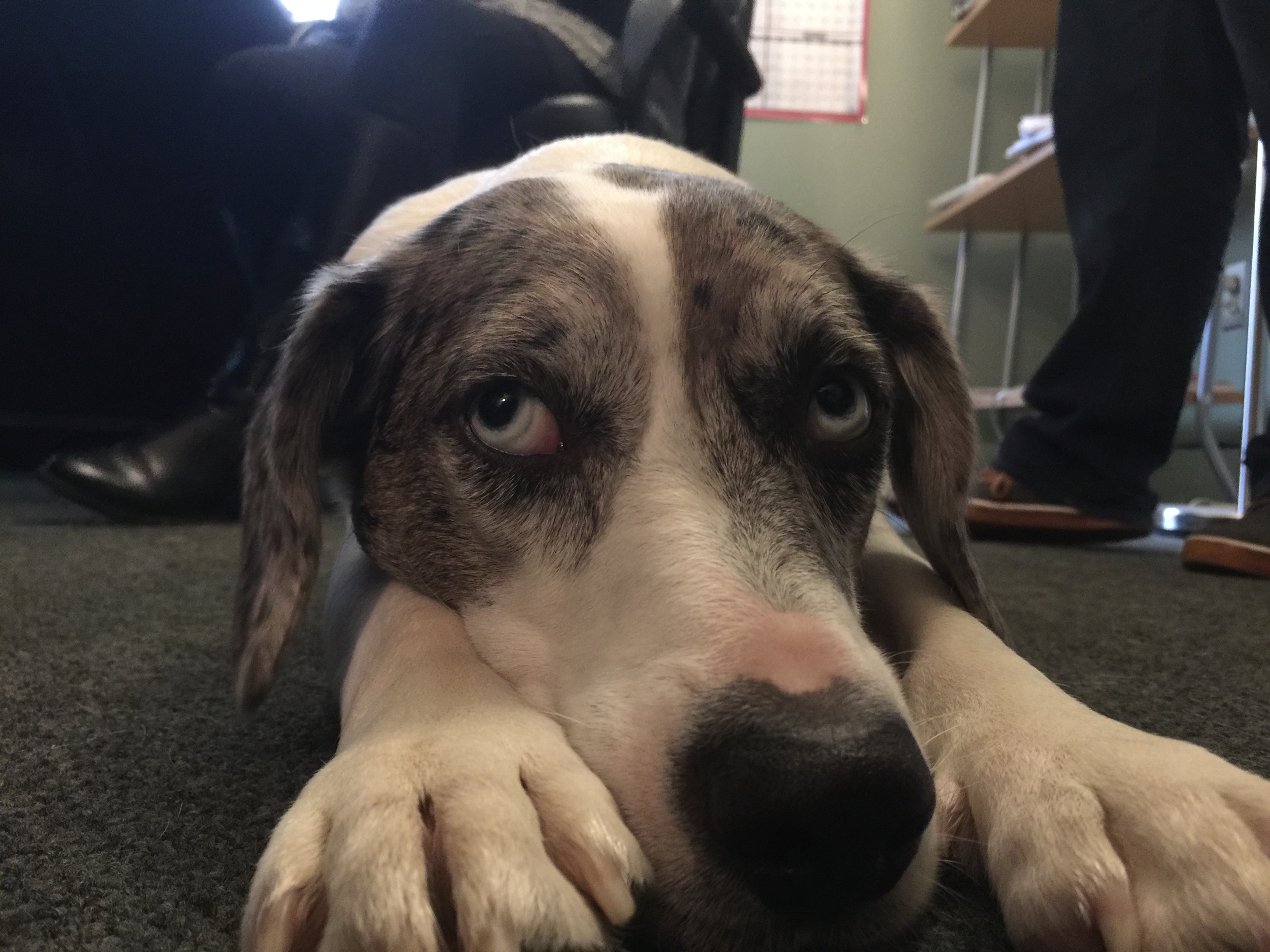 Done? Cool, let's move on to how you can use the data now being collected from your site. Another fundamental of online marketing is that you should rarely make decisions without data to back them up.
Filter Internal Traffic by IP
Before you do anything, you should remove your own internal traffic from the equation. Follow our 
Google Analytics IP Filter
 tutorial to learn how to exclude all traffic from visits you and your employees make to your website, so as not to skew key metrics like conversion rates, etc.
Google Analytics Goal Setup
An abundance of data will flow into your GA account just by virtue of the fact that you've installed the code on your site, but measuring conversions is a critical next step in tightening up your web marketing plan. The first place to start, generally speaking, will be to 
set up Analytics "goals"
 to track important conversion behaviors on your site, such as form completions and purchases. Of course if one of your goals is a "purchase", then you'll also want to 
set up ecommerce tracking
.
Google Analytics Event Tracking
Events, in Google Analytics, are on-site actions that aren't trackable with a simple "goal". These are things like clicks on email addresses and external links, as well clicking on interactive controls like video play/pause buttons. I recently wrote a post about 
event setup in Universal Analytics 
that should help you get started with at least basic events. You can even set these events up as goals.
Custom Reports
After you've tinkered around a bit with conversion tracking through goals, ecomm and events, it's time to start tailoring your data to your needs: set up custom reports that present your data in a way that is easily digestible and actionable for you. While you could drown in a sea of standard report data for literally weeks, I prefer to set up custom reports that zero in on and highlight specific information that you feel is important. And in the mobile era, what could be more important than mobile user metrics? That's why I recently wrote up instructions on custom 
mobile conversion rate report setup
. Once you see how that report is set up, you can also use what you've learned to set up others as well.
Your Site's SEO
If you've neglected your online marketing and search engine optimization until now, we hope the tips above will help kick-start your efforts in the New Year. And while these may seem like SEO 101, you've got to start somewhere.  Sadly we often get calls from business owners who haven't even begun to think about their website's marketing goals or strategy. If you do nothing else, make a resolution to read 
Google's Search Engine Optimization starter guide
 on Jan. 1.  This will encourage the right SEO mindset as you try to get Auld Lang Syne out of your head. For more in-depth prognosticating on SEO in 2015, we recommend clicking through to the following articles:
And if you're curious about what we - the human race - searched for in 2014, check out
Google's Year in Search recap site
 and watch the teaser clip below: https://www.youtube.com/watch?v=DVwHCGAr_OE