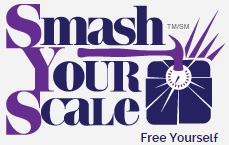 Earlier this year we launched a responsive website for
Smash Your Scale
, a revolutionary new online community and therapy program focused on women's nutrition, health and positive body image.  SYS seeks to wage a two front war - one dispelling what they perceive as myths perpetuated by the diet industry that lead to an endless and unproductive diet cycle, and the another against a media culture that they feel intentionally creates a negative body images to sell products and services.
Logo Design
The idea behind Smash Your Scale is to "free yourself" by breaking the obsession with weight and focusing instead on health and wellness. Understanding this concept also helped us when designing the logo for this new new brand. As you can see, we incorporated "scale smashing" imagery, quite literally. But don't let me and my keyboard dumb down the Smash's casus belli. Here's how Smash Your Scale founder, Dr. Ellen Albertson, explains her mission and the goal of the website:
I started Smash Your Scale to create a safe, convenient, affordable, effective online wellness program for women to achieve their health and wellness goals and boost their body image without destructive dieting, dangerous diet pills or soul crushing "warrior workouts." You don't need any of that BS to feel and look great, inside and out. Thin-centric American media fuels the diet industry by bombarding us with thousands of advertisements featuring images of women (almost always young) that few if any of us can attain, and almost no one, including the models they use, maintain. The negative body image and body shame and dissatisfaction women experience by not looking like these "perfect" images creates tremendous suffering. Eating disorders, self-objectification, low self-esteem,  depression and anxiety are the results, leading to poor health and a poorer quality of life for women.
Believe it or not, SEOs don't moonlight as women's health specialists, so I won't waste your time (or my keyboard) trying to further explain the program here. Head over to
www.smashyourscale.com
where
Dr. Ellen Albertson, Ph.D., R.D.N., C.D.
- a Psychologist, Registered Dietitian Nutritionist, Licensed Wellness Coach and former Master Personal Fitness Trainer - tells you all about how her
Women's Wellness Therapy Program
and how you can be healthy, happy and successful
without ever dieting again
.
Responsive Design Website for Desktop, Tablets and Mobile
As a new service looking to build a following from scratch, Smash Your Scale knew they couldn't take any chances when it came to making their website accessible to users, regardless of their device and screen size. They came to Vermont Design Works knowing that we specialize in
custom websites
and
applications
that are built to be "responsive", meaning they work on all devices from smaller smartphones to large-screen desktop PCs, and everything in between. Take a look below at how the Smash Your Scale site looks on desktops, tablets and smartphones:
Desktop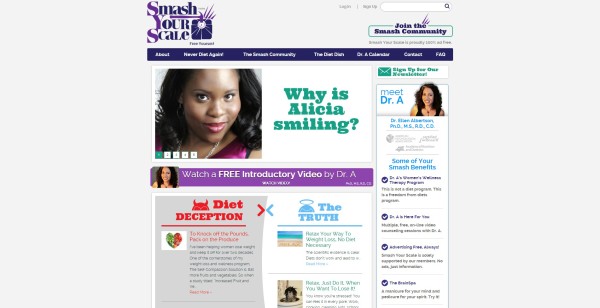 (click to enlarge)
Tablet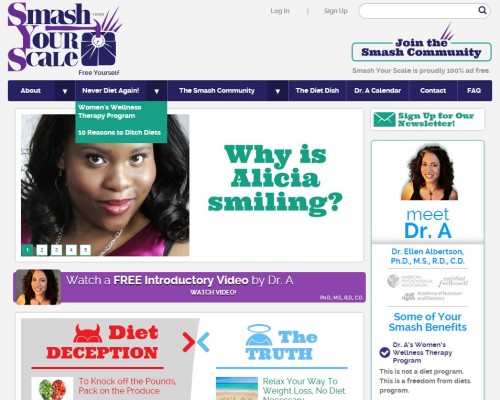 (click to enlarge)
Smartphone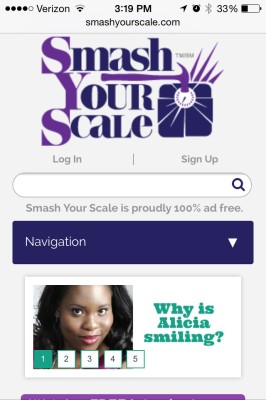 (click to enlarge)
Of course I'm just showing "above the first fold" in these screenshots. To view the full responsive site,
click over
, click around, and scroll up and down to see how all content is available regardless of device.
As you undoubtedly noticed even in the screenshots above, there are "Log In" and "Sign Up" sections that work on all devices as well. Membership to the SYS site provides access to exclusive content. Again, as a start-up looking to make a big splash (er... smash?), Dr. A wanted to make sure all women could view any part of the site - even the members only area - regardless of whether they are at home on their computer or on the go with their cell phone. That's the beauty of our
responsive design websites and applications
- they look great and provide all of the same content to users on all devices.