It's understandable that negative stories are the ones that make headlines and get picked up on our 6 o'clock news, but today I thought we'd take a look at a positive local story you probably hadn't heard. First, the back story...
Fire at Vermont Girls Summer Camp in Malletts Bay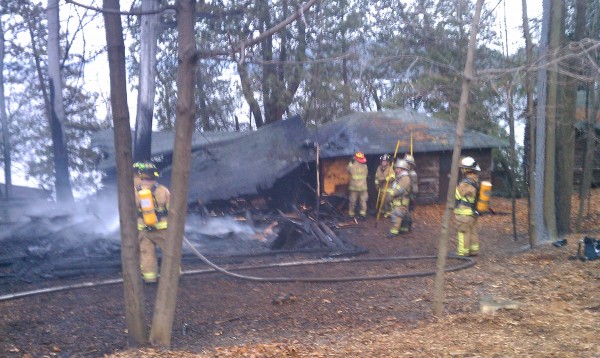 Back in December you probably heard about the suspicious and 
tragic fire
 at
Brown Ledge Camp
in Colchester which destroyed numerous structures and scores of trees. The mystery was solved just days later when
2 local teens came forward to confess
 to having accidentally started the fire while playing with matches and fireworks. Unfortunately a confession doesn't rebuild a camp. But, despite several hundred thousand dollars in damage, the main dining hall was saved and directors
Bill and Kathy Neilsen
promised to rebuild and open on schedule in June. For most, that's where the story ended - but not for us. The folks at Brown Ledge are not only neighbors, but friends and long-time clients of ours here at Vermont Design Works, so we've been following their rebuilding closely since the day of the fire.
About Brown Ledge Camp
Vermonters, even those from the town of Colchester, where the Brown Ledge is located, could be forgiven for having never heard of the girls summer camp because its existence isn't that widely known among locals. For that reason, I thought I should provide a little background. Established in 1926, BLC is an exciting and unique summer sleepaway camp for girls located along the shores of Lake Champlain in Malletts Bay, Colchester, VT. Girls ages 10-18 who attend have endless activities to take part in from horseback riding and tennis to waterskiing and kayaking, and Brown Ledge campers are offered "Freedom of Choice" to participate in any and all activities, but only those that they are interested in.
Rebuilding Brown Ledge Camp
If you "like" 
Brown Ledge on Facebook
, you probably already know that real progress is being made and they're closer to being ready for the arrival of their 2013 campers every day. The process really began just 3 days after the fire when 
BLC posted details
on the buildings that were destroyed:
Although many of you have been posting the list of cabins that were lost in the fire on Sunday, here is the official list as of this afternoon (Wed. 12/5): 7th Heaven; Dixieland; Devil's Fantasy; Jukebox; Pooh's Corner; Piglet's Palace; Shady Rest; Hide Out; Cuckoo's Nest and Times Square. We will continue to update you as the repair/rebuild process continues.
Further details were posted in a news item on the
BLC website
. Obviously sad for the campers who've stayed in these cabins indeed, but
better news started coming in
just the following day:
Update from the development office: * total On Line donations so far: $18,615 from 106 donors (this total does not include mailed gifts, which have not yet been calculated)
A great start just four days after the fire. That same day the
American Camp Association
published a story about the fire and the need for
further donations
, which I'm sure was helpful as well because just 
11 days later
,
new
 post-fire donations had surged to over $72k:
Total 2012 Campaign results total as of December 16, 2012: $243,885! That includes ALL the funds for the campaign this year. 504 Donors to date, too! From that total, $72,314 has come in since December 2nd (the day of the fire) through 216 donors. What a wonderful show of support for the place we hold so dear. And that still doesn't include all the checks that have been mailed in. Most of that total is through the on-line donation form. I'll update the total as soon as I have the information on checks received at the camp office. THANK YOU!!
What an amazing show of support, much of which came from camp alumni. Fast forward to 2 weeks ago when winter finally relented and the actual rebuilding began on April 18. First one of the surviving cabins,
"Annex", was moved to its new home
 to make way for the new cabins. BLC has since been posting rebuilding progress photos regularly
on Tumblr
. Brown Ledge has given us permission to snag a few of those to post here, including this shot of the new floors and the footings just after they were
poured last week
: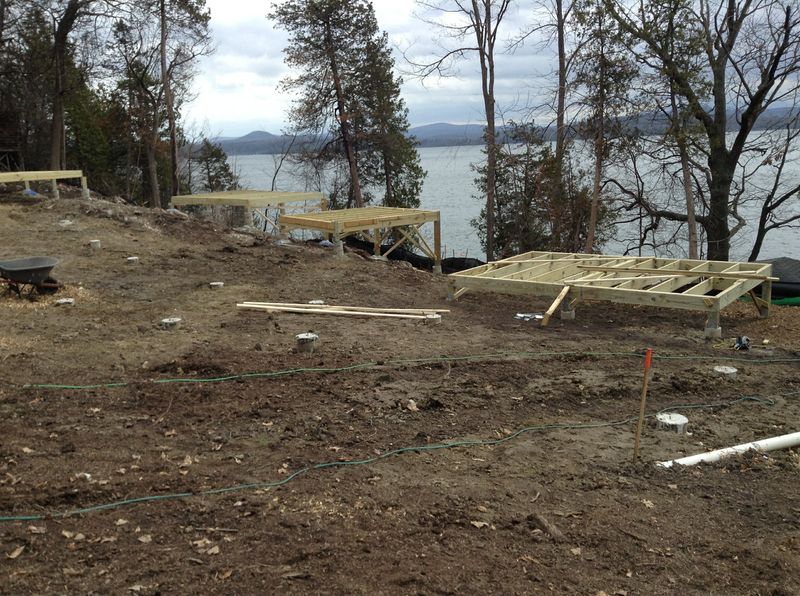 Days later the
walls and roof beams
 went up (follow the link for more shots, including of the interiors):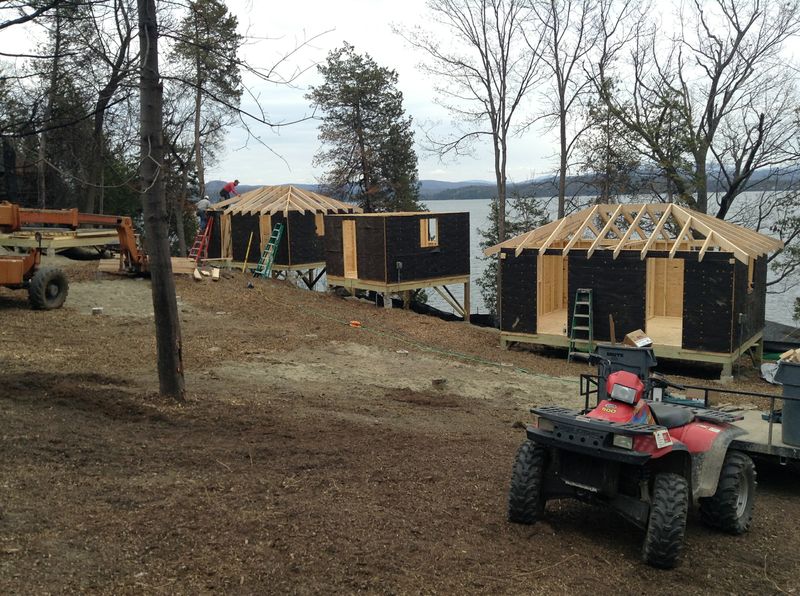 The cabins clearly aren't quite complete, but the rapid progress shows Brown Ledge is quickly rising from the ashes and will be ready for campers to arrive on June, 20 as promised. Still, construction isn't finished and BLC put out a plea on Facebook
just last Thursday
 for volunteers to help finish rebuilding at the annual work weekend -  June 1st and 2nd. It certainly looks like they're on target to open as planned and we can't wait to see the rebuilding completed.
2013 Girls Camp Enrollment
As I mentioned, BLC plans to open as scheduled, so if your daughter still doesn't have summer plans, the time to sign up for camp is now because slots are filling up fast! And remember - you don't have to be a Vermonter to camp at Brown Ledge. In fact campers at Brown Ledge come from across the country and all around the world. Visit the website today to learn more about this premier 
Vermont girls summer camp
!