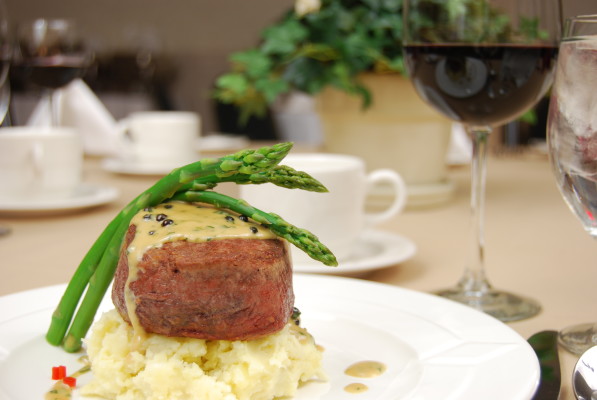 While many of us have still been waking from our long winter slumbers, rubbing our eyes in disbelief as the mercury finally creeps above the 32°F mark, local foodies have been salivating with anticipation of the
5th annual Vermont Restaurant Week
for months, and the wait is almost over. Break out your
Thanksgiving Pants
 if you have 'em because the VT Restaurant Week 2014 will be held this year from April 25 through May 4. If this will be your first Restaurant Week and you're not sure what it's all about, this year's
press release explains
:
The Vermont Dept. of Tourism and Marketing and Seven Days, Vermont's free, independent newsweekly and organizer of Vermont Restaurant Week, are pleased to announce this year's Vermont Restaurant Week, a simultaneous celebration of the state's vibrant local food culture and fundraiser for the Vermont Foodbank.
And from the official site's
FAQs
, here's how it works:
Q. What is Vermont Restaurant Week?

A. From April 25-May 4, 2014, participating restaurants will offer special, prix-fixe menus showcasing their chefs' greatest dishes. Those menus will feature three-course dinners (e.g. appetizer, entreé and dessert) priced at $15, $25 or $35 per person. Select restaurants offer discounted lunches that are usually $10 or less. The week also includes a special calendar of special, food-themed events.

Q. How does Vermont Foodbank benefit?

A. 10% of the proceeds from sponsorships and 100% of special event admissions will be donated to Vermont Foodbank.
You can find more information about this year's
special events here
, including the
Sweet Start Smackdown
- a dessert competition between many of the state's top pastry chef's,  held the evening of 4/24. The Smackdown effectively doubles as the opening ceremonies for a week (10 days really) of feasting on local food served at the area's top establishments. Back to the main event though, Restaurant Week is charitable event  that allows us all to help feed hungry, less fortunate Vermonters while supporting our local restaurateurs.... oh, and stuffing our faces with as much green mountain cuisine as possible!
Nosh Near the 'Noosk
In the past, several of our Winooski neighbors have been involved, but it looks like the city's newest addition, 
Mule Bar
, is the only one participating this year. They promise to surprise us with
their menu
, but if you've ever tried their food, you can be sure they won't disappoint:
$35 Menu

The chalkboard menu will change each day to feature one cheese-and-charcuterie plate, one small plate and one entrée for $35. For an additional $10, the bartender will pair each of your courses with a specially selected beer.
Although not in Winooski, we can see our next closest neighbor -
Bluebird Barbecue
- out our back windows, just across the river, so we thought they deserved a shout out as well. In addition to their
$25 restaurant week menu
, they've decided to mix things up a bit too with a special take-out offering:
$25 Menu

APPETIZER OPTIONS

Mug of Chili  Our award-winning chili, with just the right amount of heat and spice

Raw Slaw Salad Kale, red onion, celery root and apple in slaw dressing

Pulled-Pork Poutine Mini version of the Bluebird Barbecue favorite

ENTRÉE OPTIONS

Chicken or Black Bean Smokehouse Burrito

With dirty rice, shredded cheddar, lettuce and tomato relish

Pulled-Pork Sandwich Kaiser roll piled with pork and topped with slaw. One side your choice

Betty's Big Salad Fried or smoked chicken, cucumber, tomato and buttermilk dressing

DESSERT OPTIONS

Molasses Corn Cake With maple frosting

Rookie's Float Rookie's Root Beer or Rookie's Red with a vanilla ice cream floater

Restaurant Week Take-Out Special

Barbecue For Two, $29.95 Your choice of three portions of meat and four sides
For those on a tighter budget, just up the road on RT 7 in Colchester,
Three Brother's Pizza & Grill
 has a number of
affordable offerings
 - $10 and $15 - that allow you to still participate in this great cause without breaking the bank, all while supporting a local business (Quoth Michael Scott: "Win, win.... win.")
$10 Lunch Special

Switchback-BBQ-Beef Brisket Sandwich Slow-roasted beef brisket glazed with our homemade Switchback barbecue sauce, Cabot cheddar, maple-caramelized onions and coleslaw on a country-style rustic roll. Served with sweet potato chips and a mini cannoli Soup and Sandwich Switchback chili topped with Cabot extra-sharp cheddar cheese and a Vermont BLT with bacon, lettuce, tomato, sliced green apples, Cabot cheddar cheese and mayo on honey-wheat bread. Served with a mini cannoli

$15 Menu

APPETIZER

Choice of Any Salad Including Vermont maple-balsamic and Caesar salads

ENTRÉE OPTIONS

Mr. Billy S. Goat Pizza Topped with Alfredo sauce made with roasted red peppers, mushrooms, Monument Farms Dairy heavy cream, Vermont Creamery chèvre, Cabot extra-sharp cheddar, Vermont maple-caramelized onions and spinach Vermont Mac-and-Cheese Bacon Burger Eight-ounce burger topped with crispy bacon and macaroni and cheese made with extra-sharp cheddar cheese, rotini pasta and caramelized shallots. Served with a side of seasoned fries Vermont Bolognese Our housemade Vermont beef Bolognese sauce, tossed with cavatappi pasta and served with garlic bread

DESSERT OPTIONS

Frosty Rookies Root Beer Float Fried Brownie Bites Topped with Fried Ice Cream Homemade Cannoli
Donate to Vermont Foodbank
Even if you won't be able to participate in VT Restaurant Week this year, you can still help neighbors in need by donating to
Vermont Foodbank via text
or through their
website
.
Follow Vermont Restaurant Week on
Facebook
and
Twitter
for menu updates and the latest news as the event approaches.
*Reservations not required, but they are recommended, especially on weekends.