Haven't ordered your tickets to the theater yet? What are you waiting for!? You've already missed one of Vermont Stage Company's 5 productions (Art), but you still have about a month before Winter Tales, the next in the 2013-14 season's line-up, begins.
If you haven't heard about this season's plays, you're in luck - below are the posters we designed for Vermont Stage this year:
Looks like they've got another great season lined up, so be sure to order your tickets ASAP before they sell out!
You may recall my post featuring the 2012-13 season posters last October, but you may not know that we've designed VSC's posters for the six years running, in addition to developing their website and designing their logo. In addition to the posters, this year we were also asked to design the cover for their 20th Anniversary brochures: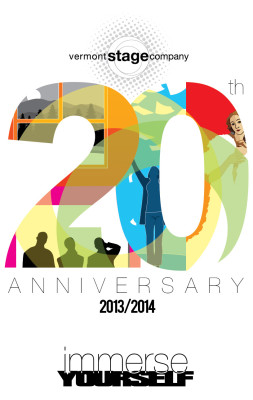 After you order you tix, let us know what you think of this season's posters in the comments below. And if you need posters, packaging or any other type of print design, be sure to check out our portfolio and then drop us a line to tell us about your project.