2-day Tech Expo & Job Fair
Tech networking takes on a new meaning at the annual
Vermont Tech Jam
. For two days, those of us in the industry pull ourselves away from our screens to show off what we've been up to all year.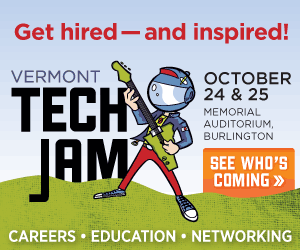 Networking isn't just between computers; rather between dozens of exhibitors and thousands of visitors. Since we can all work from nearly anywhere in the State of Vermont, it is easy to lose track of how much technology contributes to our economy. Nestled in rural valleys and hidden in downtown buildings are Vermont's tech creators. They/we are people with our hands on a keyboard and those turning the screws on a new piece of hardware. And academics, planners, and investors. This Friday and Saturday,
YOU
can speak to us and play with our favorite projects.
2014 Vermont Tech Jam Details
When:
Friday, October 24th: 10 am to 5 pm Saturday, October 25: 10 am to 3 pm
Where:
Memorial Auditorium. 250 Main Street, Burlington
Visit VDW in Booth A07
All ages are welcome to join the Tech Jam. Regardless of your level of knowledge and experience with technology, we encourage you to stop by, interact, and be amazed by how Vermonters are advancing technology in all of its iterations. Take a moment to stop by VDW's booth A07 on the Main Floor of Memorial Auditorium.  
Check out the other exhibitors too
. Thanks to
Seven Days
and the
Vermont Technology Alliance
for organizing the event and presenting sponsors
MyWebGrocer
and
Dealer.com
.