Summary:
We wanted to bring you roundup of all the Vermont Black Friday 2013 sales happening across the state, but as of right now, very few local retailers are even advertising specific events. But don't fret - we'll continually update this post as more information comes in, up until the big day is upon us. And feel free to tip us off to any sales you may know about!
***SCROLL FOR UPDATES***
Black Friday in Vermont
I've been desperately trying to find local businesses that will be holding Black Friday sales a week from today, but coming up empty unless you count the national chains like
Best Buy
and
Home Depot
. Many are even offering pre-Black Friday sales this, like
Sears
. Not that you shouldn't check out deals these retailers will be offering as well, but Vermonters like to "shop local", especially as businesses continue to struggle in this stagnant economy. Even the national chains are facing the prospect of the
weakest holiday season since 2009
, and taking drastic measures:
U.S. retailers are discounting earlier than ever as they brace for the weakest holiday shopping season since 2009. Wal-Mart Stores Inc. is dangling a 32-inch flat-screen TV for $98, down from $148 last year. Sears Holdings Corp. has waived layaway fees and its Kmart chain is introducing a rent-to-own program. More than a dozen retailers are opening earlier, or for the first time, on Thanksgiving Day. Among the attention-grabbing stunts: a $1 million jackpot for one of the first shoppers to visit Gap Inc.'s Old Navy chain on Black Friday.
While consumers all over the country should expect to see deep discounts as a result, I wasn't finding any local shops advertising Black Friday sales... at least on their websites. While in most cases I suspect the owners of these small businesses don't have
editable websites
, those that do simply don't have a
comprehensive online marketing and content strategy
. The more savvy retailers may just be waiting to start their push on social media next week... Who knows. The one shining start that
Sara
tracked down for me is
Flynn Center
: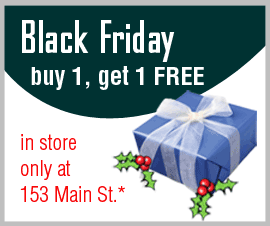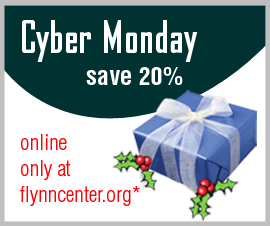 Sure, they're not a "retailer" in the traditional sense of the word, but at least it's something! And we'll never miss an opportunity to give one of our long-time clients a shout out. Other than that, the
University Mall
is generally promising big sales, with over 50 stores opening at Midnight:
BLACK FRIDAY MIDNIGHT MADNESSFRIDAY NOVEMBER 29, 2013 AT MIDNIGHT More than 50 stores will be open at Midnight on Black Friday, including Charlotte Russe, American Eagle Outfitters, Victoria's Secret, Express and more. There will be plenty of options for hungry shoppers as well.  Restaurants include McDonald's, Subway, Taco Bell, Sbarro, and IHOP.
Church Street Marketplace isn't advertising any specific sales, but their
events calendar does list 11/29
as the date of the
tree lighting ceremony, live reindeer and children's miniature horse and buggy rides
. One would think the shops will be having sales that day as well. The
Burlington Town Center's calendar shows extended hours
, including a midnight opening for Macy's, but not much else. We'll keep you posted over the next week, here and on social media, so be sure to check back. Also, please post any local Black Friday events you're aware of in the comments below and we'll update as they come in. You can also tweet them to us
@vtdesignworks
using any of the following hashtags that we'll keep an eye on:
#blackfridayvt
#blackfriday
#blackfridaybtv
#802blackfriday
***UPDATES - 11/25/13***
Three years ago, American Express started
Small Business Saturday
to help support their small merchant account holders and it's back once again on 11/30 this year. While Black Friday is marked by deep discounts and "door buster sales", Small Business Saturday is more about just generally patronizing and supporting our local businesses. https://www.youtube.com/watch?v=0bJBPLG40Z0 Additionally, via
VTDigger
, the state is promoting the
second annual "50/50 Challenge"
:
MONTPELIER, Vt. – This Giving Season, purchasing gifts can spread cheer and also strengthen communities. The Department of Housing and Community Development's Downtown Program and American Express announce Small Business Saturday, November 30 as a day for Vermonters to shop outside the 'box,' and purchase gifts that support local businesses and communities alike. Small Business Saturday also kicks off the second annual 50%50 Challenge, a season-long promotion that encourages Vermonters to support local communities by purchasing half their holiday gifts with local retailers, artisans and craftspeople. Fourteen of Vermont's 24 downtowns are celebrating the season with 50%50 Challenge events and holiday promotions.
Learn more about the 50/50 challenge at
VermontVacation.com
. We expect that most of the area's SMBs are focusing much of their energies on Small Business Saturday, which is likely another  reason they aren't spending as much time on Black Friday. On Facebook, 
Church Street Marketplace
is currently promoting an innovative way in which you can enter a drawing for a $25 reward card on Small Biz Sat. - following them on Instagram, posting a photo of yourself shopping on there and tagging with #SHOPCHURCHSTREET. CSM also has
more info on their website
, including marketing materials for SMB owners
Small Business Saturday® is a day to support the local businesses that continually give back to our schools and nonprofits. It is a day dedicated to investing back in our local economy and supporting the business owners who support us!  This year, the big day is Nov 30, and we want you to get out and Shop Small®. It is America's busiest shopping weekend! If you're a small business owner, you can head to ShopSmall.com to download free marketing materials to help attract customers on the day. We hope you can join us in making this the most successful Small Business Saturday yet! Look for special deals and sales happening at for Small Business Saturday in downtown Burlington HERE and hurry in to stores as early as 8am to SHOP SMALL!!
They've also posted
an exhaustive list of specific specials
 that dozens of retailers will be running. Below is a random sample, but I recommend following the link for the
full list
.
32 Church Street

30% off 8am-10am; then 20% off the rest of the day

15 Center Street

Buy one entree, get one free!

2 Church Street

10% off your entire purchase