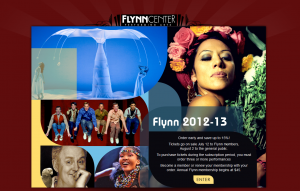 We're excited to announce that
FlynnTix
, one of our oldest clients, once again returned to VDW to have the new
Flynn Series
website developed for the 2012-13 season. We launched the new Flynn Series site last Thursday (6/12) when the Flynn begin selling tickets for this season's shows to Flynn members at discounted rates of up to 15% off. Tickets will go on sale to the general public on August 2, but you can
become a member
today to take advantage of special early pricing and make sure you don't miss any of your favorite shows. Here are just some of the season's upcoming, can't-miss events:
Nora Chipaumire
Paula Poundstone
Trisha Brown Dance Company
Ricky Skaggs & Kentucky Thunder
John Lithgow
Mike Birbiglia
Who do you plan to see? Check out the new website now at
http://www.flynntix.org/series/
and let us know what you think in the comments below. Note all of the custom event calendar and individual event overlay tools our programmers and developers created for this site. Custom applications like these are the way the internet is trending, and our team has built so if you're in need of this type of custom solution,
send us a message
today. We'd love to discuss your project with you!