After writing yesterday's post about the recent
policy change at Google Places
, it occurred to me that many of you may not even know what
Google Places
actually is. I'd like this post to serve as your introduction in to the world of Google Places and local search optimization. In the internet age Google Places is arguably one of the most important free tools that all small businesses must take advantage of. But you wouldn't know it to read
Google's own description
:
What is Google Places?

Google Places allows business owners to update and manage their physical business location information. This information can be used to update their business listing so that it appears correctly within Google Maps and associated Google properties and search and Display Network sites.
Local business owners the world over thank you for downplaying a directory service so critical that it has the potential to make or break a company, Google. While Google's answer to the question "What is Google Places?" is accurate and quite succinct, it doesn't emphasize just how important it is for every local business trying to operate in today's marketplace. Google Places is arguably the single most important local directory on the web, and as you undoubtedly know by now, people rely on internet search to find just about everything.
Local Internet Search
An increasing number of people are searching the internet for more than just news and information. Instead of cracking open the old Yellow Pages, most people now turn to the web for local searches for anything from home service providers, like plumbers and house cleaners, to searches for nearby restaurants and shopping. And people often perform "local" searches not only for their own area, but for places they plan to visit, be it for business or vacation. Think about it – When was the last time you yourself used the phonebook to find a dentist or a landscaping company? It's probably been a while because according to Google,
97% of consumers now look for local businesses online
! With 80% or more of all web searches being done using Google, it's clear that all business owners need to know how to get their businesses some exposure to users of the search giant.
Google Places (Local) Search Results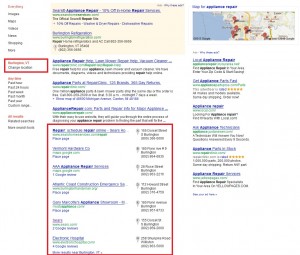 The reason Google Places is so important is because local results are displayed within the standard organic results for any search you might do that Google considers "local". While it helps narrow results down, it's no longer even necessary for useres to search the name of a city or town in conjunction with the product or service they're seeking. This is because
Google generally knows our locations
– especially on mobile devices. We can always change our location settings if Google doesn't get it exactly right or if we're looking for services in another area. (click screenshot to the right to view a larger version with location settings and local/Places results highlighted). In the unlikely event that you've never seen local search results with Google Places listings, here are some examples of local businesses in your area and so you can see how they appear in local search results:
Google Maps
to see these "local" results? They show up right in the standard Google search results pages. But did you notice there are never more than 7? This is why where things get tricky. Depending on the type of search you do, the size of the area you live in and the number of related businesses offering related services, Google may show 1, 3, 5 or 7 local results, but the "local pack" generally shows 7 results. Of course they're always testing changes as well, to see how users interact with different layouts.
Claiming Google Places Listings
Now, think about how many competitors you have in the area or just how many businesses fall in to a related category. Clearly it's important to do anything you can to get a leg up on these other businesses to ensure you're showing up in at least one of the top 7 "local" positions. But how? For starters, you'll need to either claim or create your listing. Go to
Google Maps
and search for your business and location. More than likely you'll find a listing, and if you do, you simply need to click on the link that says "Business Owner?" in the upper right-hand corner. This will start the initial claim process which will require you to verify that you are in fact the business owner by inputting a pin number. This pin can be sent instantly with an automated phone call or a postcard can be sent within a few weeks. If you don't find a listing, you'll have to go to
Google Places and create it
, using a Google account. Aside from the fact that you need to claim a listing in order to optimize it, claiming it alone boosts its importance in Google's eyes. Once you have a claimed listing, you need to optimize it for search.
Google's quality guidelines
detail the general "dos and don'ts" of optimizing your Places listing, but the main points are that you need to be accurate, truthful and add as many details as possible, including photos and videos. Like any of Google's search algorithms, their local/Places ranking algorithms are kept secret, but search engine optimization specialists have been able to study which listings rank well in order to learn how to best optimize listings. Over the past several years,
David Mihm
has surveyed experts about the most important
local search ranking factors
and he produced another detailed report last June which you can
read here
.
Citations
Among the key takeaways of this survey is the point that you should use your registered business address, phone number and company name, as well as any other information that Google can easily verify by checking listings on other websites. The more directories and other websites that have information that exactly match what is used in your Google Places page the better. These other listings are called "citations" and it is widely believed that the volume and quality of other citations on the web are among the most important Google Places ranking factors, beyond simply accurate information and a claimed listing.
Google Places Optimization
Let's now discuss how you can optimize your Places listings. To aid us in this discussion, we've included screen shots which you can click to enlarge.
Basic Information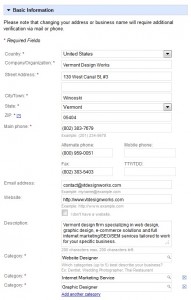 As I mentioned, you want to be as accurate as possible with any and all information you include in your listing. This starts with the "Basic Information" section which includes company name, address, phone number and website URL. Additionally you can choose up to 5 categories. You can create your own but it is strongly recommended that you use some that Google suggests as you begin to type in these fields because these are categories they've chosen and fully recognize. It isn't the end of the world if some of your categories aren't options supplied by Google, but you should at least make an effort to find existing categories that relate as closely as possible before creating your own. While these are of course subject to change, Mike Blumenthal has put together a comprehensive
list of the currently supported Google Places categories
and even built a
search tool
for you to browse through your options.
Service Areas and Location Settings

Depending on the types of products and services you offer at your business, this section can be a bit tricky. As you'll see in the screen shots to the right, there are 2 options. For those that only deal with customers at a bricks and mortar location, like a retail store, you'll want to choose the first option – "No, all customers come to the business location". This option works for most businesses, but what about home services companies like plumbers and electricians?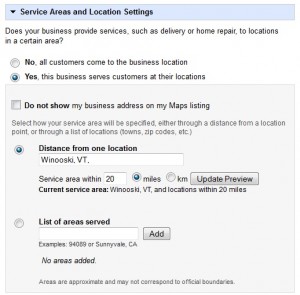 Businesses that serve customers at their own locations will want to select the second option - "Yes, this business serves customers at their locations". If you do go with the second option, you're then presented with additional options, much like the old "Choose Your Own Adventure" books we all read as kids…. Okay, it's not that exciting because I can't tell you that "you're the star of the story". Essentially Google just wants to know what areas you serve and you can either specify a radius from your business address or add in a list of specific zip codes and towns/cities. Additionally you'll need to decide whether or not you want your business address displayed in your listing. For further details on this option, I recommend reading our blog post on the
recent Google Places policy change
, because if you choose to display your address but you don't serve customers at your location, Google may remove your listing.
Hours of Operation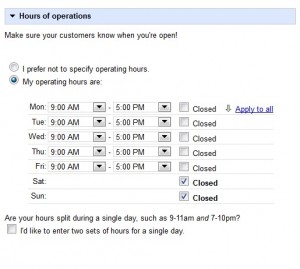 In this section you can choose to not specify hours or list hours that your business operates for specific days of the week. This includes the option to check boxes next to days of the week that your business is closed. You can even choose 2 sets of hours for each day if your days are ever split.
Payment Options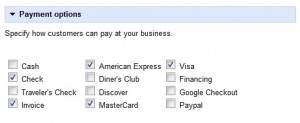 Payment options are even more straightforward than the hours of operation. Essentially Google offers twelve payment type options for you to select from and you just check the box next to those that you currently accept.
Photos and Videos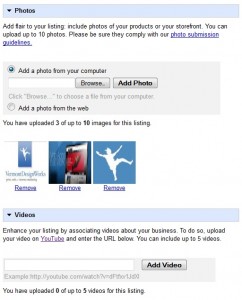 As I mentioned earlier, Google would like you to be as detailed as possible with your listing and this includes adding photos and videos. You can add up to 10 photos, although users may see additional photos you didn't specifically add. This is because Google often pulls in other images from around the web in an effort to provide users with the most helpful pictures related to the business. For more details on how these additional images are chosen and how you can have them removed, check out this
Google support article
. If you have videos you would like to add, Google Places requires that you first upload them to
YouTube
. Once your videos have been uploaded you'll need to copy and paste the URLs in to your listing. This is by no means a required field, but given the added weight Google gives to more complete listings, we recommend utilizing it if you have any videos available to upload.
Additional Details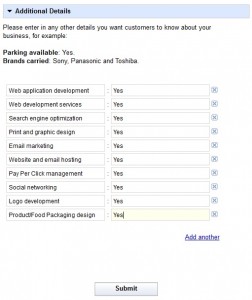 The additional details section is a fully customizable area that allows you to add any details that you were unable to include in any of the other sections. It's unclear what Google does with the information included in these fields, especially given that they stopped displaying this information in listings some time in 2011. But again, we recommend including any and all details.
Google Places Problems
Unfortunately, even if you follow Google Places best practices, the directory seems to still have some bugs to work out. As I mentioned earlier, they currently never show more than 7 local results, but there could be literally thousands of competition companies in a "service area". Presumably Google is working on a way to account for this issue, but as of today (4/2/12), it's a big problem for a lot of local business owners. Another issue is one of the primary ranking factors – proximity to the centroid. The centroid is essentially the map marker Google uses if you just search the name of a city or town. If you then couple that city/town name with a search for a service or product, you'll often notice that the top 7 local results all have locations very close to the centroid. This doesn't make a lot of sense if, for example, your business is the largest construction company in Boston, but your physical address is in a suburb like Brighton. Some business owners have attempted to account for this issue by buying a PO Box as close as possible to the Google centroid, however this is
against Google's policies
and will get your listing removed. Mike Blumenthal notes that Google seems to be trying to resolve this issue, to some extent, through "
location sensitivity
". This still doesn't deal with the fact that they never show more than 7 local results, placing less weight on proximity to the centroid is at least a step in the right direction.
Advanced Local Search Optimization
I'll talk in detail about how to further boost your Google Places listing's ranking, including through reviews and citations, but I think you have enough to get you started. The bottom line is that every business should have a claimed and optimized listing in the Google Places directory, especially local businesses. Even those that don't operate a strictly "local" businesses should get their businesses listed just to help expand web presence, but claiming and optimizing Google Places listings is critical to all local business owners.