Vermont Design Works is proud to announce that we are sponsoring
Wintervale 2013
! If you live in the Burlington, VT area and you're in to cross-country, then you were undoubtedly disappointed by last winter in general, but especially when the Intervale Center had to cancel the 
2012 "Wintervale" events last Feb.
 (and
Mar.
). Fortunately, as I'm sure you're aware, lack of snow isn't a problem this year, so
 Wintervale is back on for 2013
! Join people of all ages and experience levels for some
FREE
outdoor winter fun at one of these family friendly events, the first of which is going down this 
Sunday, January 6th between 10 AM and 2 PM
.

Two of the "Who's" - Local Motion and the Intervale Community Farm - have the "what, when and where" you.... er, the official press release with all the deets. But here's the gist on Wintervale from the Intervale Center:
Snacks, fun for all ages, free demos of winter sports equipment - what more could you want? If you think you'd like to attend be sure to join the event on the
Wintervale Day - January 6, Facebook Event page
. And Wintervale is still looking for volunteers so if you'd like to help out, please call Chelsea Frisbee, @  802-660-0440×113 or email her @ 
chelsea@intervale.org
. More background and Wintervale history from a
12/17 Press Release
, via Burlington Parks & Rec. (emphasis mine):
Burlington, Vt.: This winter, the Intervale Center, a Burlington-based nonprofit that strengthens community food systems, and Local Motion, a dynamic nonprofit that helps makes Vermont a better place to walk, bike, run, and cross-country ski, are partnering with local businesses and nonprofits to bring free crosscountry skiing and "Wintervale Days" to Burlington's Intervale. Started as a grassroots effort by three people in 2008, Wintervale features three miles of cross-country ski trails – donated by the Intervale Center and Intervale farms – and is stewarded by Local Motion's 16 volunteer groomers and two volunteer mechanics. An estimated 3,000 users visited Intervale cross-country ski trails during the 2010-2011 season. (Unfortunately, there was not sufficient snow in the 2011-2012 season to host cross-country ski trails.) Intervale crosscountry skiing is sponsored by Burlington Parks & Rec and Vermont Design Works.
Now that the snow has returned, it's a safe bet that many of those skiers will be back out there on Sunday and all winter long, our own 
content directory Betsy
 included! She's been hitting the trails with her dog Lily every day since the snow began to fall this season and has said, "Conditions are AWESOME." Hope to see you all there on Sunday, and until then, Lily will make sure the trails stay groomed: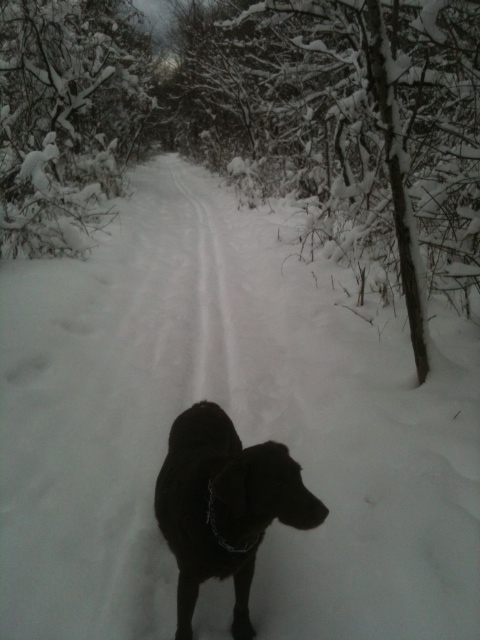 ***UPDATE***
Local Motion, through their
Intervale XC Skiing Facebook page
, has announced that the first Wintervale of 2013 was a great success, with
over 400 people turning out for the event
!