Summary: Since Google acquired YouTube in 2006, they've increasingly found ways to attempt to coerce you into creating a Google account to use the video service. More recently it seemed like you no longer had a choice at all (no opt out offered), and that will almost certainly be the case soon, but some clever people have found a "trick" that seems to work for now. But you should know the other workarounds for when Google kills the "trick".
*UPDATE - 8/26/13*
It looks like Google is no longer forcing you to create a Gmail account to interact on YouTube, but they are still forcing you to create a Google+ account. A welcome development because most of us already have email addresses and if it wasn't already Gmail, why would we want to have to create one just to be a YouTuber? That said, with the automatic Google+ account creation still in place you'll need to follow the steps outlined below to remove it if you don't want it.
In recent weeks I've had the pleasure of creating YouTube accounts and channels for a couple of our existing clients. In certain cases these new YT channels will be used to promote one of a company's many key brands, while in other cases they are a company's master account. Anyway, I say it was a
pleasure
only because I'm glad to see clients making this request because it indicates they are beginning to understand the importance of social media as a part of internet marketing, particularly the online video component. I'm really glad to see attitudes changing as people soften their resistance to new (and necessary) strategies. But that's where the "pleasure" ends. The process can actually be really confusing and awful, so I'm writing this post to help you wade through it all.
YouTube Account Creation History
Back before
Google bought YouTube
in 2006, and for some time after, you didn't need a Google account to comment, create YT channels, etc. You did need a YouTube account, but that seemed logical. After the takeover you could log in to YouTube using any existing YT or Google account (Gmail, etc.). They later added the Google account requirement which seemed logical (it is their service after all), but more recently the process has become a little more intrusive in a way that many users many not even realize. The initial requirement of a Google account wasn't a big deal, but when you create the account now you are ALSO being forced to create a Google+ account and a Google public profile.
There is no opt out
. And during the process it doesn't make it very clear that these other non-optional parts of your account are being created. There is a way to remove them from your Google account after the fact, but the issue again is that I doubt most users will be aware these steps need to be taken.
Google/YouTube Account Workaround
Before I explain how you can create a YouTube account and remove all of the unwanted Google account extras, I should note that there is still currently a little known workaround that you'd never run across unless you were actively looking for it. This video shows you how it's done, but it basically boils down to signing up for a Google account here and then going to YouTube.com and using that account to sign in. It's a relatively simple process, but doesn't offer a huge time savings over the method I'm about to describe in detail and given that Google doesn't advertise this option, I expect that they'll soon remove it all together (like they've done in other areas recently.)
Creating a YouTube Account
When you hit the normal
YouTube sign-up screen
, Google isn't making any secret of the fact that you will have access to all of their other services, but it's not clear that they are essentially setting you up to use those services without any additional action required on your part. Even the optional Google+ check box at the bottom basically just relates to personalized internet experience on non-Google sites. I suspect the average user might think that unchecking this box would prevent Google from creating a Google+ account, but I assure you it does not.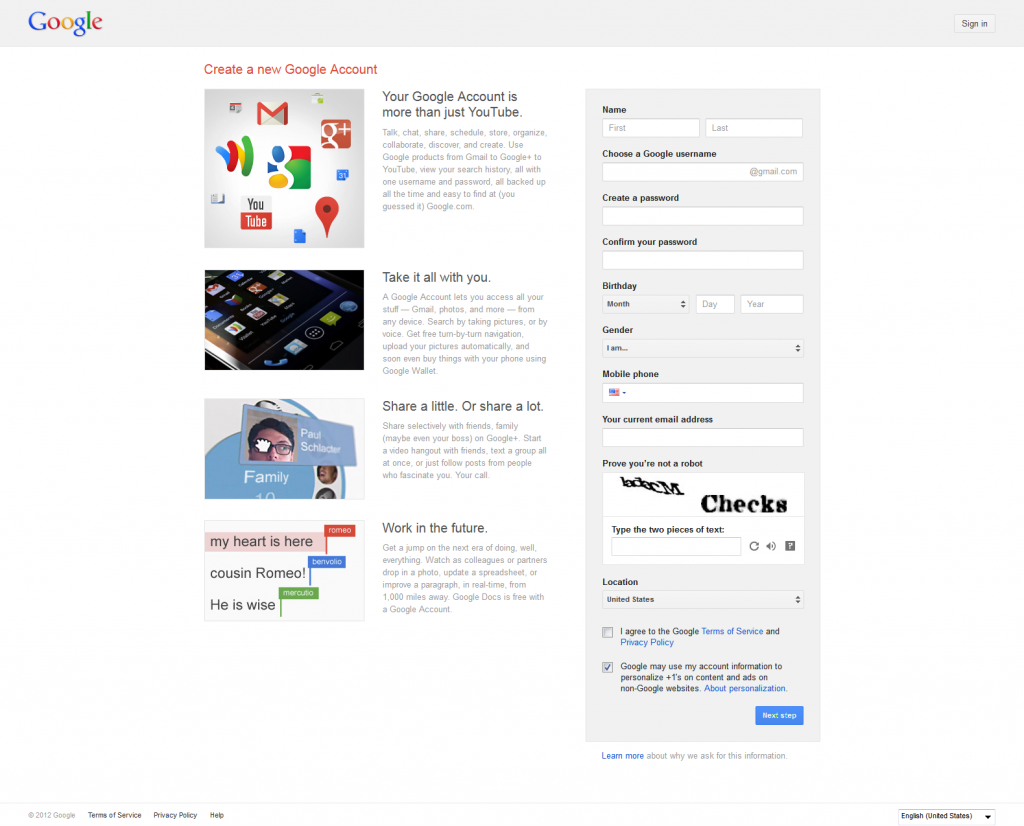 As I said earlier, there are no opt-out options, so you'll need to complete the sign-up process before we can work on deleting your Google+ account, public profile, etc. To get started, log in to your new account and go to
google.com
. You should see your user name in the upper right. Click on your name and then click on the "Account" link from the drop-down. That will take you to this page: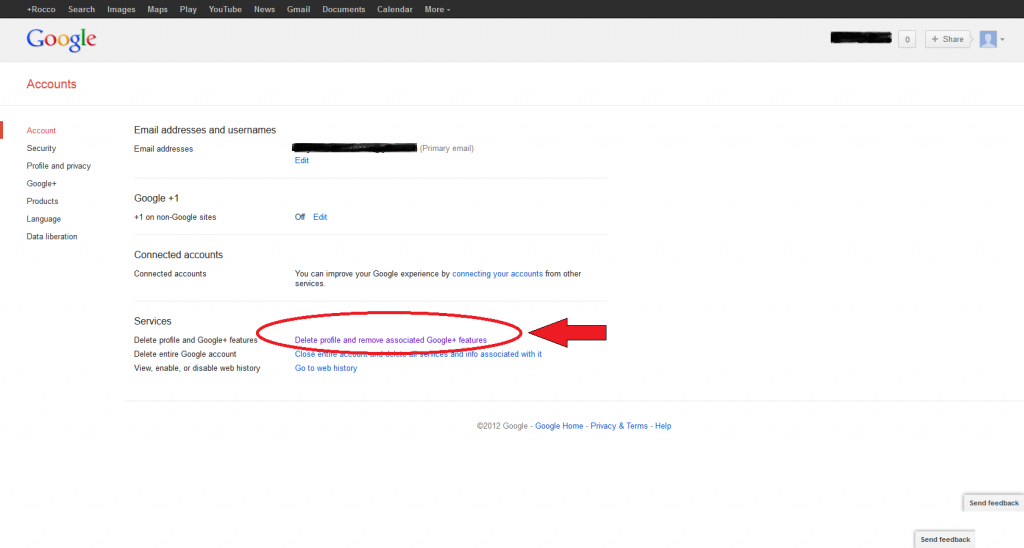 Here you'll need to click "Delete profile and remove associated Google+ features", which will take you to a screen where you'll have 2 deletion options:
Delete Google+ content
Delete your entire Google profile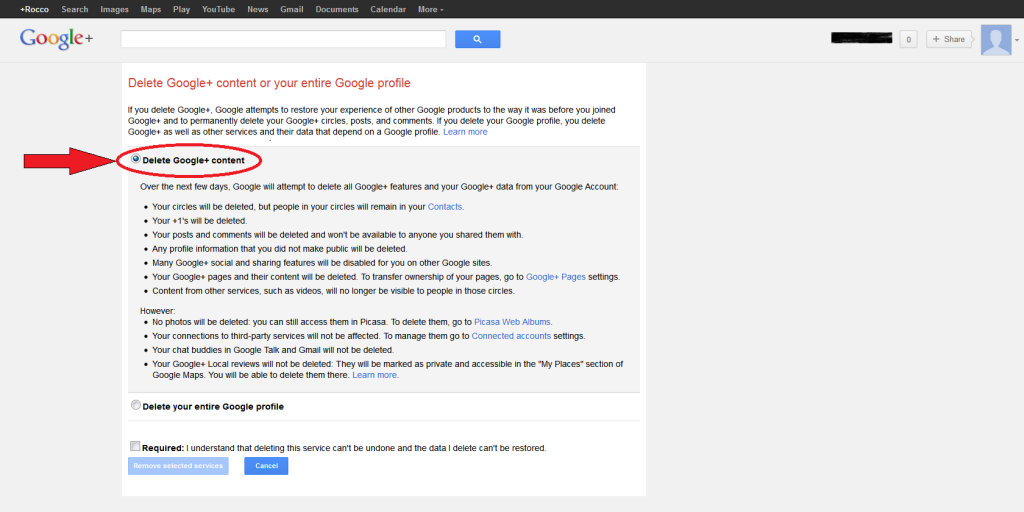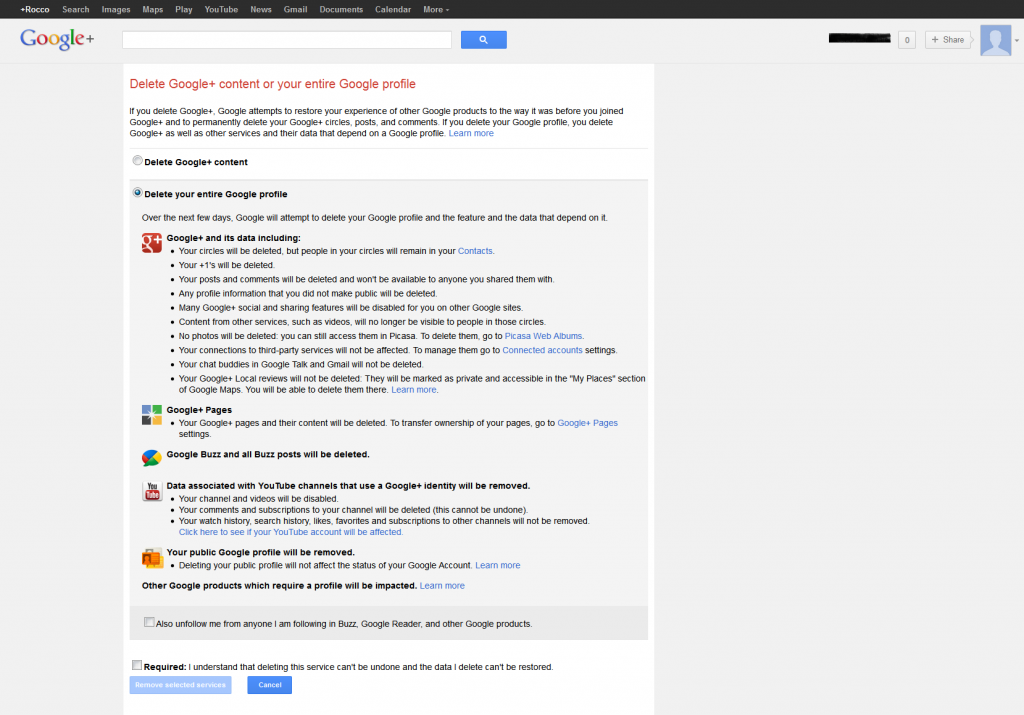 The screenshots above show details of what each option will delete. Given that the second option makes mention of deleting YouTube data and that you originally set out to create a YouTube account, it might seem like you'd want to go with the first option. That's what I thought initially as well. In reality, that only deletes your "Google+ Account" but still leaves you with a Google public profile.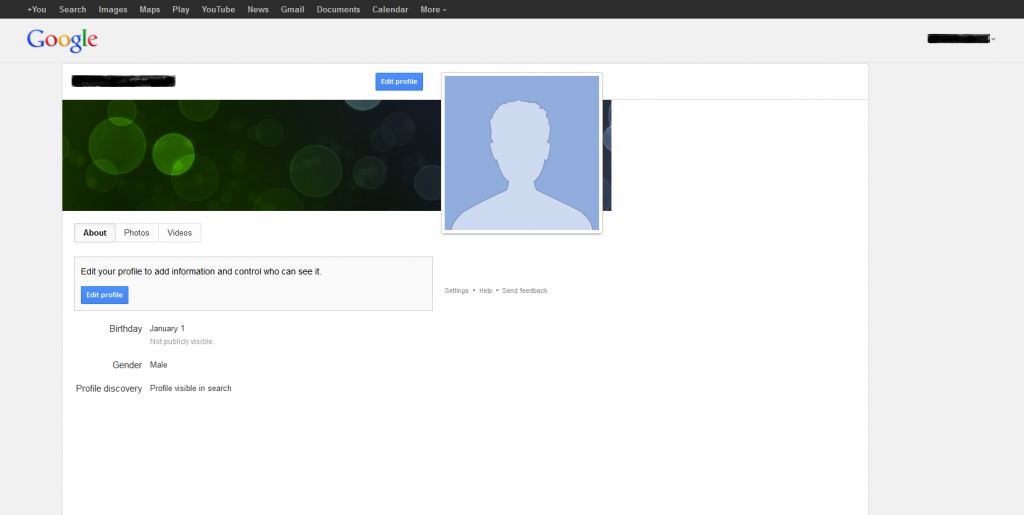 Deleting your profile then becomes an added step. Start by clicking the "Edit profile" button, which will take you to a page that looks something like this: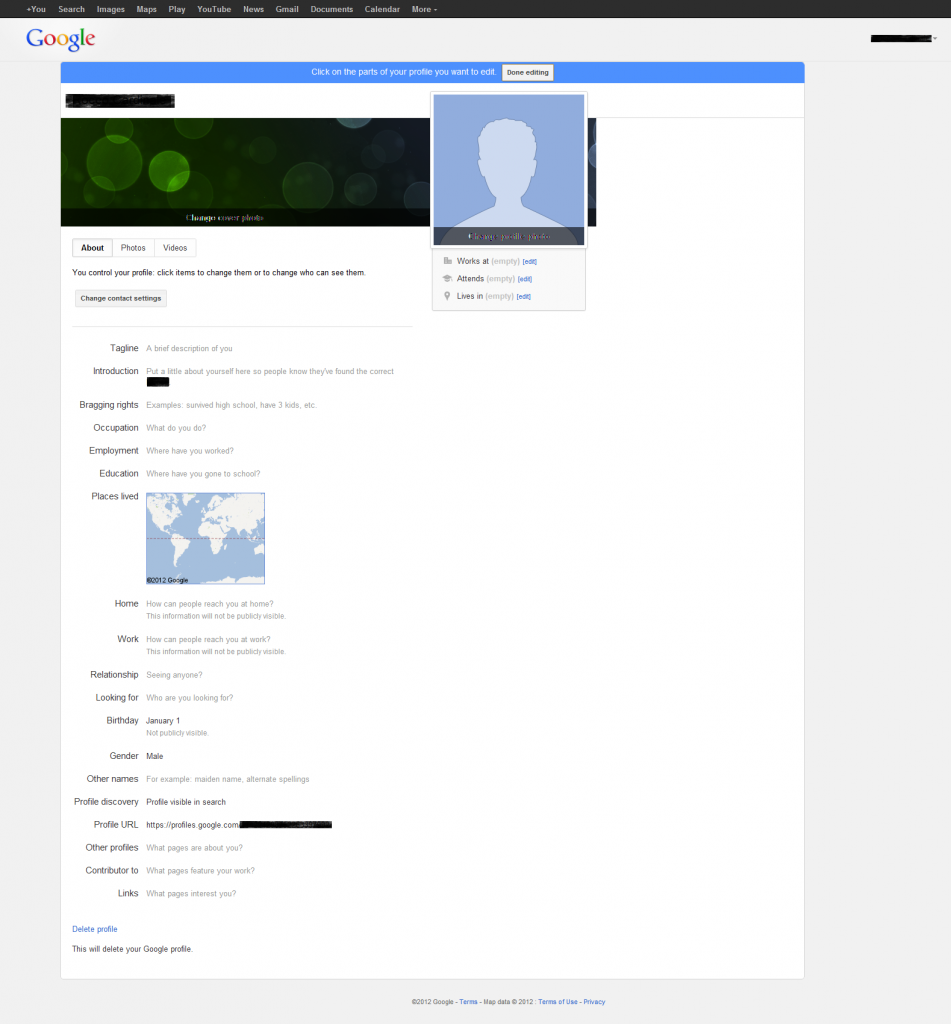 Scroll all the way to the bottom and click "Delete profile":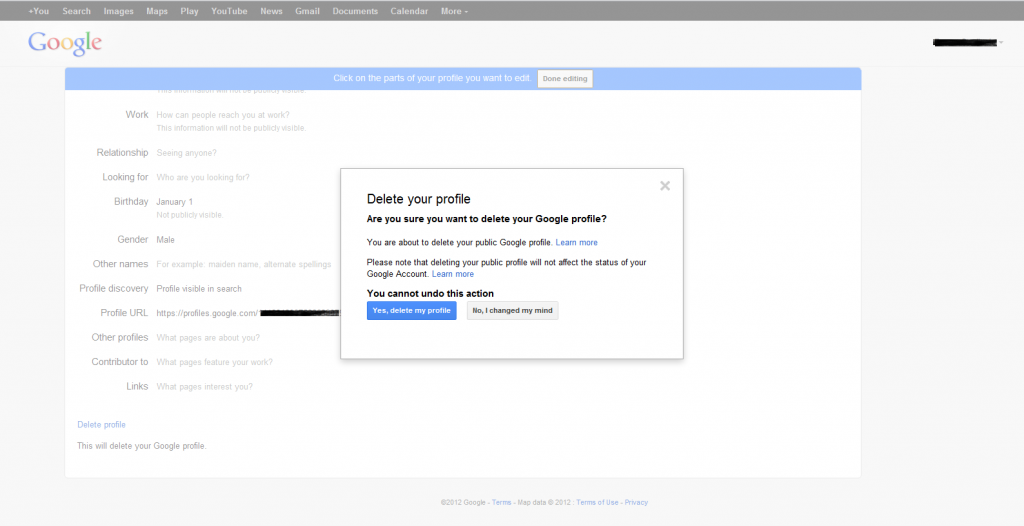 This brings up the scary, "point of no return" message. See the caveat though: "Please note that
deleting your public profile will not affect the status of your Google Account
." That's the key part that tells you that you're just deleting the public profile that would have otherwise been out there for all the world to see. Clicking "Yes, delete my profile" won't interfere with your ability to use YouTube. Once you've completed the process and returned to your account info page, you'll see that the "Delete profile and remove associated Google+ features" language has been replaced by "Close entire account and delete all services and info associated with it". This verifies that you've already deleted the profile and G+ features. As I said earlier though, you don't actually have to delete your Google+ account and your public profile separately. The mention of losing YouTube data when you select the "Delete your entire Google profile" option is a little misleading because the loss relates strictly to Google+, according to the section heading "Data associated with YouTube channels
that use a Google+ identity
will be removed." There's even a link I missed the first time I viewed this page that tells you whether or not your YouTube account will be affected. So choosing this option is actually the way to go because it deletes the G+ account and the public profile all at once, without the drawn out process described above. Instead you just get this screen: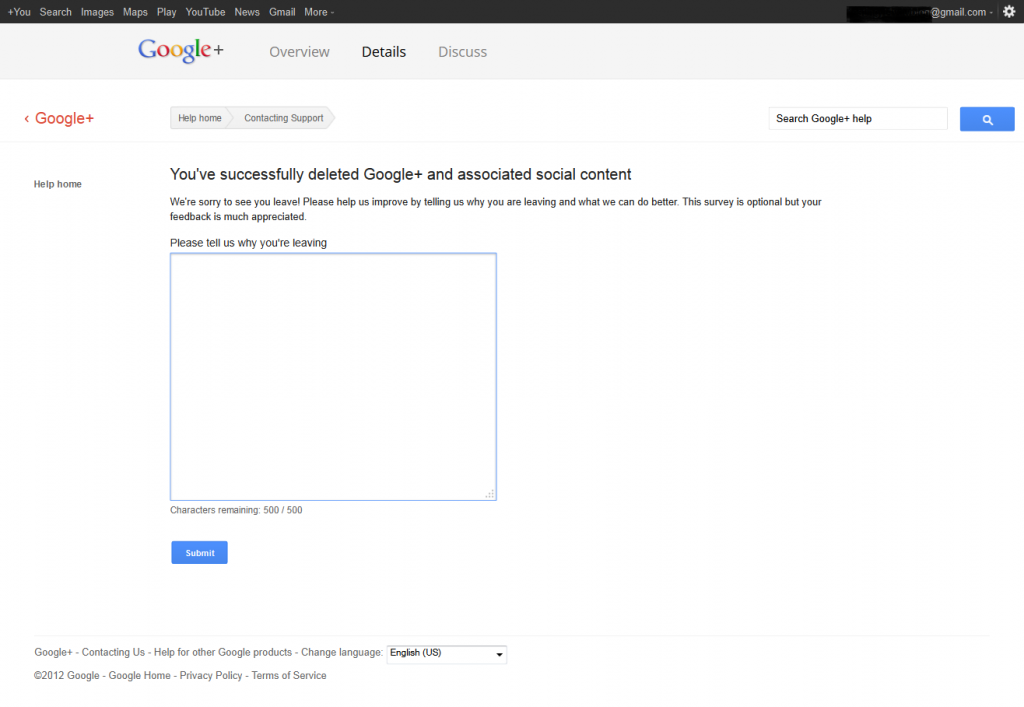 If you're reading this blog post, I'm guessing it's because you saw that you were being forced to create a Gmail account when signing up for YouTube. As you now know, that was just one part of the intrusion. Obviously privacy is an increasing concern as personal information continues to get spread around the web, so it's important to know how to reel it back in when it gets out (like in the case of a Google public profile). If you have any other issues with Google accounts, or if you've come up with additional workarounds yourself, please let us know in the comments below.