Summary:
By now, most of us are aware of satellite and "Street View" imagery in Google Maps, but did you know Google has begun adding 45° aerial photos as well? In fact in 2012 they began rapidly adding hundreds of cities and countries across the globe, including Burlington, VT in mid-November. Today we'll take a look at how/when Google shows these images, why they are so current, and then explore some of the Queen City from above.
***UPDATE 2/25/14 -
Google Earth 3D Satellite Imagery Comes to New Google Maps in 2014
. If you thought these 45° images were cool, wait until you explore the Burlington, VT area in 3D!
***
As any regular reader of this blog knows, Vermont Design Works counts "
local SEO
" among our suite of search engine optimization and internet marketing services. Generally speaking,  successful "local SEO" is largely about boosting rankings on Google+ Local... formerly known as Google Places... and Google Local before that.... Google Small Business Center, etc. etc. While much of what helps boost a business's listing on Google+ Local actually takes place off-Google, the service itself is and has always been very much tied into and reliant on Google Maps, so it shouldn't come as any surprise that we spend a lot of time tinkering around inside of Google Maps (researching how clients' competitors rank, etc.). Back in December, while checking on our own listing, I stumbled on a significant Burlington, VT area Google Maps update I hadn't previously seen - 45° angle aerial photos once you zoom closer than the level where Google shows the 200 ft/100 m scale.
Check us out
here (zoom in/out and pan a bit to get a feel for it):
View Larger Map
IMPORTANT SIDE NOTE ABOUT GOOGLE MAPS ADDRESS ACCURACY: Before I go any further, let me go off on a bit of a tangent here and point out that embedding Google Maps can be tricky, especially when Google is confused about an address, like it is in our case. When I first attempted to embed the map above, I did so after having just searched our specific address in Winooski (rather than our company name). For whatever reason, Google thinks 130 W Canal St. is about 100 yards down and across the street, in the backyard of someone on W Allen St. Even if I zoom to our location and then grab the embed code, the map will show what Google *thinks* is 130 W Canal in this post.
The address accuracy issue is actually why I was checking up on our listing in the first place. This problem arose only in recent months and so late last year I logged in to our Google+ Local account to manually move our business listing map marker to the correct location. Today I was pleased to see that our map marker has held in the right location, but for whatever reason, Google is still confused about "130 W Canal St". Fortunately we're not a "local" business, in the sense that Google doesn't show a "local pack" in search results related to our services, but obviously we'd still like Google to display our location correctly. So, just in case Google changes something and screws up my embedded map above, here's a screen grab: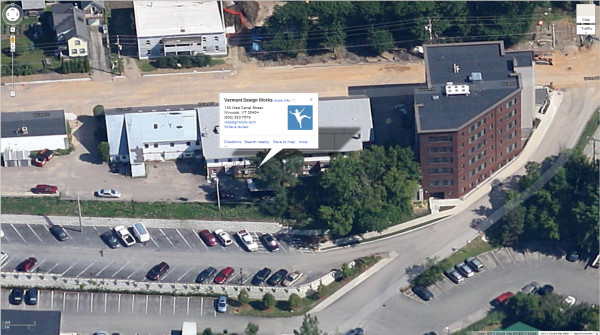 I'll probably live to regret this, but for the rest of this post I'll assume that Google won't change the maps I embed, but in the event they do - you've been warned!
Did you notice that when you zoom out to a certain level, you're taken to the familiar satellite image that looks straight down, and how that differs from these new images? Satellite images, are obviously taken from satellites, while these 45-degree angle shots are aerial photos taken from airplanes. But what I find more impressive is the speed with which Google was able to get these images online. Admittedly, most satellite images I've looked at seem to be relatively current and you can actually go to Google Earth to
check the exact dates they were taken.
However "Street View" images have lagged way behind (you can see these dates in Google Maps). All of the Google Street View images I've ever looked at in Vermont come from summer 2008 to 2009, which is obviously disappointing. It's hard to trust what you're seeing when the images are 4-5 years old. That's why these 45-degree Google aerial photos are such a breathe of fresh air. Judging by the road construction on West Canal St. in Winooski, I can tell you that these images were, without question, captured sometime between late spring and early fall 2012. Judging by the green of the trees/grass and the number of boats in the lake (if you pan west), I suspect these were snapped smack dab in the middle of the summer and you can tell by the shadows that it was early morning. Regardless of the exact date, we're talking about images that are roughly only about 6-8 months old, but here's the kicker - Google announced that new cities, including Burlington, had been added
way back on Nov 16
.:
As part of our ongoing commitment to provide you with comprehensive and accurate maps, we continue to steadily release new and updated imagery of places around the world as it becomes available. Here, we'll take you on a short tour of some of our favorite locations that were included in the most recently published batch of aerial, satellite and 45-degree imagery. ... The aerial and satellite imagery in Google Maps and Google Earth has now been updated for 164 cities and 108 countries/regions... ... Cities with new high resolution 45° imagery: United States: Baltimore, MD; Bangor, ME; Battle Creek, MI; Bay City, MI; Bowling Green, KY; Burbank, WA; Burlington, VT; Charleston, WV; Cheyenne, WY; Decatur, IL; Duluth, MN; Eau Claire, WI; Fargo, ND; Farmington Hills, MI; Fort Wayne, IN; Hagerstown, MD; Holland, MI; Huntington, WV; Iowa City, IA; Kalamazoo, MI; Kelso, WA; Kenosha, WI; La Crosse, WI; Lancaster, CA; Lawrence, MA; Lewiston, ME; Lima, OH; Loveland, OH; Madison, WI; Mansfield, OH; Morgantown, WV; Portland, ME; Queensbury, NY; Rockford, IL; St. Cloud, MN; Toledo, OH; Urbana, OH; Waterloo, IA; Wausau, WI; Youngstown, OH.
So when those cities were added, the images were probably no more than 3-5 months old. In terms of Google Maps photos (including satellite and Street Views), that's a quick turnaround! And given that Google had
just announced an update
less than 2 months prior to the November one, I'm cautiously optimistic that they intend to stay on top of these with some regularity. And why not? It's certainly easier than keeping Street View images up to date, because those require that a car with a roof mounted 360° camera be driven around every street photographed. Air traffic isn't nearly what road traffic is, so it stands to reason they would be able to keep aerial photos more current. It's just unfortunate that 45-degree aerial images will never provide the street view level detail that "Street View" offers, but I suppose beggars can't be choosers. Now, let's take a look at some other BTV area landmarks!
Burlington Waterfront Google Maps Aerial Image
Here we can see the
Burlington Waterfront
, including the boathouse, docked boats, the
Spirit of Ethan Allen
and
ECHO Lake Aquarium
View Larger Map
Burlington City Hall Google Maps Aerial Image
Check out this bird's-eye view of at
Burlington City Hall
,
City Hall Park
and the lower end of the
Church Street Marketplace
.
View Larger Map
Fletcher Allen Health Care Google Aerial Image
The main
FAHC
campus was about all I could squeeze in to this embedded map, while being zoomed in at a level that triggers the aerial images, however if you scroll to the south a bit you can check out some of the
University of Vermont
campus, along with the famous UVM Water Tower.
View Larger Map
University Mall Google Aerial Image
Here you have the
University Mall
in South Burlington. If you're familiar with the mall, you'll recognize the skylights over the food court right away. In the upper right you'll also find that you can zoom right in on
Bon Ton's
sign. Same with
JCPenney
near the center, and the red awning outside
Applebee's
right next to it.
View Larger Map
Burlington International Airport (BTV) Google Maps Aerial Image
You can see
BTV airport
and the entire parking garage in this one, along with some sort of park or something on the roof. Any idea what that is?
View Larger Map
So this is all pretty cool, but I do have to say I'm saddened by the fact that Google was actually BEHIND Microsoft, when it comes to bringing 45-degree aerial imagery to their mapping service. And as the excerpt from the Google Maps Blog stated above, they've only added "Burlington, VT", not all of Vermont, which you'll quickly find out should you venture more than a couple of miles outside of downtown. I made it about as far north as
Severance Corners
, as far south on Shelburne Road as 
Pauline's Café
in South Burlington, and a little further east than
Maple Tree Place
in Williston before Google reverted to satellite imagery. Additionally, while I'm not sure how widespread Bing's Live Maps is, I will also say that they are advanced in that when they do offer these aerial images, what they call "Bird's eye", they allow you to view 4 different angles (N-E-S-W), whereas Google is only offering the one angle. Still, that's about all the praise I can heap on Microsoft/Bing, because all of their images, both "Bird's Eye" and satellite (which they actually call aerial), are incredibly outdated. At least when we
look at Vermont Design Works
here in Winooski. They also don't allow you to embed "Bird's Eye", which is mildly annoying. Anyway, if you're just hearing about this new Google Maps feature, I'm sure you're anxious to go out and explore Burlington from the sky. Let me know in the comments below if you find anything cool in these new 45-degree angle aerial shots.