Hot on the heels of
Google Places transitioning into Google+ Local
last week comes
a story from the Wall Street Journal
, explaining that the changes are far from over. Or, as
Mike Blumenthal put it
, "Google+ Local – What Wasn't in the Announcement Was More Important Than What Was". Last week's
big announcement
didn't really amount to anything tangible (yet) beyond a transformed review system and the front-end user interface, leaving a lot of businesses wondering what's all the fuss was about. Is there anything important really on the horizon? Google made no secret that the new +Local pages would soon be merged with any existing Google+ business pages, but offered no further details or schedule. It would seem we now have more of a clue why - other "Google local" priorities have taken precedent. And it shouldn't come as any shock that these priorities seem to be largely financially driven - new paid services for business owners to promote their products/services on Google. Greg Sterling at
Search Engine Land summed things up
nicely:
According to the WSJ the package would include:

Google+ Local pages
AdWords Express
Google Offers
Delivery (a new service that would enable stores to deliver products to homes)
TalkBin (an SMS-based customer feedback tool; so far doesn't enable review solicitation)
Google Wallet (combination of online payment and smartphone-enabled payment at a POS)
Punchd (in-store loyalty program)
The Journal
actually put together a great little infographic that expands upon each of these Google Business Builder sub-services:

It's easy to see how each of these services might be great business tools, but that's not the commonality that immediately jumped out at me. What I found most interesting was the fact that the majority of these service provide for more revenue generating opportunities for Google.
Adwords Express
(Adwords for beginners - formerly called "Boost"), is the standard local advertising option for business owners who aren't PPC experts. "Offers" aren't new, but we recently learned that they are
transitioning into a paid-only service
. It's a bit
unclear to me whether Google Wallet currently costs
merchants anything above and beyond their normal credit card processing fees for MasterCard® PayPass™ transactions, but Google does
charge if a business opts to have a Google Wallet terminal installed
. I'm betting they're making something on the Google prepaid credit cards users have to buy if they don't have a Citi MasterCard too.
Punchd
and
TalkBin
are clearly both paid services, and I think it stands to reason that any sort of
Google shipping service would
be paid as well. So it would seem that the Big G is increasingly setting the stage for pay-to-play, despite always claiming to be about the most relevant results. I've detailed
relevancy issues with local pack results
plenty of times before, so I won't drone on about that, but it's worth noting the general direction things are going now. I'm not a "hater" by any means, they deserve to get paid what people are willing to pay for their services, and I've always thought they do strive to provide the most relevant results... But let's not kid ourselves about what's happening here.
David Mihm posted
a screenshot today that illustrates my point better than I can explain it: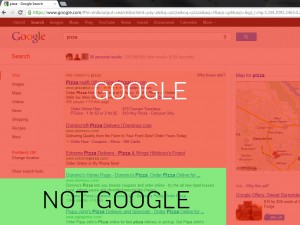 ...as a purely practical matter, if you're not doing a serious Adwords campaign OR competing in Local, you've basically got two organic slots that might draw searchers' attention.  Those of us practicing organic optimization should probably bone up on Adwords as a defensible future skillset.
Coincidentally I just got through reading a post about a new
"browser size" tool
in Google Analytics that allows you to see what percentage of visitors (and web users overall) are able to see certain parts of the first fold on your website. Everyone's monitor (and mobile device) is different, so the immediately visible area on any given web page can vary greatly. The new browser size tool puts a spotlight on the importance of what you put in the first fold of your site and what the "first fold" actually means now. But I also think it makes Mihm's screenshot all that more alarming. All white-hat SEOs are happy to see link buying spammers get punished in rankings, but
what happens when organic rankings for legitimate sites no longer matter?
You get our your credit card, that's what! (... or your Google Wallet, *wink*). We're not there yet (organic irrelevance) but things are moving quickly. Mihm's post title, ""It Really Is a Google World and We Are All Just Living in It", sums up well a point I've made often myself because even when they do something that really irritates us - what are our options? Bing!? Don't be ridiculous... Face it - as it stands today, we're all slaves to Google because they have a corner on web search. That's not to say they don't still run the risk of overplaying their hand and seriously screwing things up. Taking a look at some of the comments on the
WSJ article
, I'm reminded why it's often a good idea to get back in the real world and outside of the SEO world, when it comes to how people feel about Google. Before getting trapped behind a paywall (I guess the article was only free for a day?), I was able to copy the following comments that delve in to some of the issues with Google's local services prior to even rolling out this new "Business Builder" package:
Jason Jaslow Wrote: Google expects small business owners to use their tools, but provides ZERO assistance when things go wrong. We have 3 different businesses operating out of the same location and google continually mixes them up and displays the wrong data to google searches. Trying to get them to fix it is like slamming your head into a glass door (just like Justin Beeber).
The lack of support has been a HUGE problem for years now. Inaccurate information, duplicate listings, listings merging with competitors, etc. The issues never end and when you're faced with one that might just cripple your business, who have you been able to turn to? No one. No telephone, email or even online chat support whatsoever. Mind you, the company doesn't owe business owners this service, but if the goal is the most relevant search results.... Anyway, a few months ago they finally threw us a bone when
Vanessa Schneider
became the queen of the
Google Places forum
. She was great, but there's a big difference between a forum administrator who can explain best practices and give general answers; and an actual support team that can investigate and resolve specific issues. Still, she's all we have... or
had
until yesterday when
she announced she was moving on
. She assured us she left us in capable hands with
Jade Wang
, however I haven't actually seen Jade post anything about her new role yet. Local SEOs have only even become aware of her in the last week after
she joined Vanessa for her last wrap-up video
on Youtube. (BTW, that video was basically an FAQ session covering the new Google+ Local change, which we've discussed here at length, but you can read
Vanessa's highlights here
). Another commenter continued on the same point about lack of support:
Richard Cohen Wrote: my wife runs a small business and uses google extensively, but has had some problems at times and support is not what it needs to be. the company has all the tools and the customers to be a major force here, but they have lacked a coherent and easy to implement set of services for small business. they need to make things simple, explain the benefits clearly, and be prepared to support their customers better...especially early on. i wouldn't sell these guys short but just tossing out a bunch of disparate web based apps will not work for a small business owner who doesn't have a huge amount of time to fine tune what google products he/she will benefit from using.
A couple of great points here. First, Richard is right - just showing business owners a bunch of shiny objects and saying "you need this" isn't going to cut it, as any online marketing firm will tell you. Unfortunately most business owners haven't come to grips with how quickly the world is changing, so they have a tendency to dismiss as BS anything they aren't familiar with. Before Google unleashes an entire suite of new local business products, they should work out the bugs that remain in their existing system. How can they expect businesses to learn about and start using Punchd, for example, when Google can't even get the business's address right? Learning new products actually gets to the heart of Richard's second point as well: time. These systems/tools are brand new to virtually all SMBs, so there will be a huge learning curve, which means business owners will need to spend countless hours figuring them out and implementing strategies for online customer loyalty programs and delivery systems. How many business owners do you know who sit around twiddling their thumbs, waiting for some new business tool to come along? Google seems to be offering these services as part of an effort to cut out web firms as middlemen, but these firms exist in large part because business owners don't have the time or expertise to deal with their online presence and advertising. Whilte it may be a little bit of a clumsy process for a web firm to claim a Google local listing on a client's behalf, many business owners are happy to take as much of a hands-off approach as possible by contracting the work out to experts. It all boils down to resources, really. Most businesses can't afford to hire their own, in-house "web presence specialist" to manage social media, local SEO, PPC, etc. so they contract the work out to an
online marketing firm
. So that about sums up the dilemma. Google wants businesses owners, rather than web firms, engaging with their services... but those business owners don't have that kind of time. I'm always tempted to say that Google runs the risk of causing a mass exodus if they alienating so many businesses, pushing this hard and causing so much chaos with rapid fire new launches before old bugs are fixed... but I always quickly come back to the realization that there's no land of milk and honey for my people to run to if they do leave. To me this leaves a lot of uncertainty for the future of local search on Google. I'm concerned that a lot of small businesses might soon be hurt if they either aren't reading the tea leaves or just can't afford to hire web specialists, whether in-house or a firm, and one of the biggest issues remains the speed with which things continue to change. If you're a business owner and you need help managing your online presence,
contact us
today. Whether you're starting from scratch without even a website or you're just having trouble keeping up with all of the changes to local SEO and web advertising, we'll develop a custom solution to help your company succeed online.