In a recent post we complained about an unannounced but
significant Google Places policy change
 and we'll soon be posting about ongoing issues with
reviews disappearing
, but it's now clear that the folks at Google Maps have just been tied up with more important things - creating silly games to teach people about lesser known features of the mapping service. All of you people complaining that
updates to your Google Places listing aren't going live
 really need to think about priorities - Google goal may be to provide the most relevant possible search results, but allowing you to accurately display your business information to potential customers takes a back seat to the creation of a nostalgia-inducing 3D labyrinth game called
Google Cube
. (Remember these
wooden things
? And remember when 3D actually took place in the three dimensional world? Yeah...) While it's unnecessary in my opinion, mainly because you can learn all about Google Maps features through tutorials and videos on the "
Start Here
" mini-site, I suppose the development of Google Cube was to create buzz. It even links over to "Start Here", so the whole purpose is probably to create awareness of unknown features and push people to using them. Cube only briefly mentions each of the features in relation to the various levels in the game, but it doesn't really teach you how to use them. For that you'll definitely want to check out
Start Here
. Below are screen shots of one of the game levels - "London Underground" - that is designed to show public transit routes (subway in this case) as part of the more advanced "Directions" features. Google Maps also provides walking and biking directions, in addition to standard driving directions: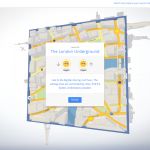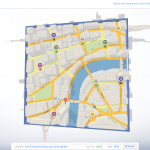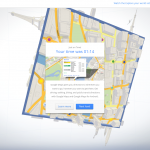 These 3 screen shots are typical of what you see in each level of the game. An intro screen with a bit of information about the Google Maps feature being highlighted, the game play screen, and then the "level completed" screen which again mentions the feature being highlighted. Toward the end I think they realized the game was a little too quick/easy so they scrambled to add another level, which was this rubik's cube-ish thing that pieced together maps from various cities. This didn't offer any useful/informational benefit, it was strictly to add to the "challenge""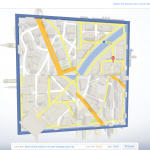 And your reward in the end for wasting a few minutes of your time with this thing? Simply being told that some other nerds did it faster: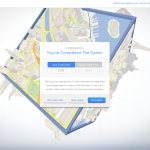 They also link to the equally pointless, though slightly more entertaining "real world" version of Cube that the Google people created: If you're looking for a time waster, check out
Cube
. If you want to really learn about how you can benefit from the wide variety of features now available in Google Maps, head over to
Start Here
. At Start Here you'll be able to learn all about the different types of directions, inside maps (for large malls and other public spaces), exploring street views, creating your own maps and much more. Personally I'm impressed by the
free GPS offered to Android phone owners
, but as an iPhone owner I'm actually quite jealous. Of course, I would be in the market for a new phone if my
iPhone was to self destruct
.