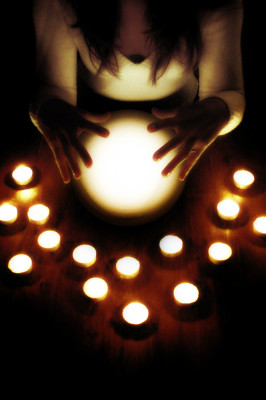 Four weeks into the new year, what can I predict that hasn't already been predicted by someone else? Probably not much, but lets take a look at what some other SEOs expect to see in 2014 while I try to sprinkle in some of my own wisdom and play Miss Cleo along the way. Let's go straight to the big dogs -
Moz.com
. If you read my 
2013 wrap-up
, then you know I gave Moz's Rand Fishkin a little guff (yes, I said "guff") for his predictions last year that I viewed as somewhat hackneyed. I'm glad to see that 
after scoring himself last week
, he seems to agree:
Looking back, I think my predictions were a little conservative. This year, I'm going to go out on a few more limbs and be a bit more specific.
In reality, after reading the level of detail he provided in his scorecard, I was almost ready to rescind some of my criticism - but apparently he saw a little of what I did in his 2013 predictions.
Randy Fishkin's 2014 Predictions at Moz.com
At any rate, let's see how specific Rand got after looking into his 2014 crystal ball:
#1: Twitter Will Go Facebook's Route and Create Insights-Style Pages for At Least Some Non-Advertising Accounts
My take: Probably already in the works - Twitter now answers to stockholders and better figure out a way to turn a profit quickly. It's simply unsustainable for company to keep losing money year-after-year... well, unless you're Amazon.
#2: We Will See Google Test Search Results with no External, Organic Listings
My take: While I agree that we'll continue to see Google testing major changes to the standard search results pages, I don't feel Google is in a place where it can understand user intent well enough to satisfy our needs with instant answers and the knowledge graph confidently. Perhaps it's the bubble I live in, but I think people like search results they can pick through themselves.Then again, there are cases where user intent seems obvious and the user almost certainly just wants a quick answer (basic arithmetic for example), so you never know.
#3: Google Will Publicly Acknowledge Algorithmic Updates Targeting Both Guest Posting and Embeddable Infographics/Badges as Manipulative Linking Practices
My take: I like the specificity here and there's good reason to expect that guest blogging abuse, etc. might be in Google's crosshairs - Matt Cutts answered this specific prediction just a few weeks ago: http://www.youtube.com/watch?v=qozPhALuQQw Cutts doesn't specifically say there will be an active campaign to deal with the issue, but reiterates best practices and talks about how to avoid webspam when guest blogging, and goes on to say that Google does say they're "always looking" and "taking appropriate action", so it wouldn't be terribly surprising to see a specific, targetted initiative on this front.
***UPDATE - 1/21/14*** 
Before I could even get around to finishing this post, the Matt Cutts, head of Google's webspam team,
has just said
:
So stick a fork in it: guest blogging is done; it's just gotten too spammy.
Sounds pretty cut and dry, eh? But case closed? Not so fast... If you click through to
the full original post
, Matt seems less emphatic in both his update at the bottom of his post and in replies to dubious commenters. I'm in agreement with these commenters, but
I had another thought I believe
many have overlooked:
How does this stop the practice of paid posting? You could argue that it actually kills a level of transparency. Previously, when guest blogging was thought acceptable, a guest post would include some author bio information. But what's to stop this same practice from continuing, except without the by-line. So, the site owner looking to build links pays the author to post it as if he (the blog author) wrote it himself, and it just includes a few links to the other site. In a way Google is almost encouraging more spam if they're going to punish transparent guest blogging.
In any event, SEOs across the globe hit the panic button over this development, but I think this is more of a warning not to create guest blog spam that doesn't offer real value and isn't relevant to the sites it gets posted on. It may also just a heads up to legitimate guest bloggers that if they aren't careful, their posts could get caught up in anti-spam algorithm updates.
Elisa Gabbert makes similar points and expands on them in 
this excellent Wordstream post
. I highly recommend reading the entire post, but the conclusion nails it, in my opinion:
My guess is that Google will penalize sites, not guest bloggers. And it'll be the same crappy sites that have been hit repeatedly over the past year or so, sites that don't offer value on the whole. Quality content, guest post or not, will continue to rank. (And yes, links will continue to be important.)
Basically if you're not spamming, you probably don't have much to worry about. Although I think it's important to always remember that Google isn't human and can't be right 100% of the time when punishing sites for going against guidelines. It stands to reason that some legitimate content creators will be caught up in the mix, so it's important to keep an eye on your rankings and traffic.
#4: One of these 5 Marketing Automation Companies Will Be Purchased in the 9-10 figure $ range: Hubspot, Marketo, Act-On, SilverPop, or Sailthru
My take: Sure, why not?
#5: Resumes Listing "Content Marketing" Will Grow Faster than Either SEO or "Social Media Marketing"
Ugh, I hope this one isn't true. I'm still not a fan of "inbound marketing" and I feel like "content marketing" is just the latest buzzword SEOs are using to try to rebrand themselves. I hate buzzwords. And I also think it may be time for an SEO comeback, in terms of the connotations it invokes. At VDW, we've never shied away from "SEO" to the extent others have, but have always just drawn a distinction between "white hat" and "black hat". In fact we don't even consider the black hatters "SEOs" - they're webspammers. As Google increasingly runs them off, I think the term "SEO" can regain some of its former cachet.
#6: There Will Be More Traffic Sent by Pinterest than Twitter in Q4 2014 (in the US)
My take: I'm tempted to disagree simply based on how many users Twitter has who tweet dozens to hundreds of times a day, but given that the platform has become known for its popularity with self-absorbed urban youth and young adults, I'm not sure how many users are actually sharing links and how many are just telling you about what they just ate and sharing selfies. Pinterest on the other hand is a social bookmarking that's all about sharing off-site links. Then again, Pinterest is a visual medium where many users may just be sharing/liking pinned images and not clicking through to the source websites for the images. We also need to consider automation. It's easy to set up a Wordpress blog, for example, to auto-post to twitter. Others manage social media through automation tools like HootSuite. But you can't automate Pinterest bookmarks from either of these platforms. So I guess I'm kind of ambivalent about which platform will drive more traffic without even current data.
PPC Online Advertising 2014
Act-On surveyed other top SEOs for their
2014 forecasts
. A lot of them essentially said to just keep doing what you're doing if you're following best practices, but there were some original thoughts, such as this this from
Michael Cottam
:
My #1 prediction: AuthorRank will start to heavily influence rankings in Google, as Google starts to be able to map a significant percentage of documents on the web to a known author. Google+ authorship will help Google to recognize both the credibility of authors, but also be able to "grade" a website based on who the authors are who contribute to that site. AuthorRank will behave much like PageRank, but it will be tougher for spammers to manipulate.
The question here is whether authorship is ubiquitous enough at this point, because Google choosing to outrank the "best" content (from a non-Google+/authorship user) with something generated by an author with high "AuthorRank" is a user experience issue. Google's stated goal has been to provide the best search results and help users find the best information as quickly as possible. Obviously turning a profit hasn't taken a back seat to user experience, but so far they haven't had to sacrifice one to achieve the other. There risks involved in using "AuthorRank" to determine what is truly the best content, and I'm not sure I see any major plus for their bottom line. Over at Search Engine Watch, John Lee offered up
5 Social Media Advertising Trends to Watch for in 2014
. It's worth reading the entire post, but I'll just highlight the two that stand out to me:
Facebook Video Ads

TV advertising was (and still is) a fundamental piece to the modern advertising puzzle. Video has proven time and again to have significant impact on branding and purchasing decisions. Now that the world is shifting their television habits online, this means that the video advertising model must shift with it. While the devices are different, the end customer will still be drawn to (good) video advertising. YouTube is already killing it with their video ad campaign product. The InStream ad unit alone has so much potential. So, how does all of this tie in to Facebook? Videos are prominently featured in Facebook feeds organically. After they tested the "autoplay" video content organically, it was a natural progression to see this come to video ads. This ad unit is still in testing at Facebook and the video plays on silent – so the impact won't be quite the same as what is seen on YouTube. However, I fully expect this testing to expand and for video to play a bigger role in Facebook ads in 2014. If Facebook is successful with video, who knows what implications that will have across the social media world?

Ads on Google+?

A few years into Google's gamble in social media and Google+ is still completely void of ads. Many people likely are quite pleased by this. Countless others (no doubt advertisers) are chomping at the bit waiting for the day that they can place targeted ads on this coveted real estate. Will it happen in 2014? Well, just a few weeks ago it came to light that Google will begin testing+Post Ads. While this isn'tan ad unit on Google+, it allows brands to take quality Google+ posts and advertise them across the Google Display Network. Could this be a baby step toward a larger advertising platform built around Google+? Maybe. In the meantime, all we can do is keep on wishing!
By now you've likely seen videos autoplay as you scroll down your FB timeline. It stands to reason this will soon be coming to ads. The question is how it will be received. I personally don't mind autoplay because the audio is muted... but I think I have experienced a slowdown on my older iPhone (4S) when scrolling. If users react overwhelmingly negatively, I can see it this being scrapped within months. As for Google+ ads - I'd say we're not ready for them yet, but toward the second half of the year Google will be anxious to get them rolling. The challenge Google faces is not alienating a base that's already reluctant to use their social media platform.
Google Adwords in 2014
I think Adwords advertisers should be prepared for continued increases in costs-per-click. With each Google algorithm update it becomes more and more difficult to rank organically, driving desperate webmasters to Adwords. That increased competition naturally leads to increased costs. Is there any reason to doubt this will continue? In fact you've also got a lot of business owners only beginning to realize it's time to all but abandon traditional advertising (phone book ads, etc.), which only ads to the influx of new online advertisers.
Bing Ads
I would expect that the increased competition in Google Adwords will spill over into Bing ads (which are shown on Yahoo! as well) and probably even third tier online advertising platforms, at least for certain industries. It's remains worth experimenting because while the overall traffic/search volume can't come close to Google, many have experienced considerably lower costs per conversion on these other platforms.
Local SEO 2014
The list of bloggers prognosticating on what we should expect in the local realm this year is endless, but if you want my two cents I'll go out on the tiniest limb and say that we Google Places/+ Local will continue to be a
HUGE
mess. (Exhibit A:
Thousands of hotel listings were hijacked
2 weeks ago) I'm tempted to predict that they would scrap and replace the whole directory/local service, but I think they've already invested too much in the Google+ tie-in to abandon it now. Chris Marentis wrote up his
6 local SEO predictions on Search Engine Land
 while Adam Dorfman offered
4 "tactics" for 2014 over at Search Engine Watch
, but to be honest there's not much that's terribly groundbreaking in either, IMO - just a lot of predictions that current trends will continue (review importance, social impacts, etc.) Adam's third point was the one exception:
3. Correcting Any Inaccuracies in Foursquare

David Mihm just wrote about the growing influence of Foursquare as a local data provider, something I also referenced in an infographic last year showing who provides data for top mobile apps. At the time, Instagram was its only large licenser, but that alone was enough to make it the fourth largest data provider to mobile apps. With its increased reach (Pinterest, Uber, etc) and relative ease in managing the data on its platform, I agree with Mihm that the four primary data aggregators (Neustar, Infogroup, Acxiom, Factual) will be joined by Foursquare to become five by the end of the year.
Even though we aren't a "local" business, we do regularly optimize and maintain our local listings to stay on top of the latest changes, but I have to admit that I've not focused much on FourSquare until more recently. Outside of business owners actively using the service to push promos to customers, this is a largely neglected resource. It stands to reason that, as an authority site, Google would use Foursquare to influence local rankings. Adam's fourth point about fixing your map location marker on directories other than Google is a good one too, but really just reiterating best practices any proactive local SEO strategy should already include. Unfortunately the mapping services are known to update and overwrite your custom pin drop, so this is actually a valuable reminder to stay vigilant. Just this week I had to reposition our pin on Bing Places.
Responsive Design in 2014?
One could argue that 2013 was the "
Year of Responsive Design
", but will 2014 be more of the same? Setting aside debates over the exact definition of responsive vs. adaptive, etc. what we're talking about are websites that resize (among other things) to fit all screen sizes. "Responsive Design" has become such a buzzword that we now have clients insisting that we "make their site responsive", but it's not always the best solution. Sure, ideally users would have a similar experience across all devices and screen sizes, but what about sites where users are mostly looking to place an order, get directions are call for some type of service? How about
plumbing and HVAC websites
like those our friends at
iMarket Solutions
 build? Do their mobile visitors really need a full, content rich website or would they be better served by a simplified mobile site that provides an overview of services and easy 1-click to contact? Sadly I think "responsive design" has so permeated the lexicon that we'll never escape it and my guess would be that 2014 is even bigger than 2013 in this area, as sites that were 3 or 4 years old rush to catch up. But it wouldn't surprise me if by 2015 we see people putting the breaks on and transparent firms like ours recommending that clients consider their target audience before grasping for the latest shiny object.
This piece from Moz
, while not specifically about "responsive" design, does offer some tips on "above the fold" designing, while also catering to the scrolling nature of users in the new mobile era.
2014 Content Marketing
As has been the case for several years, creating useful and unique content has been key to any legitimate, white-hat content SEO strategy. We discussed the latest developments in guest blogging above, but I would recommend checking out
Erin Everhart's "5 Ways to Have Killer Content in 2014" at Search Engine Watch
. If you've made it this far in this post, then you already know I need to work on #5:
5. Small Tastings Mixed With Larger Portions

A couple of years' back, we wrote a lot of content on one page because it was better at attracting search engines. In 2013, we wrote 1,500-word plus blog posts because users wanted to sink their teeth into it; the more in-depth your content, the more likely people will share it. Ain't nobody got time for that in 2014. Think about it: People barely have enough time to do their day job, and now you expect them to dedicate 20 minutes of their day to your blog post. And then share it? Unlikely. Instead, offer smaller, bite-sized pieces of your content that users can easily digest and easily share. They're not entirely unique, but taken from longer pieces that people can opt in or decide to read at their leisure. These can be data points, memorable phrases or action items and will fit nicely for Facebook or Twitter posts.
Yeah, sorry about the garrulousness of my posts. I'm going to try to work on that this year... Starting tomorrow! New Year's resolutions start at the
end
of January, right? Recognizing just how long I've droned on here, I'll just close by linking you - without commentary - to a few other "2014" posts worth checking out: